Ear­li­er this week, Michelle Haimoff dis­cussed her unlike­ly in-laws and hav­ing immi­grant par­ents, baby boomers, and parental expec­ta­tions. She will be blog­ging here all week for Jew­ish Book Coun­cil and MyJew­ish­Learn­ing.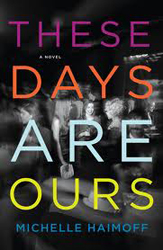 I went to a Mod­ern Ortho­dox ele­men­tary school. For eight years I learned Hebrew (Mod­ern and bib­li­cal), par­tic­i­pat­ed in Shab­bat Onegs and wrote and per­formed Torah-relat­ed songs and plays. I learned every Jew­ish prayer by heart, wore only below-the-knee skirts and painstak­ing­ly stud­ied Tal­mud in Ara­ma­ic in a rabbi's study. I was impres­sive­ly Jew­ish. And then I went to a sec­u­lar high school and, except for going to tem­ple on the high hol­i­days, attend­ing Passover Seders and light­ing the meno­rah at Hanukkah, I became unim­pres­sive­ly sec­u­lar. It wasn't until I met my Catholic-raised hus­band that I start­ed active­ly observ­ing Judaism again.

On our first date I told him that if we were to ever have kids, rais­ing them as Jews was non­nego­tiable. That's right, our first date. Reli­gion had come up in pre­vi­ous rela­tion­ships and I had learned to be firm about what I want­ed at the start to avoid sur­pris­es lat­er. He nod­ded and said he would be com­fort­able with that. Ben believed in the gen­er­al rit­u­al and eth­i­cal guid­ance of reli­gion even more than he believed in the specifics of his reli­gion. Appar­ent­ly the extent of two people's reli­gious belief can affect com­pat­i­bil­i­ty more than the reli­gions them­selves.

The first thing we decid­ed to do was learn about Judaism togeth­er. We signed up for a four month Union for Reform Judaism course. I joked that I could teach it, but once it start­ed I was sur­prised at how lit­tle I already knew. Reform Judaism was every­thing I had sift­ed from my Ortho­dox edu­ca­tion with­out the ortho­doxy that had felt so oppres­sive to me. The lib­er­al pol­i­tics, rev­er­ence for nature and inclu­sive­ness of the com­mu­ni­ty par­al­leled my own belief sys­tem, and Ben and I mar­veled at how time and again, the laws of Reform Judaism were laws we would cre­ate for our­selves if we were cre­at­ing a reli­gion from scratch. Our class was white, black, Asian, Lati­no, old, young, gay and straight. We were all there, not by oblig­a­tion, but by spir­i­tu­al choice.

Per­haps because of my Ortho­dox back­ground, I had always been dis­mis­sive of oth­er branch­es of Judaism. I had also become so fix­at­ed on the tech­ni­cal­i­ties of being Jew­ish (matri­lin­eage, for exam­ple) that I for­got that reli­gion is a phi­los­o­phy, and we don't auto­mat­i­cal­ly know or believe in a phi­los­o­phy just because we're born into it. If I had sim­ply mar­ried anoth­er unob­ser­vant Jew, we wouldn't have had to earn our Judaism, it would have already been part of our iden­ti­ties. But Ben and I worked for it, read­ing, debat­ing and jour­nal­ing every top­ic, theme and rit­u­al, from the hol­i­days, to the state of Israel, to the after­life. I had always assumed that if I were to mar­ry some­one who wasn't Jew­ish he would take on my reli­gion as his own, but I nev­er real­ized that in that process of learn­ing about Reform Judaism I would take on a new reli­gion as my own too.
Michelle Haimoff​'s debut nov­el, These Days Are Ours, is now avail­able. She is is a writer and blog­ger whose writ­ing has appeared in The New York Times, The Los Ange­les Times, Psy​chol​o​gy​To​day​.com and The Huff­in­g­ton Post. She is a found­ing mem­ber of NOW New York State's Young Fem­i­nist Task Force and blogs about fem­i­nist issues at gen​fem​.com.
Michelle Haimoff's work has appeared in
The New York Times
,
The Los Ange­les Times
,
The Huff­in­g­ton Post
and
NPR​
.com. She has appeared on
Good Day New York
,
Deep­ak Chopra Well­ness Radio
and The New York­er Fes­ti­val. She is the grand­daugh­ter of Holo­caust sur­vivors and a for­mer stu­dent at The Hebrew Uni­ver­si­ty of Jerusalem. She is also a found­ing mem­ber of NOW's Young Fem­i­nist Task Force and blogs about fem­i­nist issues at
gen​fem​.com