This week, Bar­bara Aske­nas and Michal Smart, co-edi­tors of the Nation­al Jew­ish Book Award-win­ning book
Kad­dish: Wom­en's Voic­es
blogs for The Post­script on why their book, not an obvi­ous selec­tion for a book club, could actu­al­ly be an excel­lent choice.
The Post­script
series is a spe­cial peek ​

"

behind the scenes" of a book. It's a juicy lit­tle extra some­thing to add to a
book club
​

'

s dis­cus­sion and a read­er's under­stand­ing of how the book came togeth­er.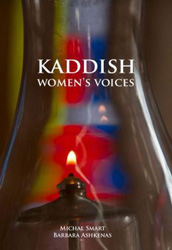 Since the pub­li­ca­tion of our book, Kad­dish: Wom­en's Voic­es, in Nov 2013, the response from our read­ers has been remarkable!
Our book Kad­dish: Wom­en's Voic­es explores what the recita­tion of Kad­dish meant to dif­fer­ent women from across the globe. Did they find the com­mu­ni­ty and the con­so­la­tion they were seek­ing? How did say­ing Kad­dish affect their rela­tion­ships with God, with prayer, with the deceased, and with the liv­ing? With courage and gen­eros­i­ty, authors of diverse back­grounds and ages reflect upon their mourn­ing experience
Our tal­ent­ed group of con­trib­u­tors share their rela­tion­ships about the fam­i­ly mem­bers they lost and what it meant to move on, how they strug­gled to bal­ance the com­pet­ing demands of child-rear­ing, work, and grief, what they learned about tra­di­tion and them­selves, and the dis­ap­point­ments and par­tic­u­lar chal­lenges they con­front­ed as women.
Through fifty-two hon­est and per­son­al essays, the book invites the read­er into the inti­mate expe­ri­ence of a woman in mourn­ing, and reveals the mul­ti­plic­i­ty of a women's expe­ri­ences, seen through the prism of Kad­dish. The col­lec­tion shares view­points from diverse denom­i­na­tions and per­spec­tives, and explores what it means to heal from loss and to hon­or mem­o­ry in fam­i­ly rela­tion­ships both lov­ing and fraught with pain.
Kad­dish: Women's Voic­es is a book whose 52 essays cre­ate a con­ver­sa­tion where loss is the cur­ren­cy of inti­ma­cy. It cre­ates a com­mu­ni­ty where women's voic­es can be heard through the heart­strings of Kaddish.
Whether you are a daugh­ter, sis­ter, wife, moth­er or Bubbe, this col­lec­tion offers solace, love, ten­der­ness and nour­ish­ment for the soul when it is need­ed most. It is a com­pan­ion that can be both sup­port­ive and healing.
While the essays in our book con­tain real moments of acute grief there is warmth humor and hope run­ning through its pages. Any book club can embrace the oppor­tu­ni­ty to use our book as a vehi­cle to dis­cuss their own jour­neys and cre­ate real con­ver­sa­tions about per­son­al loss and grief and how it trans­formed their lives for growth and renewal.
Ques­tions for a Book Club to ponder:
Have you ever said Kaddish?
If so for whom? Par­ent, child, sib­ling , friend , spouse ?
Why did you accept the respon­si­bil­i­ty to say it?
How did it trans­form you?
How did you feel when it was time for the last Kaddish?
Which essay(s) res­onat­ed with you?
Did the essays by the Rab­bis inform your under­stand­ing of the devel­op­ment of Kad­dish through the ages
Did they inform you about Jew­ish Law? If so how?
Relat­ed Con­tent:
The Illu­mi­nat­ed Kad­dish: The Inter­pre­ta­tions of the Mourn­er's Prayer
by Hyla Shifra Bol­s­ta,
Joan­na Her­shon and the Memo­r­i­al
and oth­er posts on
death, mourn­ing, and loss
.
Michal Smart is the Direc­tor of Juda­ic Stud­ies at Bi-Cul­tur­al Day School, and teach­es wide­ly on Jew­ish texts with a focus on Jew­ish women. A Ful­bright schol­ar in Jew­ish Thought, Michal received her A.B. from Prince­ton Uni­ver­si­ty and an M.S. from Cor­nell. Ear­li­er, Michal pio­neered Jew­ish out­door and envi­ron­men­tal edu­ca­tion in the U.S. Her fam­i­ly lives in Stam­ford,
CT
.