69

th Nation­al Jew­ish Book Awards — Vir­tu­al Celebration
Thursday, November 12, 2020
7–8pm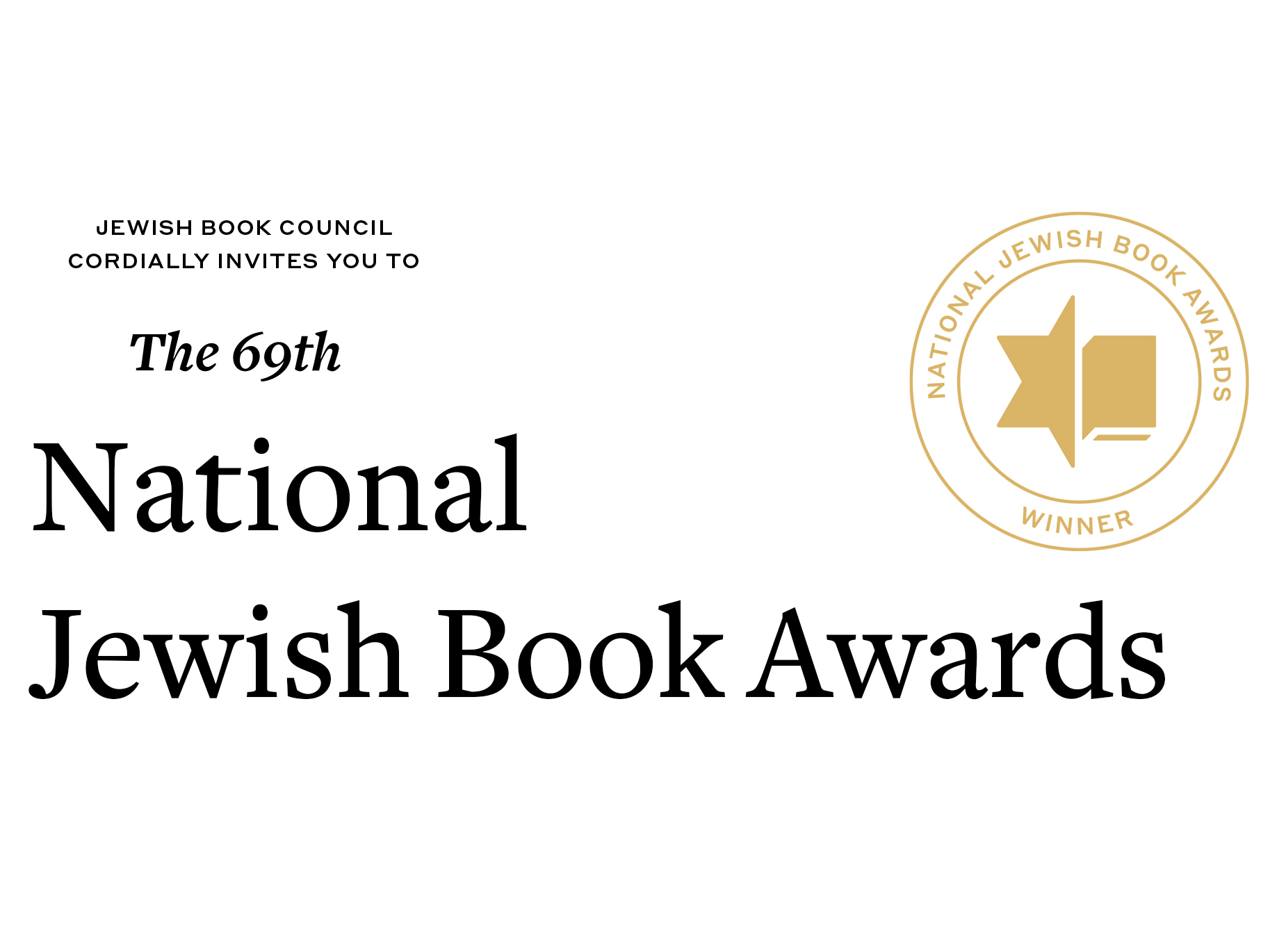 *View the event record­ing on Face­book or YouTube.*
–
The vir­tu­al cel­e­bra­tion will fea­ture remarks from the 2019 Nation­al Jew­ish Book Award win­ners live from their homes. Please reg­is­ter above to join us for the event. A link to join and a PDF of the pro­gram book will be sent to all reg­is­tered guests in ear­ly Novem­ber. To pur­chase the win­ning books, please click here.
Everett Fam­i­ly Foun­da­tion Book of the Year Award: Pamela S. Nadell, Amer­i­ca's Jew­ish Women: A His­to­ry from Colo­nial Times to Today (W. W. Nor­ton

&

Company)
Life­time Achieve­ment Award: Robert Alter, The Hebrew Bible: A Trans­la­tion with Com­men­tary (W. W. Nor­ton

&

Company)
Men­tor­ship Award in Hon­or of Car­olyn Star­man Hes­sel: Dena W. Neusner
Amer­i­can Jew­ish Stud­ies Cel­e­brate

350

Award: Ken­neth D. Wald, The Foun­da­tions of Amer­i­can Jew­ish Lib­er­al­ism (Cam­bridge Uni­ver­si­ty Press)
Antholo­gies and Col­lec­tions: Nao­mi B. Sokoloff and Nan­cy E. Berg, eds., What We Talk about When We Talk about Hebrew (and What It Means to Amer­i­cans) (Uni­ver­si­ty of Wash­ing­ton Press)
Auto­bi­og­ra­phy and Mem­oir Krauss Fam­i­ly Award in Mem­o­ry of Simon

&

Shu­lamith (Sofi) Gold­berg: Dani Shapiro, Inher­i­tance: A Mem­oir of Geneal­o­gy, Pater­ni­ty, and Love (Alfred A. Knopf)
Biog­ra­phy in Mem­o­ry of Sara Beren­son Stone: David E. Lowe, Touched with Fire: Mor­ris B. Abram and the Bat­tle against Racial and Reli­gious Dis­crim­i­na­tion (Potomac Books)
Book Club Miller Fam­i­ly Award in Mem­o­ry of Helen Dunn Wein­stein and June Keit Miller: Alice Hoff­man, The World That We Knew (Simon

&

Schuster)
Children's Lit­er­a­ture: Lesléa New­man; Amy June Bates, illus., Gittel's Jour­ney: An Ellis Island Sto­ry (Abrams Books for Young Read­ers, an imprint of

ABRAMS

)
Con­tem­po­rary Jew­ish Life and Prac­tice Myra H. Kraft Memo­r­i­al Award: Bari Weiss, How to Fight Anti-Semi­­tism (Crown)
Debut Fic­tion Gold­berg Prize: Sarah Blake, Naamah (River­head Books)
Edu­ca­tion and Jew­ish Iden­ti­ty in Mem­o­ry of Dorothy Krip­ke: Deb­o­rah Lip­stadt, Anti­semitism: Here and Now (Schock­en)
Fic­tion

JJ

Green­berg Memo­r­i­al Award: Etgar Keret, Fly Already: Sto­ries (River­head Books)
Food Writ­ing

&

Cook­books Jane and Stu­art Weitz­man Fam­i­ly Award: András Koern­er, Jew­ish Cui­sine in Hun­gary: A Cul­tur­al His­to­ry with

83

Authen­tic Recipes (Cen­tral Euro­pean Uni­ver­si­ty Press)
His­to­ry Ger­rard and Ella Berman Memo­r­i­al Award: Daniel Okrent, The Guard­ed Gate: Big­otry, Eugen­ics and the Law That Kept Two Gen­er­a­tions of Jews, Ital­ians, and Oth­er Euro­pean Immi­grants Out of Amer­i­ca (Scrib­n­er)
Holo­caust in Mem­o­ry of Ernest W. Michel: Michael Dobbs, The Unwant­ed: Amer­i­ca, Auschwitz, and a Vil­lage Caught In Between (Alfred A.Knopf in asso­ci­a­tion with the Unit­ed States Holo­caust Memo­r­i­al Museum)
Mod­ern Jew­ish Thought and Expe­ri­ence Dorot Foun­da­tion Award in Mem­o­ry of Joy Unger­lei­der May­er­son: Elis­sa Bem­po­rad, Lega­cy of Blood: Jews, Pogroms, and Rit­u­al Mur­der in the Lands of the Sovi­ets (Oxford Uni­ver­si­ty Press)
Poet­ry Berru Award in Mem­o­ry of Ruth and Bernie Wein­flash: Ilya Kamin­sky, Deaf Repub­lic (Gray­wolf Press)
Schol­ar­ship Nahum M. Sar­na Memo­r­i­al Award: Eric Lawee, Rashi's Com­men­tary on the Torah: Can­on­iza­tion and Resis­tance in the Recep­tion of a Jew­ish Clas­sic (Oxford Uni­ver­si­ty Press)
Sephardic Cul­ture Mimi S. Frank Award in Mem­o­ry of Becky Levy: Joshua Cole, Lethal Provo­ca­tion: The Con­stan­tine Mur­ders and the Pol­i­tics of French Alge­ria (Cor­nell Uni­ver­si­ty Press)
Visu­al Arts: Rebec­ca Shaykin, Edith Halpert, the Down­town Gallery, and the Rise of Amer­i­can Art (The Jew­ish Muse­um and Yale Uni­ver­si­ty Press)
Women Stud­ies Bar­bara Dobkin Award: Nao­mi Sei­d­man, Sarah Schenir­er and the Bais Yaakov Move­ment (The Littman Library of Jew­ish Civilization)
Writ­ing Based on Archival Mate­r­i­al The JDC-Her­bert Katz­ki Award: Elis­a­beth Gal­las; Alex Skin­ner, trans., A Mor­tu­ary of Books: The Res­cue of Jew­ish Cul­ture after the Holo­caust (New York Uni­ver­si­ty Press)
Young Adult Lit­er­a­ture: Rachel DeWoskin, Some­day We Will Fly (Viking, an imprint of Pen­guin Young Readers)
Learn more about the Nation­al Jew­ish Book Awards here.
*Please con­sid­er mak­ing a finan­cial con­tri­bu­tion or con­sid­er becom­ing a mem­ber to sup­port all of JBC's con­tin­ued initiatives.*
Down­load the PDF Guide to Our 2019 Win­ners and Finalists