Michael Wex is the author of Born to Kvetch, and the new nov­el The Frumkiss Fam­i­ly Busi­ness. He will be blog­ging all week for the Jew­ish Book Coun­cil and MyJew­ish­Learn­ing​'s Author Blog.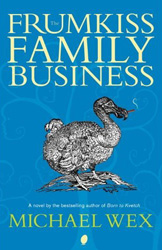 A cou­ple of years ago, Diane Mar­tin, an edi­tor at Knopf Cana­da, told me a sto­ry about an acquain­tance of hers, a Jew­ish man liv­ing with a gen­tile woman who had become so fas­ci­nat­ed with her partner's cul­tur­al back­ground that she had tak­en the plunge and con­vert­ed to Judaism a cou­ple of weeks earlier.
While the man had no ide­o­log­i­cal objec­tions to a deci­sion that could do noth­ing but make his par­ents, if not hap­py, at least hap­pi­er than they had been about his rela­tion­ship, he was con­cerned with a far more fun­da­men­tal prob­lem. Accord­ing to Diane, he took his wal­let from his pock­et – – he was a writer and Diane was his edi­tor – – flipped the pho­to hold­er open and showed Diane a pic­ture of a Cal­i­for­nia blonde in a biki­ni. ​"She doesn't look hot to me anymore."
What­ev­er this couple's rela­tion­ship had been, it owed too much to the woman's for­bid­den qual­i­ty, her psy­chic role as bacon and eggs in briefs and a bra, to sur­vive her pas­sage into kashrus. The man was alien­at­ed by the idea of a woman who wasn't an alien and the cou­ple split up not long afterwards.
"Nu, Michael," asked Diane, who'd dis­cov­ered the Yid­dish word only a short time before, ​"think you could do a nov­el about some­thing like that? About a non-Jew who finds out that they're Jew­ish and how that affects their mar­riage to a Jew?"
​"Of course," I said.
I lied. But not com­plete­ly. I could have writ­ten that book, but I didn't. I turned Diane's idea inside out. An attempt to look at the nature of inter­mar­riage became an exam­i­na­tion of what it means to be Jew­ish in cir­cum­stances where Judaism has more to do with feel­ing than with reli­gious obser­vance or belief; what it means to be Jew­ish in a soci­ety like ours, where such phras­es as ​"Jew­ish athe­ist" or ​"Jew­ish Bud­dhist" are no longer seen as con­tra­dic­tions in terms.
As I did more and more work on the book, though, I noticed strange things hap­pen­ing to me. The more I wrote, the less con­sis­tent my opin­ion of the pho­to that I keep on my desk: the then-future Mrs. Wex in sash and biki­ni dur­ing her reign as Miss Camp Sheynvelt.
Come back all week to read Michael Wex's blog posts. His new nov­el, The Frumkiss Fam­i­ly Busi­ness, is now available.