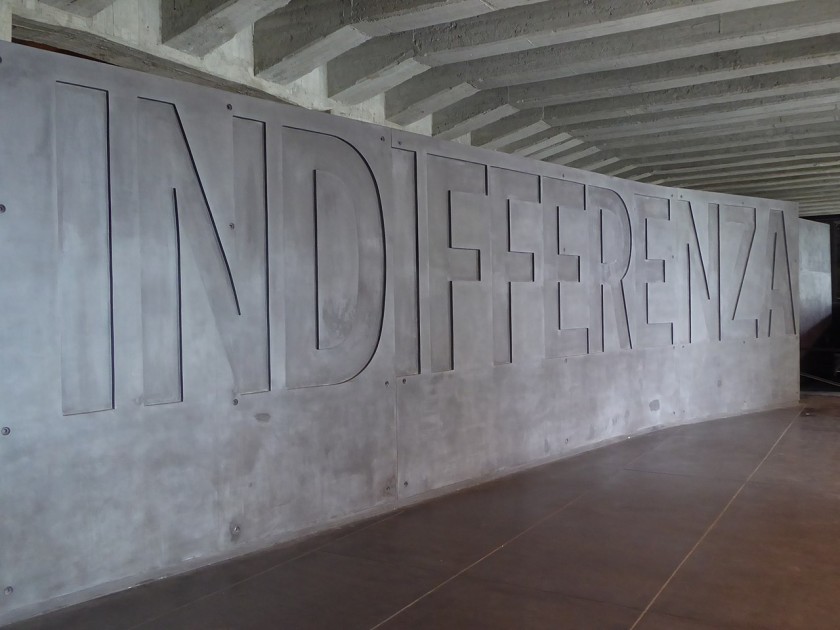 Dur­ing Mussolini's regime there was a huge stat­ue of him on horse­back in the Bologna foot­ball sta­di­um. On July 25, 1943, the Ital­ian King Vic­tor Emmanuel III removed Mus­soli­ni (or Il Duce) from office and had him arrest­ed, and on this same day that stat­ue was giv­en a sim­i­lar treat­ment: the head was cut off and glee­ful­ly parad­ed through Bologna's ancient streets. After World War II end­ed, and Mus­soli­ni had been killed by the Ital­ian Resis­tance, the rest of the stat­ue was melt­ed down to cre­ate two life-size stat­ues of Resis­tance fight­ers, a man and a woman, stand­ing defi­ant­ly in the Piaz­za VII Novem­ber 1944 which com­mem­o­rates a bat­tle between the par­ti­sans and the occu­py­ing Germans.
Fifty years lat­er, in Rome, dur­ing the tri­al of Nazi offi­cer Erich Priebke, Neo Fas­cists hasti­ly erect­ed a makeshift memo­r­i­al in the Via Rasel­la. Priebke ordered the mur­der of 377 Romans in retal­i­a­tion for a par­ti­san attack on the occu­py­ing Ger­man army. The makeshift memo­r­i­al was cre­at­ed where the SS were ambushed. It includ­ed an inscrip­tion hon­or­ing the Ger­man dead: ​"Vic­tims of an antifas­cist and par­ti­san slaugh­ter per­pe­trat­ed by vile assassins."
For almost a cen­tu­ry, Ital­ians have been try­ing to come to terms with their ambigu­ous past. Twen­ty years of Fas­cist rule, and an alliance with Hitler, end­ed on July 25, 1943, but was fol­lowed by a civ­il war between Ital­ian par­ti­sans and the rem­nants of Mussolini's forces. That inter­nal con­flict was over­laid by the inva­sion of the penin­su­la from the south by Allied armies and from the north by the Ger­mans. Even when the fight­ing sup­pos­ed­ly end­ed on July 28, l945, there was often a vio­lent set­tling of accounts between Italians.
The result has been a land­scape of mem­o­ry in Italy that includes memo­ri­als to both the Resis­tance and the Fas­cists. There are addi­tion­al mon­u­ments that recall civil­ians killed by the Fas­cists, the Nazis, and the Allied bombings.
Part of that com­plex and con­tra­dic­to­ry mem­o­ryscape are memo­ri­als con­cern­ing the Holo­caust. How­ev­er, Jews have had to be care­ful when mak­ing their sto­ry a part of the nation­al mem­o­ry. As one his­to­ri­an has said, ​"inher­ent in civ­il war itself is some­thing that feeds the ten­den­cy to bury the mem­o­ry of it." If there has been a con­cert­ed effort to obscure or hide the dis­turb­ing nature of the Ital­ian involve­ment in World War II, the Holo­caust memo­ri­als have par­tic­i­pat­ed in that effort.
In 1947, Milan's Jew­ish Com­mu­ni­ty erect­ed a memo­r­i­al in the city's Mon­u­men­tal Ceme­tery that con­tained twelve tomb­stones bear­ing the names and his­to­ry of twelve Ital­ian Jews who were killed dur­ing World War II. The choice of those twelve Jews was care­ful­ly con­sid­ered. Four died as par­ti­sans and one had vol­un­teered to fight for the Allied armies. It is not clear whether the par­ti­sans died fight­ing Ger­mans or Ital­ians. That seems to be inten­tion­al­ly obscured. And most impor­tant­ly all twelve died on Ital­ian soil. None of the twelve died at Auschwitz, although thou­sands of Ital­ian Jews were killed there. To specif­i­cal­ly men­tion those vic­tims would be a reminder that Ital­ians informed on their Jew­ish neigh­bors, and oth­er Ital­ians loaded the trains and drove them out of Milan, Rome, and else­where towards their death.
Jews have had to be care­ful when mak­ing their sto­ry a part of the nation­al memory.
The Jews who were trans­port­ed to Auschwitz are remem­bered in anoth­er Milan memo­r­i­al. In 1995, a Catholic orga­ni­za­tion, Sant'Egidio, informed the Jew­ish com­mu­ni­ty that train Plat­form 21, where Jews had been deport­ed, still exist­ed as part of the Milan rail­road sta­tion, although it was not oper­a­tional. The Arch­bish­op of Milan, Car­lo Maria Mar­ti­ni set in motion a plan for a memo­r­i­al at the site which came to fruition in 2013. The memo­r­i­al fea­tures the plat­form, which was hid­den under­ground so that the depor­ta­tions would not be vis­i­ble to the rest of Milan, orig­i­nal live­stock cars, and the ele­va­tor that lift­ed the cars with their human car­go to ground lev­el. There is a long wall of the vic­tims' names, and as one enters the memo­r­i­al there is anoth­er long wall with mon­u­men­tal let­ters spelling out one word, INDIF­FEREN­ZA, ​"indif­fer­ence," sup­pos­ed­ly the human frailty that had made the Holo­caust possible.
Cer­tain­ly, indif­fer­ence played a role in allow­ing the mur­der of Italy's Jews. But just as cer­tain­ly there were Ital­ians who inten­tion­al­ly arrest­ed and round­ed up Jews, and Ital­ians who drove the trains. Sure­ly, in Milan, there were peo­ple like Doc­tor Lui­gi Par­ravici­ni and Father Pao­lo Lig­geri who saved numer­ous Jews in their hos­pi­tals and church­es. Father Lig­geri was him­self deport­ed to Mau­thausen. But there were oth­er Ital­ians who informed on Jews to the local and Ger­man author­i­ties. None of these peo­ple, nei­ther the heroes nor the vil­lains, were indif­fer­ent. How­ev­er if one is bent on bury­ing the mem­o­ry of what actu­al­ly hap­pened even at the entrance to a Holo­caust memo­r­i­al, a lot can be hid­den behind the word ​"Indif­feren­za."
After two thou­sand Jews in Rome had been round­ed up and sent to Auschwitz and after 77 Jews had been mur­dered among the 330 Romans killed by Erich Priebke and his fel­low Nazis, Gia­co­mo Debenedet­ti, a Jew­ish Pro­fes­sor at the Uni­ver­si­ty of Rome, asked for the Jew­ish fall­en that ​"at a roll call of the dead their names be includ­ed among those of oth­er sol­diers who have fall­en in the war. . Sol­dier Coen, Sol­dier Levi, Sol­dier Abramovic, Sol­dier Chaim Blu­men­thal, age five, fell at Leopoli amid his fam­i­ly with his hands tied behind his back while still defend­ing and bear­ing wit­ness to the cause of liberty."
That memo­r­i­al is yet to be built, but with Debenedetti's roll-call we hear the pain of, not only the Jews who are memo­ri­al­ized in Italy, but all those who died in the War and in the civ­il war, deaths spent in oppo­si­tion to tyranny.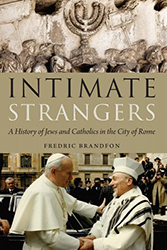 Fredric Brand­fon went to Wes­leyan Uni­ver­si­ty and received a Doc­tor­ate in His­to­ry of Reli­gions from the Uni­ver­si­ty of Penn­syl­va­nia. He also has a UCLA law degree. From 1973 – 1988 he was an archae­ol­o­gist exca­vat­ing in Israel. After receiv­ing a Mel­lon Grant to study Phi­los­o­phy of His­to­ry, he taught at Cen­tral Michi­gan Uni­ver­si­ty, Stock­ton Uni­ver­si­ty, and the Col­lege of Charleston.