Joel Chas­noff (The 188th Cry­ba­by Brigade
) has been blog­ging for the Jew­ish Book Coun­cil on his Jew­ish Book NET­WORK tour. Missed the first two? Check them out here and here.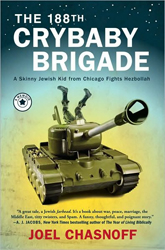 I've done quite a few of these book events now – half a dozen through the Book Coun­cil, and anoth­er ten or so after my stand-up com­e­dy shows – and some­times it feels like they all blend together.
But then, every once in a while, I'll have an event where some­thing tru­ly incred­i­ble hap­pens, guar­an­tee­ing that I'll nev­er for­get that par­tic­u­lar night.
Last Thursday's read­ing at the Pos­nack JCC in Davie, Flori­da was one of those unfor­get­table evenings.
It all start­ed when a guy in the front row asked me about the title of my book. I explained that ​"The 188th Cry­ba­by Brigade" was actu­al­ly a nick­name that my offi­cer gave to our pla­toon dur­ing basic train­ing. I told the crowd that in my unit we had a num­ber of mama's boys who faked injuries to get out of guard duty and lit­er­al­ly broke down cry­ing dur­ing hikes in hopes that they'd get a ride back to base in a jeep. ​"Hav­ing grown up on the myth of the invin­ci­ble Israeli Army," I explained, ​"I was quite shocked by the sheer wimpi­ness of some of my comrades."
Right then and there, an old woman raised her hand and shout­ed, ​"Excuse me, you!"
I looked at her, star­tled. ​"Uh…yes?" I said.
The woman stood up. She was short, and thin, with dyed red hair that matched her poly­ester jump­suit – a typ­i­cal South Flori­da bub­bie, and with the spunky ener­gy of Dr. Ruth.
The bub­bie shook her fin­ger at me. ​"You are the cry­ba­by!" she wailed.
I chuck­led. Part of me want­ed to dis­miss her. But I was curi­ous. And she was entertaining.
"And why am I the cry­ba­by, Ma'am?" I asked.
The woman stepped for­ward. ​"There are no cry­ba­bies in the Israeli Army. Israeli sol­diers are the bravest in the world. The only sol­dier who's cry­ing is you!"
Half of the crowd shout­ed at her to shut up. The oth­er half – most­ly the old­er folks – cheered her on.
"Whoa, whoa, wait a sec­ond," I hushed the crowed. ​"Ma'am – with all due respect, I'm not say­ing that Israeli sol­diers aren't brave. I'm just say­ing that, in my pla­toon – my expe­ri­ence – there hap­pened to be quite a few kids who, quite frankly, didn't want to be in the army and tried every trick in the book to get out."
The woman shook her head. ​"Not in the Israeli Army I know!" she bel­lowed. Her sup­port­ers cheered.
I was warned that, soon­er or lat­er, this kind of thing might hap­pen on my book tour. Israel is an extreme­ly emo­tion­al top­ic. I knew peo­ple would react to my book in ways I couldn't nec­es­sar­i­ly predict.
Not that I ever had an agen­da. In writ­ing my book, I did not set out to praise Israel or to dis­par­age Israel. Instead, my goal was sim­ply to tell my sto­ry as hon­est­ly as I could. At times in my book, I express admi­ra­tion for the IDF – for exam­ple, when our offi­cer sits us down dur­ing basic train­ing and leads us in a dis­cus­sion of bat­tle­field ethics.
Oth­er times, like when I describe our lack of train­ing before deploy­ing to Lebanon, I'm crit­i­cal. But I was always hon­est and, in my mind, fair.
The fact is, how­ev­er, that there are many, many peo­ple out there – usu­al­ly old­er ones, but some younger ones, too – who sim­ply refuse to believe that the leg­endary Israeli Army is not per­fect. This South Flori­da bub­bie was one of them.
I explained to the woman that I was not the first author to write about Israel's imper­fec­tions – in fact, in Self Por­trait of a Hero, Yoni Netanyahu's posthu­mous auto­bi­og­ra­phy, Yoni him­self describes the cry­ba­bies in his unit and how these guys hold back his pla­toon. Or, I sug­gest­ed, the woman should check out the movies Waltz with Bashir and Beau­fort – both of which are Israeli made, were nom­i­nat­ed for Oscars, and present less-than-per­fect images of the Israeli Army.
But the woman and her cohorts refused to back down. She sim­ply couldn't han­dle an Israel nar­ra­tive that diverged from her own.
After the event was over, the red-head­ed bub­bie approached me. I feared anoth­er shak­ing down. But instead she said, ​"Keep up the good work, young man."
"Okay," I said, sur­prised. ​"But what about – ?"
"We need peo­ple like you," she cut me off. ​"We need you and we need your books. Oth­er­wise, we Jews will have noth­ing to argue about."
Joel Chas­noff (The 188th Cry­ba­by Brigade
) has been blog­ging for the Jew­ish Book Coun­cil on his Jew­ish Book NET­WORK tour. Be sure to check back for his next post for the JBC Blog.
Joel Chas­noff is a stand-up come­di­an who's per­formed his unique brand of clean, clever com­e­dy for more than 1,000 Jew­ish audi­ences in ten coun­tries. A for­mer IDF lone sol­dier, Joel is the author of mul­ti­ple books, includ­ing the comedic mem­oir The 188th Cry­ba­by Brigade and the new­ly released Israel 201.