Sue Fishkoff is the author of Kosher Nation: Why More and More of America's Food Answers to a High­er Author­i­ty
. She will be blog­ging all week for the Jew­ish Book Coun­cil and MyJew­ish­Learn­ing​'s Vis­it­ing Scribe.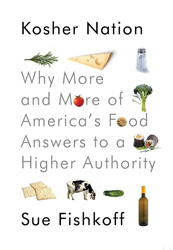 When I'm invit­ed to a Shab­bat or hol­i­day meal in a Jew­ish home, I always bring kosher wine. Not just that, I try to make it Israeli.
It's not because I keep kosher. And it's not because the peo­ple I'm vis­it­ing nec­es­sar­i­ly keep kosher either.
If wine by any oth­er name smells as sweet, why bother?
I know I'm not alone — plen­ty of Jews who ordi­nar­i­ly ignore the laws of kashrut buy kosher wine for Shab­bat, stock their pantries with kosher-for-Passover food every spring, and pay extra for kosher cater­ing at their simchas.
Hyp­o­crit­i­cal? Yes, if you believe that procur­ing and ingest­ing kosher food has mer­it only with­in the con­text of a ful­ly obser­vant lifestyle. But that con­struct holds sway today main­ly at the far ends of the obser­vance spec­trum, among the most hard-line hared­im, for whom any devi­a­tion from the path plunges the offend­er into heresy, and the few remain­ing Clas­si­cal Reform Jews who are hos­tile to Jew­ish rit­u­als in gen­er­al, includ­ing kashrut.
Increas­ing num­bers of Amer­i­can Jews, how­ev­er, do not con­sid­er the kosher diet a divine com­mand­ment but an expres­sion of Jew­ish iden­ti­ty, a mark of mem­ber­ship in the tribe. As such, it is a mov­ing tar­get. Putting kosher food on the table does not sig­nal one's denom­i­na­tion­al affil­i­a­tion or lev­el of obser­vance so much as the strength of one's con­nec­tion to Jew­ish his­to­ry, Jew­ish com­mu­ni­ty, and even the land of Israel.
It's a dif­fer­ent, very mod­ern and specif­i­cal­ly West­ern way of look­ing at Jew­ish dietary practice.
Let's look at the num­bers. Accord­ing to the Mintel Inter­na­tion­al Group, a mar­ket research firm that releas­es peri­od­ic reports on the kosher indus­try, more than 40 per­cent of the food sold in Amer­i­can super­mar­kets is kosher-cer­ti­fied. The group's Jan­u­ary 2009 report claimed that $195 bil­lion of the pre­vi­ous year's $400 bil­lion in food sales came from kosher prod­ucts, an astound­ing fig­ure giv­en that Jews make up less than three per­cent of the pop­u­la­tion — and most don't even keep kosher.
Sure, most of that kosher-cer­ti­fied food rep­re­sents main­stream prod­ucts like Heinz ketchup and Trop­i­cana orange juice that con­sumers buy with­out regard to its kosher sta­tus. More telling is the same report's fig­ure of $12.5 bil­lion in sales with­in the ded­i­cat­ed kosher mar­ket, mean­ing prod­ucts pur­chased because of the kosher label.
Who's buy­ing this food? Many are non-Jews who believe that kosher food, espe­cial­ly kosher meat and poul­try, is safer, health­i­er, and of high­er qual­i­ty than its non-kosher coun­ter­part. Oth­ers are non-Jews whose moral or reli­gious beliefs are sat­is­fied by kosher cer­ti­fi­ca­tion—Mus­lims who buy kosher meat when halal is unavail­able, and veg­e­tar­i­ans who look for a ​"D" sym­bol indi­cat­ing a meat­less prod­uct, fall into this cat­e­go­ry. They might be lac­tose-intol­er­ant, assured by a pareve label that a prod­uct con­tains no dairy; there are a host of reasons.
But many of the peo­ple who buy kosher food on pur­pose are Jew­ish, sim­ply nonob­ser­vant. Some of them buy kosher prod­ucts for the same rea­son as non-Jews: they believe it's safer or of high­er qual­i­ty. But many more do it for rea­sons of com­mu­ni­ty, tra­di­tion and Jew­ish identity.
This is par­tic­u­lar­ly true on the Jew­ish hol­i­days, which have become times for nonob­ser­vant Jews to con­nect with their his­to­ry by putting Jew­ish food on the table. Many Jews who don't keep kosher the rest of the year buy kosher wine and mat­zo for Passover, some­times out of respect for par­ents or grand­par­ents, some­times because it makes them feel more Jew­ish, and some­times because of an inchoate feel­ing that it would be wrong to do otherwise.
When I was research­ing Kosher Nation, I spoke to many nonob­ser­vant or par­tial­ly obser­vant Jews who bring out the kosher food on sacred occasions.
One woman told me she keeps a kosher-style home, mean­ing she does not bring in pork or shell­fish, but she will buy pack­aged food prod­ucts with­out kosher sym­bols. But when her chil­dren were lit­tle, she made the fam­i­ly home kosher for Passover every spring. They'd put all the bread, pas­ta, cere­als, and oth­er non-Passover foods in a pantry, which she would lock for the dura­tion of the hol­i­day. The kids would draw skulls and cross­bones on the door to indi­cate it was off-lim­its for the next eight days. She also bought kosher-for-Passover food items, even though those same foods with­out kosher sym­bols were good enough the rest of the year.
"Part­ly it was how I was raised," she told me. ​"Part­ly it's a way to iden­ti­fy as Jew­ish. And part­ly it's to hon­or my fore­fa­thers and foremothers."
So why do I seek out kosher, Israeli wine for Shab­bat and Jew­ish hol­i­days? Prob­a­bly because I miss Israel, where I lived for many years. Marx­ist philoso­pher Wal­ter Ben­jamin wrote about the (illu­so­ry) pow­er of the arti­fact to col­lapse the dis­tance between pro­duc­er and con­sumer. When I hold a bot­tle of Yarden or Gam­la wine, I feel a phys­i­cal con­nec­tion to the soil, the grapes, and the work­ers who pro­duced it. And when I pour it into my cup and make the kid­dush, I feel con­nect­ed to the gen­er­a­tions of Jews who have bro­ken bread togeth­er over the years, and who are doing so today no mat­ter where they live.
Illu­so­ry? Not to the soul. Names do mat­ter, no mat­ter how sweet the drink.
A ver­sion of this arti­cle orig­i­nal­ly appeared at www​.jta​.org.
Sue Fishkoff will be blog­ging here all week.