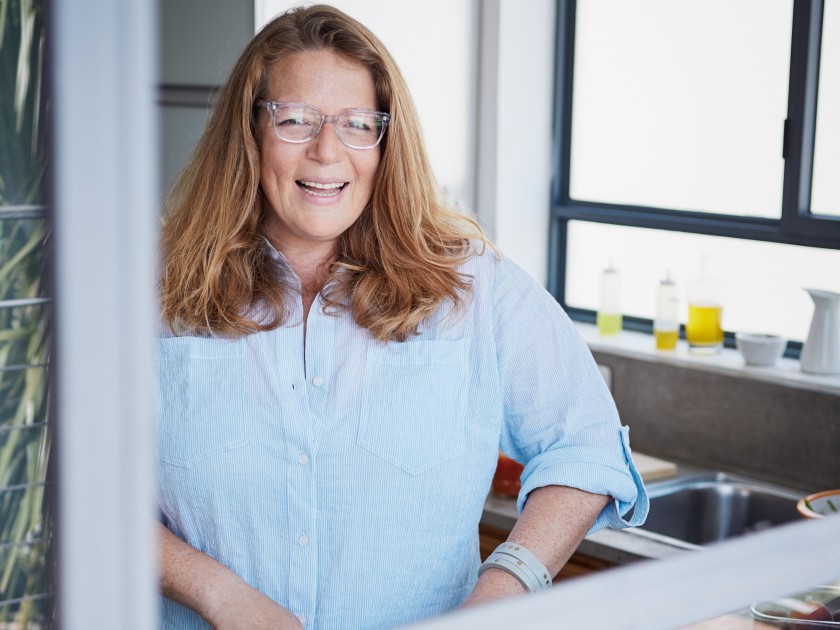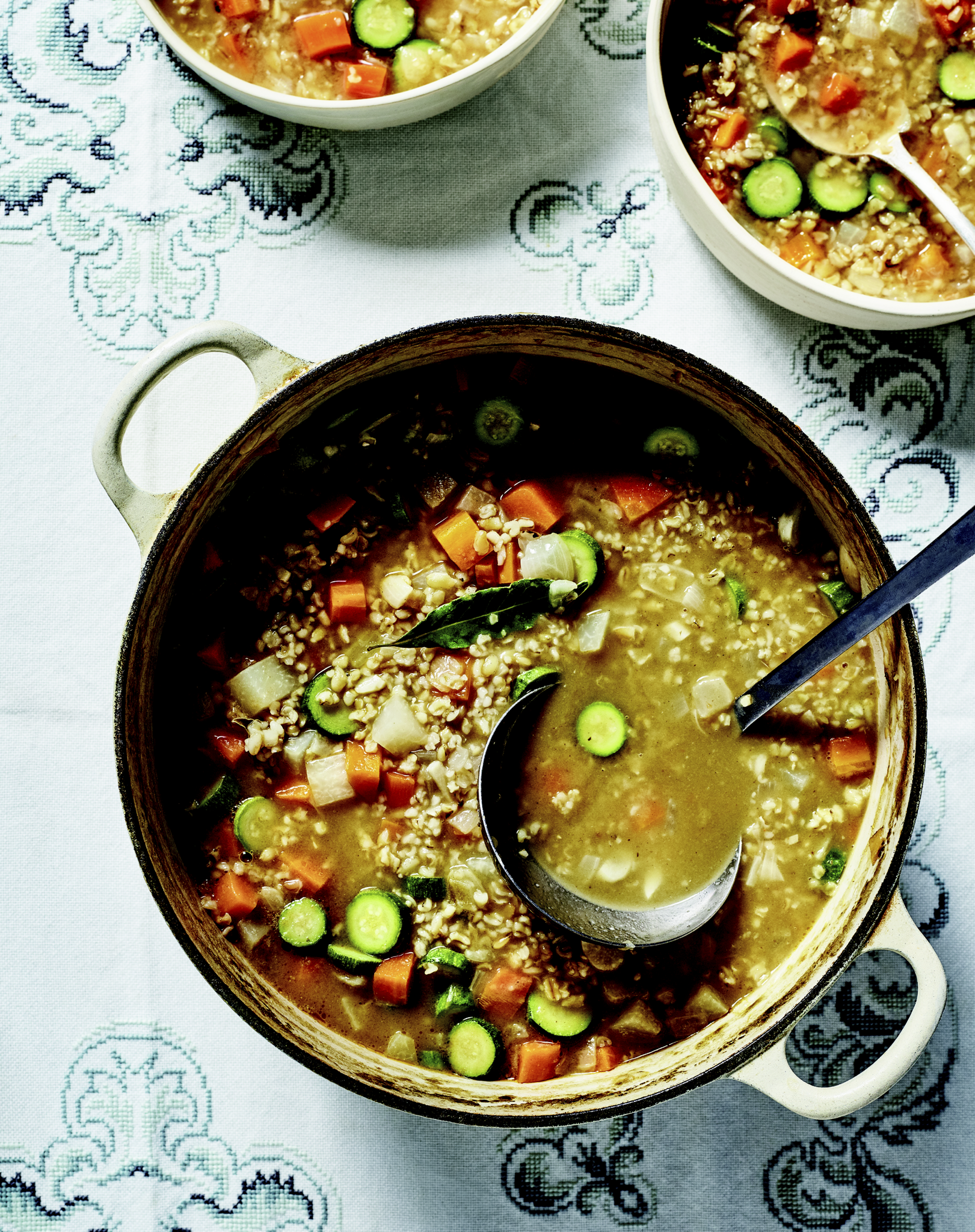 Freekeh Veg­etable Soup
It's not all palm trees and hot beach­es; Tel Aviv has a win­ter, too, bring­ing hard rain and strong winds that prac­ti­cal­ly make you beg for a bowl of soup. Freekeh (smoked, cracked wheat; see The Freekeh Con­nec­tion, page 166) adds both body and fla­vor to this one. Though most wheat in Israel is import­ed, a small amount is har­vest­ed local­ly every spring. In Arab com­mu­ni­ties, prized young green wheat is picked and dried in the field over wood to cre­ate freekeh (pro­nounced ​"freaky" in Israel), a beguil­ing grain that can be used a mil­lion ways (though some of the freekeh I buy here is local, much of it is import­ed from Turkey). If you throw in a lit­tle extra, its starch makes the soup grow thick, so that one minute you have a nor­mal broth and the next you're look­ing at almost-por­ridge … but in the best pos­si­ble way. The freekeh adds just a wisp of smoky fla­vor, as though a blown-out match had passed through each spoon­ful for a second.
1 cup freekeh (cracked or whole)
3 table­spoons extra-vir­gin olive oil, plus more for drizzling
1 large onion, diced
1 medi­um kohlra­bi, rind and tough out­er mem­branes peeled off, diced
2 medi­um car­rots, diced
1 tea­spoon kosher salt, plus more for seasoning
½ tea­spoon fresh­ly ground black pep­per, plus more for seasoning
3 gar­lic cloves, minced
8 cups veg­etable or chick­en broth, plus more if needed
2 medi­um zuc­chi­ni, diced
1 Parme­san rind or 1 table­spoon nutri­tion­al yeast (option­al)
2 tea­spoons chopped fresh za'atar or oregano
¼ tea­spoon cayenne pep­per, or more to taste
Chopped fresh herbs (za'atar, pars­ley, chives, or scal­lions), for garnish
Serves 6 to 8
Active Time: 15 minutes
Total Time: 55 minutes
Place the freekeh in a medi­um bowl, cov­er with cold water, and set aside. Heat the olive oil in a large (4- or 5‑quart) saucepan over medi­um heat. Add the onion and cook, stir­ring, until soft­ened, 8 min­utes. Add the kohlra­bi and car­rots and cook, stir­ring, until the veg­eta­bles begin to soft­en, 5 min­utes; sea­son gen­er­ous­ly with salt and black pep­per. Add the gar­lic and cook 1 more minute. Drain the freekeh, rinse it with cold water, and add it to the pot. Add the broth, zuc­chi­ni, Parme­san rind if using, za'atar, salt, and the cayenne. Bring to a boil, then reduce the heat and sim­mer, uncov­ered, until the soup is thick­ened, 25 to 30 min­utes (or a few min­utes longer if you're using whole freekeh instead of cracked freekeh). Remove the Parme­san rind, sea­son with more salt and black pep­per to taste, divide among bowls, gar­nish with herbs, and driz­zle with olive oil.
From SABA­BA by ADEENA SUSS­MAN, pub­lished by AVERY, an imprint of Pen­guin Pub­lish­ing Group, a divi­sion of Pen­guin Ran­dom House, LLC.
Copy­right © 2019 by ADEENA SUSSMAN
Adeena Suss­man is the author of Saba­ba: Fresh, Sun­ny Fla­vors From My Israeli Kitchen, which was named a Best Fall cook­book by The New York Times, Bon Appetit, and Food & Wine. She is cur­rent­ly work­ing on her fol­lowup to Saba­ba, Shab­bat: Recipes and Rit­u­als From My Table To Yours. The co-author of 15 cook­books, Adeena's three most recent col­lab­o­ra­tions, includ­ing Crav­ings and Crav­ings: Hun­gry For More with Chris­sy Teigen, were New York Times Best-sell­ers. A life­long vis­i­tor to Israel who has been writ­ing about that country's food cul­ture for almost 20 years, Adeena made Aliyah in Decem­ber 2018. She cooks and writes in Tel Aviv, where she lives in the shad­ow of that city's Carmel Mar­ket with her hus­band, Jay Shofet. You can fol­low her on Insta­gram @adeenasussman.