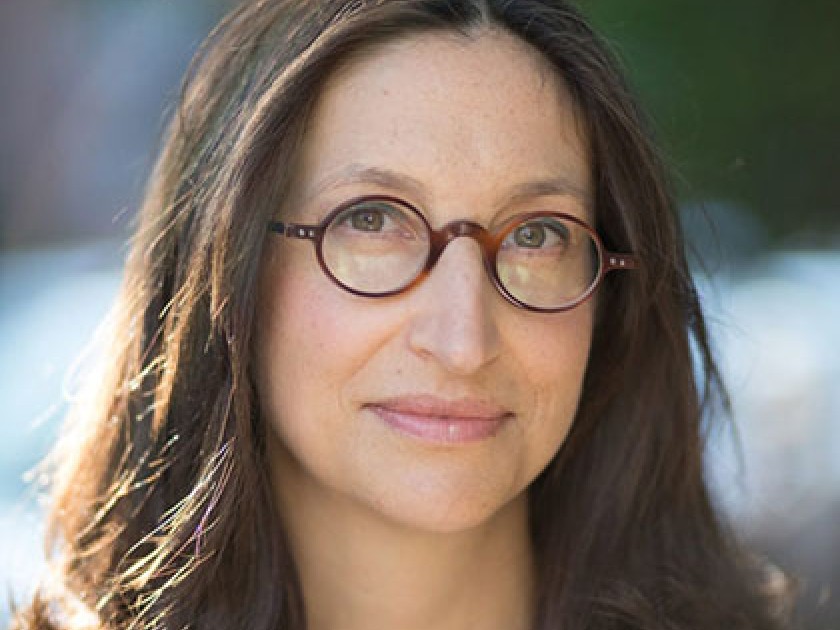 Sunil woke singing one of his blur­ry, half-awake love songs: Amy is my cuck­oo clock, and I love my cuck­oo.
The cof­fee was already start­ed when Amy emerged from the bed­room and slipped down the stairs bare­foot, in short shorts and sleep­er T, to get the Globe. Sunil wove into his song her grumpy expres­sion and slept-in hair, her nose red­dened from the morn­ing cool.
Amy read every square of the front page, then the trav­el sec­tion. Over yogurt and gra­nola, she mock­ing­ly read aloud the last para­graph of the pro-Bush op-ed. Some con­ser­v­a­tive was argu­ing that Dubya had sig­nif­i­cant for­eign pol­i­cy expe­ri­ence because Texas was a bor­der state. A few min­utes lat­er, Sunil left to work in Widen­er, leav­ing her the kitchen table, the only avail­able work­space in the apart­ment. Amy — who ran and biked and swam in all the pub­lic health char­i­ty ath­let­ic events (good health, good net­work­ing) — always, irri­tat­ing­ly, urged him to walk to the library because he didn't get enough fresh air and exercise.
An hour lat­er, Sunil was back on his street; he'd for­got­ten a book. From out­side their apart­ment door, Sunil heard Amy on the phone, ​"He works so slow­ly—I'm not even sure what he does all day at the library. How could he not have made any progress in six months — maybe more?"
More. It was more. But she didn't know that.
He pushed open the warped door. Amy was sprawled on the floor, phone to her ear. He fetched the book and wait­ed until she was done. ​"Who were you talk­ing to?"
"Mon­i­ca," she said. ​"I real­ized I couldn't get mar­ried with­out my sis­ter, so I called to invite her."
Sunil had been shocked when Amy said she didn't want her par­ents at their sud­den wed­ding. The Kauffman's Ortho­dox con­ver­sion still made her too uncom­fort­able — she'd bro­ken out into hives when they told her and Mon­i­ca, three years ago. But that was irrel­e­vant at this moment. ​"Don't change the sub­ject," he said.
"I'm sor­ry, love. I didn't mean for you to over­hear that. I just feel like I can't ask you what's going on because you're so stressed out. But I should've just talked to you."
"And said what?" He pressed his heels into the cracked floor­boards until his toes tingled.
"That you seem to be read­ing end­less­ly to keep from writing."
"You know what I'm doing is real­ly hard, right? Com­ing up with some­thing new to say after two thou­sand years of ana­lyt­ic phi­los­o­phy. It's not like we have new data to work with, like in med­i­cine. Philoso­phers have to think up some­thing new using the same evi­dence we've always had." He winced as he heard him­self speak, adding ​"ana­lyt­ic" like an ass.
Data, in fact, was a point of con­tention between them. For Amy, ​"I looked it up," was a favorite, argu­ment-end­ing phrase. Reli­gion aside, Amy was like her jour­nal­ist par­ents in that she believed most answers were out there in the world to be dis­cov­ered. Like he used to think about moral truths.
"I know it's real­ly hard, but if you just keep at it, the writ­ing, the words will come." She paused. ​"I wish you had a course to teach. Teach­ing was so good for you."
It had been. Sunil's schol­ar­ship, ear­marked for minori­ties, did not allow him to teach, unlike almost every­one else at Har­vard, who'd been TFs, teach­ing fel­lows. But last fall he had begged Bernard­ston, the phi­los­o­phy depart­ment chair, to let him do so for just one semes­ter. Bill James, Sunil's advis­er, had strong­ly dis­cour­aged the idea: Sunil need­ed to devote all his time to his dis­ser­ta­tion; teach­ing was a dis­trac­tion. But Sunil had per­sist­ed. And Lieber­man, who could be cred­it­ed with plant­i­ng the seed of his dis­ser­ta­tion, had sup­port­ed him; she agreed it would be good for him to explain mate­r­i­al to stu­dents, and to know if at least the teach­ing part of the aca­d­e­m­ic enter­prise was some­thing that he could be good at.
Bernard­ston could not bend the rules of his schol­ar­ship, but he had offered Sunil a chance to sub for him while he was off at Oxford giv­ing a series of lec­tures. It would be the most dif­fi­cult of any teach­ing sit­u­a­tion, at mid-semes­ter, but Sunil had imme­di­ate­ly accepted.
The morn­ing he was to lead the class, Sunil threw up his break­fast. His hands shook. Bernard­ston nor­mal­ly wore jeans and a sport coat to class. Sunil didn't own a jack­et, so he wore his nicest but­ton-down. At some point halfway through, he real­ized his shirt was mis­but­toned, one side drag­ging low­er than the oth­er. Heat flushed through his entire body, but he forced him­self to think It could be worse and kept going.
He dis­cov­ered that it was easy for him to cre­ate sim­ple, stark para­dox­es for his stu­dents. He could make them under­stand why per­son­al iden­ti­ty was not a sim­ple mat­ter of a sin­gu­lar brain yoked to a sin­gu­lar body. What if brain and body were cloned, was You2 still you? What about mem­o­ries? If I don't remem­ber what hap­pened yes­ter­day, is that yes­ter­day-per­son me? Stu­dents had arrived in the class­room with low visors, droopy eyes, yet he had been able to induce many of them to think for fifty min­utes. There were awful moments of demor­al­iz­ing, vac­u­um-packed silence, but by the end of the class, his prod­ding had yield­ed results. Hands in the air!
At the end of the semes­ter, Bernard­ston had called Sunil in to his office. ​"I have to say you've set up some­thing of a prob­lem for me. Because of the class you taught, now my stu­dents are ask­ing for more discussion."
"So, they got some­thing out of it?"
"I don't know, but they liked it." Bernard­ston smiled.
Now Amy said to Sunil, ​"When you sit down to write, can you pre­tend that you're teach­ing some­one? Could that be a way to reboot?"
"I don't know," he said. ​"But it's a good idea." He kissed her on the cheek, and head­ed back to campus.
Lat­er that day, Sunil sat in on an ethics sem­i­nar. It was taught by the abrupt but per­sua­sive Riv­ka Lieber­man. Sunil had tak­en this same sem­i­nar two years ago, dur­ing Lieberman's first year with the depart­ment, and the ques­tions it raised had bur­rowed inside him. Sunil had felt men­tal­ly sharp­er dur­ing that class than any oth­er time. Phi­los­o­phy became urgent.
It had start­ed with J. L. Mack­ie, an Aus­tralian ethi­cist writ­ing in the 1970s. Mack­ie asked why there was such vari­a­tion in moral beliefs among dif­fer­ent cul­tures. Why, for exam­ple, did some cul­tures believe in monogamy and oth­ers polygamy? It couldn't be, Mack­ie argued, that one cul­ture sim­ply had a bet­ter abil­i­ty to grasp moral truths than anoth­er. It didn't make sense that one cul­ture would be some­how more attuned to what was good and what was bad. This had led Mack­ie to argue for an anti­re­al­ist view: the view that moral truths did not exist inde­pen­dent­ly of our beliefs about them. That is, cer­tain actions, prac­tices, and desires were valu­able only because humans thought them so: monogamy was good because humans val­ued the prac­tice, not because it was objec­tive­ly the right way to live. Sunil had thought Mackie's rea­son­ing valid, but he was both­ered by the premise. Sunil didn't see such wide vari­a­tion in moral beliefs. He instead saw strong uni­for­mi­ty and thought that the dif­fer­ences philoso­phers point­ed to were super­fi­cial. Didn't the uni­for­mi­ty mean we were all attuned to the same moral real­i­ty? The human bur­den was to acknowl­edge and fol­low moral scripts.
With Lieberman's help, and draw­ing on his aban­doned pre-med back­ground, Sunil had arrived at a dis­ser­ta­tion project that posit­ed evo­lu­tion­ary influ­ences on moral beliefs. But recent­ly his project had stalled. He was now revis­it­ing Lieberman's course in the hope that Mack­ie, or some­one, would get him going again. Lieber­man was not on his dis­ser­ta­tion com­mit­tee, of which Bill James was chair, but, hav­ing helped shape his project, one she had sug­gest­ed was unique­ly promis­ing, she claimed to be invest­ed in the out­come. She peri­od­i­cal­ly checked in with him. But the spring semes­ter was now three-quar­ters over, and Sunil had noth­ing but his ver­bal con­tri­bu­tions to her class to show for it.
After class, Sunil found Lieber­man wait­ing for him out­side the sem­i­nar room. Ani­mat­ed, push­ing her hair back to show dark brows and a fine, straight nose, she said, ​"Sunil. Stop and talk to me. What is the problem."
She was so unnerv­ing. It was dis­ori­ent­ing the way she asked ques­tions with­out the ques­tion mark. The way she asked also made Sunil sus­pect the fac­ul­ty were talk­ing about him, which rat­tled him further.
"I don't know what you mean."
"You stopped talk­ing in class. You think I wouldn't notice? First eight, nine weeks you're jump­ing in and object­ing, you have the books in your hand, I see the marks. But then, the last two weeks, since the read­ings on anti­re­al­ism, you don't say any­thing and I think that I have made it unbe­liev­ably boring."
"I've tak­en this class before," he remind­ed her. He want­ed to tell her that he always learned from her, but some­thing made him hold back. He squirmed under her gaze. She was large-boned and large-breast­ed, with wide hips and a flushed neck that embar­rassed him.
Then he sur­prised him­self by now say­ing some­thing reveal­ing, set­ting free the wor­ry on the tip of his tongue. ​"It's just that this view is mess­ing with my head. It's mak­ing me doubt some pret­ty fun­da­men­tal things — like whether we're jus­ti­fied in hold­ing peo­ple account­able for their actions."
Lieber­man nod­ded. ​"You're ter­ri­fied. The skep­ti­cal wor­ry is tak­ing over your life."
"Yes." He real­ized how much he want­ed to impress her, to prove cor­rect her faith in him.
"This is nor­mal," she said, then tilt­ed her head to look at him quizzi­cal­ly. ​"Do you believe our philo­soph­i­cal views should guide our lives?"
"Yes, some­times." His stom­ach began to turn.
"Then you should pre­pare for a rev­o­lu­tion, my friend. Per­haps for anar­chy." She was teas­ing, in her unfun­ny, Israeli way. She smiled like a wolf.
Sunil was con­vinced that evo­lu­tion pro­vid­ed a cohe­sive uni­ver­sal sto­ry about how humans came to share a set of moral prin­ci­ples, but the con­clu­sions were dark and left him feel­ing alien­at­ed, unmoored, and nau­seous. Per­haps the way Amy felt when con­front­ed with her par­ents' new beliefs.
He should take this oppor­tu­ni­ty to talk with Lieber­man. Because the anx­i­eties about his project seemed only to be relieved by air­ing them in con­ver­sa­tion. Not by work­ing alone and writing.
But now, instead of invit­ing him into her office, she said, ​"When you are ready to talk, let me know."
He nod­ded.
Then she added quick­ly, ​"Your pas­sion is inspir­ing," and turned and walked away.
Ear­li­er in the semes­ter, she had stopped him in the hall to tell him she'd been think­ing about some­thing he had said, and the intox­i­cat­ing pride and excite­ment had car­ried him for hours. Now her abrupt good­bye left him stand­ing alone, useless.
He had to get out of here. Sunil bar­reled down the hall toward the com­mon room, where his friend Andrew was wait­ing. Then he pulled Andrew by the arm, out of the build­ing onto the street.
Dai­ly, Sunil saw exam­ples of what he'd turn into if he did­n't fin­ish his dis­ser­ta­tion. They were the slight, ghost­ly fig­ures of the Dou­ble-Ds. Har­vard was noto­ri­ous for let­ting peo­ple con­tin­ue for ten or eleven years. One guy had entered the pro­gram in 1985, fif­teen years ago. Anoth­er had bragged to him that he was able to live on two dol­lars a day, which Sunil dis­be­lieved until he saw the man pick­ing through trash cans. Sunil and his friends mocked the Double‑D grad stu­dents behind their backs. Yet at the same time, Sunil and Andrew and Erik were afraid of them. The old­er guys — and they were all guys — knew a lot, they'd read a lot, they'd been to count­less talks and dis­ser­ta­tion defens­es. They knew how to argue. Sunil envied their alacrity and sharpness.
Years ago, toward the end of his sopho­more year of col­lege, Sunil had called his father from a pay phone. I quit!, he'd yelled over the beer pong being played down the hall. He'd enrolled in the pre-med track (where he'd stud­ied evo­lu­tion­ary biol­o­gy) to please his dad, but he had hat­ed the class­es, found them stul­ti­fy­ing and dif­fi­cult. To be a doc­tor, he'd dis­cov­ered, you had to have many webs of detailed knowl­edge at your fin­ger­tips. You had to ren­der a response in sec­onds. Sunil had not been able to sum­mon whole bio­log­i­cal process­es at once, was min­utes behind his class­mates in arriv­ing at an answer. Every­thing was so damn fast, and it made him feel trapped and stu­pid. He had grown to hate the word answer, the word evi­dence. He instead felt com­pelled by philo­soph­i­cal inquiry, one in which our most fun­da­men­tal impuls­es and assump­tions were ques­tioned and explored. In which progress meant intel­lec­tu­al dis­cov­ery, rather than a body of knowl­edge learned, or even a life saved.
Rosie's was strewn with peanut shells and smelled sour, but there were free pret­zels and three-dol­lar pitch­ers before four. Their beer arrived with moz­zarel­la sticks, cour­tesy of their wait­ress, a mousy under­grad. Sunil was­n't hun­gry, but he ate. It was his moth­er's ingrained injunc­tion: food was­n't worth eat­ing when it cooled past pip­ing. He swal­lowed rough­ly as the cheese sticks scratched his throat.
"Today I ran into Double‑D 36," Andrew said. They'd dis­cov­ered Doug Berman's age by gross­ly flat­ter­ing the depart­ment sec­re­tary. ​"He was pulling hard-boiled eggs out of his pock­et and peel­ing them—eat­ing them — on the street." His face turned glee­ful. He pat­ted Sunil on the shoul­der. ​"Don't wor­ry, I won't let that hap­pen to you."
"At least poke your head into my card­board box, check my pulse." Sunil drank his beer, shift­ed in the hard wood­en booth. Then he announced, ​"Amy and I are get­ting mar­ried." It was the first time he'd said it out loud, put those strik­ing words togeth­er in a sen­tence. But he didn't get the charge from them he'd expect­ed. He still felt awk­ward, ner­vous. Were they mak­ing a mistake?
"Hey! That's some good news! What did her par­ents say?"
Andrew had been the one to point Amy out in the café where they met. She was in the thick of a spir­it­ed game of timed Scrab­ble with her room­mate. Blond, petite, col­or in her cheeks and fore­head, Amy was often told she didn't look Jew­ish, which annoyed her and set her apart from her sis­ter, who had green eyes and curly, dark hair. Amy was five years younger than Sunil, but dri­ven, ambi­tious, cer­tain. When he was her age, he'd been flat, direc­tion­less. Amy's dreams had shape and promise.
"She doesn't want to invite her par­ents to the wed­ding. She's wor­ried a civ­il cer­e­mo­ny would only offend them, so we're not going to tell them until it's done. It's the first major deci­sion she's ever made with­out her parents."
"Won't that be worse? Them find­ing out after the fact?"
Sunil nod­ded. ​"Prob­a­bly. Espe­cial­ly because she wants her sis­ter to be there. Which means her par­ents will feel even more slight­ed. It's just con­flict avoid­ance. Amy hates fight­ing with her par­ents. Their con­ver­sion made her angry, but she doesn't want to show it because she's wor­ried it will put more dis­tance between them."
"It sounds like dis­agree­ments with the Kauff­mans are inevitable," Andrew said. ​"I'm think­ing of that ​'anti-God' con­ver­sa­tion you told me about."
"Exact­ly," Sunil said.
The Kauff­mans liked Sunil — Ariel affec­tion­ate­ly called him ​"duck­ling" because of his boy­ish face and out-turned toes — but he wasn't a Jew, and they were skep­ti­cal of his moral com­pass. Dur­ing a bit­ter spell this past win­ter, over a meal at Legal Seafood, Ariel had said to Sunil, ​"I know you are an ethi­cist, this is what you study. But what do you believe? I've read that Jains aspire to ​'the three jew­els': right belief, right knowl­edge, and right con­duct. But you say you're not an obser­vant Jain."
Sunil had told her that he did not believe in tran­scen­den­tal codes — laws that came from a divine pow­er. ​"So you're both anti-God and amoral," Ariel said. ​"Because moral­i­ty comes from God's commandments."
Sunil had respond­ed, gen­tly, that he could not be against some­thing that didn't exist. And before he could address the charge of amoral­i­ty, Amy had exclaimed, ​"Mom, how can you say that!" The meal had end­ed with a no-hard-feel­ings shar­ing of creme brulee, but Sunil was left with a wor­ri­some taste in his mouth. He didn't know whether the Kauff­mans had felt the same.
Sunil slow­ly shook his head. He said to Andrew, ​"I have no idea how this is all going to go down."
"Well, they are out of the coun­try, right, in Israel? Aren't yours, too?"
"They left for Nairo­bi a cou­ple days ago. They'll be gone for two weeks."
"Maybe that's your excuse?"
Sunil sighed. ​"Not one that holds much water." They would have to defend them­selves to both of their par­ents, soon­er or later.
Jen­nifer Ack­er is founder and edi­tor in chief of The Com­mon. Her writ­ing has appeared in the Wash­ing­ton Post, Lit­er­ary Hub, n+1, The Yale Review, and Ploughshares, among oth­er places. Ack­er has an MFA from the Ben­ning­ton Writ­ing Sem­i­nars; she teach­es writ­ing and edit­ing and orga­nizes Lit­Fest at Amherst College.