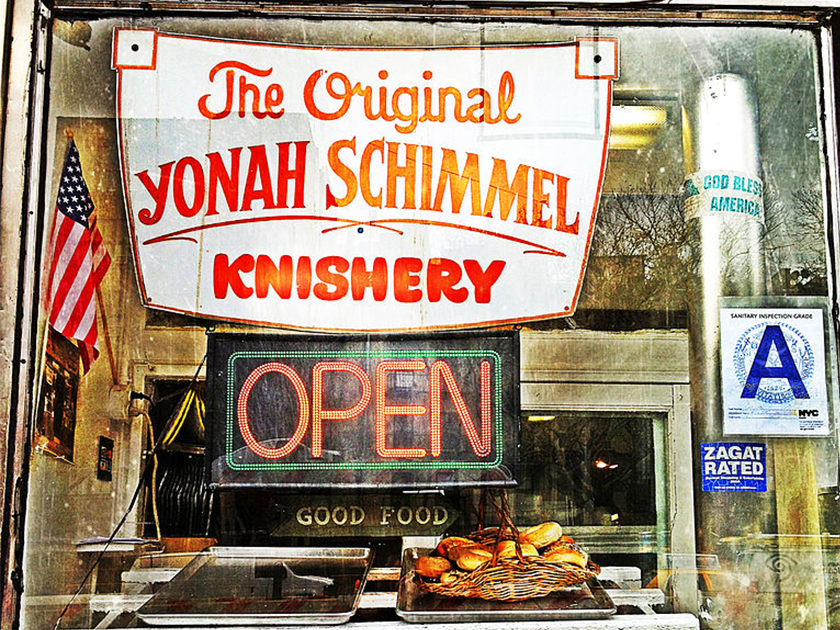 Tech­ni­cal­ly, I grew up in a mixed faith fam­i­ly but real­ly it was a no faith fam­i­ly. My father is a non-prac­tic­ing Jew and my moth­er – who was born in Swe­den and raised, nom­i­nal­ly, as a Luther­an – was sim­i­lar­ly nonob­ser­vant. So while my broth­er and I grew up with­out a deep under­stand­ing of the rit­u­als of reli­gious life, we always felt a strong con­nec­tion to Jew­ish cul­ture, espe­cial­ly food. Some of my fond­est mem­o­ries are eat­ing and shop­ping with my father on the Low­er East Side at Jew­ish spe­cial­ty stores like Russ & Daugh­ters, Katz's Del­i­catessen, Ratner's, Yon­ah Schim­mel Knish, Kossar's Bagels & Bialys, Guss' Pick­les, among oth­ers. Now eighty-four, my father loves to take his grand­chil­dren to Econ­o­my Can­dy, where he tells them to buy what­ev­er they want and as much as they want.
I wove this his­to­ry into my nov­el, My Last Inno­cent Year, mak­ing the father of the main char­ac­ter, Isabel, the pro­pri­etor of Rosen's Appe­tiz­ing, a slight­ly down-at-the-heels appe­tiz­ing shop on the Low­er East Side. What bet­ter way to make Isabel feel like an out­sider at Wilder, her posh New Eng­land col­lege, than to have her grow up in an appe­tiz­ing store? At school, Isabel rarely explains her father's work; when pressed, she will elab­o­rate, plac­ing appe­tiz­ing stores in the con­text of Jew­ish dietary laws, expla­na­tions that often leave her feel­ing less under­stood than before. To make sure I cap­tured Isabel's expe­ri­ence accu­rate­ly, I read Mark Russ Federman's mem­oir Russ & Daugh­ters about his life grow­ing up in the famous appe­tiz­ing store. Read­ing his sto­ry helped me under­stand how dif­fer­ent Isabel's life would be from the peo­ple she goes to school with, peo­ple who have grown up with sum­mer homes, fam­i­ly vaca­tions, and bound­less wealth.
In my nov­el, set in the late 1990s, Isabel is writ­ing a the­sis on The Age of Inno­cence, Edith Wharton's clas­sic nov­el about old New York, no shop­keep­ers – or Jews – in sight. At one point, a pro­fes­sor asks why she is writ­ing about Whar­ton. Why not Bernard Mala­mud, he asks her, or oth­er writ­ers who might speak more to her experience?
While my broth­er and I grew up with­out a deep under­stand­ing of the rit­u­als of reli­gious life, we always felt a strong con­nec­tion to Jew­ish cul­ture, espe­cial­ly food.
The nov­el her pro­fes­sor was refer­ring to – and I know because I wrote the scene – was The Assis­tant, Malamud's nov­el about Mor­ris Bober and his strug­gling gro­cery store set in the 1950s. While there are over­laps between Isabel's father, Abe, and Malamud's fic­tion­al shop­keep­er, Isabel may not have found much to relate to in Malamud's bleak depic­tion of immi­grant life plagued by vio­lence, anti­semitism, and crush­ing pover­ty. Because despite their sim­i­lar­i­ties, Abe and Mor­ris are prod­ucts of very dif­fer­ent times. Mor­ris is a first-gen­er­a­tion immi­grant who came from Rus­sia as a teenag­er and speaks with an accent, while Abe is an Amer­i­can for whom the ques­tion of assim­i­la­tion is clos­er to being answered. Also, while Rosen's Appe­tiz­ing is set on Manhattan's Low­er East Side, a neigh­bor­hood Isabel describes as rapid­ly gen­tri­fy­ing, Bober's gro­cery store is locat­ed in a neigh­bor­hood in decline.
Isabel and Malamud's protagonist's daugh­ter, Helen, both have lives sim­i­lar­ly shaped by his­tor­i­cal forces. While coed­u­ca­tion and the avail­abil­i­ty of stu­dent loans make it pos­si­ble for Isabel to attend a school like Wilder (which I mod­eled on my alma mater Dart­mouth), Helen is unable to afford more than a semes­ter at NYU. But even with a col­lege edu­ca­tion, Helen's future is still lim­it­ed by gen­dered expec­ta­tions. Because of the strides made by sec­ond wave fem­i­nism, Isabel can imag­ine a future for her­self as a writer while Helen's best chance for upward mobil­i­ty is to mar­ry well. Also, while Abe is able to pro­tect his daugh­ter from the finan­cial real­i­ties of their life, which turns out to have con­se­quences lat­er in the nov­el, Helen is acute­ly aware of her family's finan­cial pre­car­i­ty and gives most of her own pay­check to help sup­port her par­ents. Isabel some­times laments how much her father has invest­ed in her, but his sac­ri­fice – and the sac­ri­fices made by those who came before him – has made her life pos­si­ble. In that way, it is a clas­sic immi­grant story.
My own fam­i­ly his­to­ry mir­rors, in part, the fic­tion­al ones described in My Last Inno­cent Year. My great-grand­fa­ther, Joseph, opened a can­dy store in Brook­lyn in the 1930s, which remained in our fam­i­ly until the 1980s, mov­ing even­tu­al­ly to a prime loca­tion under the ele­vat­ed train on New Utrecht Avenue. I remem­ber vis­it­ing the store a few times as a child, but as some­one three gen­er­a­tions removed from the immi­grant expe­ri­ence, that was the extent of my con­nec­tion to the store. My father worked for his grand­fa­ther as a teenag­er, but both he and his sis­ter went to col­lege and had careers that took them far away from the store. The store even­tu­al­ly passed on to my great-uncles, Joseph's sons, who had no children.
Like Mor­ris Bober, the lives of my great-uncles were cir­cum­scribed by lack of edu­ca­tion and oppor­tu­ni­ty, but because the store was suc­cess­ful – due to a com­bi­na­tion of luck and exper­tise– it became an engine of eco­nom­ic growth and assim­i­la­tion for my fam­i­ly, much as Rosen's Appe­tiz­ing is for Isabel and her fam­i­ly, as Mor­ris Bober hoped his gro­cery store would be for his. Federman's sto­ry is unusu­al in that Russ & Daugh­ters endures as a thriv­ing busi­ness that con­tin­ues to sup­port – and employ – mem­bers of the orig­i­nal fam­i­ly. In this way, his sto­ry upends the tra­di­tion­al immi­grant sto­ry, at least as it has played out for gen­er­a­tions of Jews in New York City.
The store and the work it required is con­sid­ered by Isabel's father as a means to an end, the end being a bet­ter – read, more assim­i­lat­ed – life. But in the end, it is often larg­er, his­tor­i­cal cir­cum­stances that most shape our lives. As that same pro­fes­sor tells Isabel, ​"We think our sto­ries are per­son­al, but we're all prod­ucts of our time."
Daisy Alpert Florin attend­ed Dart­mouth Col­lege and received grad­u­ate degrees from Colum­bia Uni­ver­si­ty and Bank Street Grad­u­ate School of Edu­ca­tion. She is a recip­i­ent of the 2016 Kathryn Gur­fein Writ­ing Fel­low­ship at Sarah Lawrence Col­lege and was a 2019 – 20 fel­low in the Book­Ends nov­el revi­sion fel­low­ship, where she worked with found­ing direc­tor Susan Scarf Mer­rell. A native New York­er, Florin lives in Con­necti­cut with her fam­i­ly. My Last Inno­cent Year is her first novel.