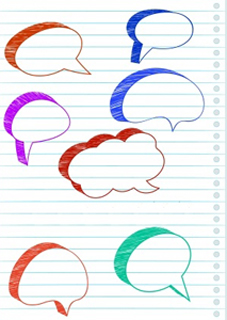 JBC Book Clubs is ask­ing: what does it take to lead a book club?**
We start­ed this series hear­ing from Sarah Rind­ner about the exten­sive research she does before her book club meet­ings and when the pros and cons of includ­ing author inter­views in the dis­cus­sion. For the sec­ond post in this series of tips for facil­i­ta­tors from facil­i­ta­tors, we asked Joan Ted­low, a facil­i­ta­tor of three dif­fer­ent book groups, for her thoughts and suggestions.
I have been facil­i­tat­ing two Jew­ish book clubs for my syn­a­gogue,
Tem­ple Solel
, a large reform con­gre­ga­tion locat­ed in North Coun­ty, San Diego, for the past
15
years. Our mem­ber­ship con­sists of women (no men unfor­tu­nate­ly!) rang­ing in age from their
30
's to late
80
's. Recent­ly, I added a third club at the local Jew­ish retire­ment home.
In my expe­ri­ence, the most impor­tant ele­ment of main­tain­ing par­tic­i­pa­tion is hav­ing women buy into the pro­gram by active­ly involv­ing them in the book selec­tion process. Typ­i­cal­ly I present
20
books: one biography/​autobiography/​memoir, one nov­el by an Israeli author, sev­er­al non-fic­tion selec­tions and, of course, con­tem­po­rary Jew­ish nov­els. The group selects
10
books that they would like to read/​discuss in the com­ing year. I also solic­it sug­ges­tions from the groups.
In prepa­ra­tion for the dis­cus­sion, I read the book no more than
6
weeks in advance, so it is fresh in my mind. I research bio­graph­i­cal infor­ma­tion about the author, much of which I find on his/​her web­site. The author's life sto­ry often sheds light on his/​her work. I read reviews, being care­ful that they are unbi­ased. For instance, if they are com­posed by oth­er authors who also write for the same pub­lish­er, I tend to take them with a grain of salt. I pre­fer sources such as
Kirkus
reviews and the news­pa­pers, par­tic­u­lar­ly
The New York Times Sun­day Review of Books.
On to the actu­al book club meet­ing! I begin with the author's bio and then offer a few reviews. Then I go around the room and ask the group to share with us how they liked/​disliked the selec­tion, keep­ing their com­ments to just a few sen­tences. This approach encour­ages ladies who may be shy to par­tic­i­pate. Then I throw out the ques­tions, which I have devel­oped and adapt­ed with the help of on-line resources. Most pub­lish­ers pro­vide dis­cus­sion ques­tions, although I almost always find I have to tai­lor them to our group. I always try to have
10
ques­tions, so the dis­cus­sion doesn't fall flat.
The tricky part of facil­i­tat­ing then comes into play. How do we keep our mem­bers from stray­ing from the sub­ject? No one is inter­est­ed in their per­son­al expe­ri­ences, if they don't relate to the sub­ject. I must admit that I tend to be a bit of a tyrant. I have no prob­lem in inter­rupt­ing a speak­er, thank­ing her for her com­ments and mov­ing on. It's not fair to allow one woman to monop­o­lize the conversation.It's hard not to be rigid when you have for­mu­lat­ed the ques­tions and want to get through them, but I find that I do have to allow some unstruc­tured con­ver­sa­tion, as long as it relates to the book. My groups are ter­rif­ic; they always have some pithy insights that I miss.
At the end of the con­ver­sa­tion, I always ask if anyone's opin­ion of the mate­r­i­al has changed due to the dis­cus­sion. Would they rec­om­mend the book to others?
Look­ing for author inter­views, dis­cus­sion ques­tions or book rec­om­men­da­tions? Look to JBC Book Clubs for all of that and more.
**Do you have tips or advice for lead­ing a book club dis­cus­sion? Tell us! Share in the com­ments below or email Miri at bookclub@​jewishbooks.​org if you would like to con­tribute to this series.