On Mon­day, Joshua Braff wrote about kiss­ing girls at Jew­ish day school. He will be blog­ging all this week for the Jew­ish Book Coun­cil and MyJew­ish­Learn­ing​'s Vis­it­ing Scribe.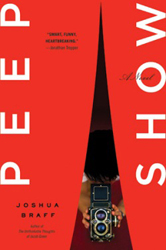 In the third grade I fell in love with the afore­men­tioned Mora Mir­i­um. She wasn't my teacher at the time and I remem­ber work­ing so hard for her to notice me the way I noticed her. If you kicked a home run at Hil­lel Acad­e­my, the ball would go into the park­ing lot of a church so, although there was glo­ry in the trot, you then had to bend the fence back and crawl under­neath to get to the neigh­bor­ing lot. I kicked so many home runs to show off for Mora Mir­i­um that I start­ed to get to know two of the boys that went to the school at the church.
One of them, named Jose Rios, asked me if I made bread crack­ers out of blood, and how I felt about hell and Jesus.
"Blood crack­ers?"
Mora Mir­i­um would always see me over there, walk toward the fence and yell my Hebrew name, ​"Yahashua, Yahashua come back here now." The
boys would ask me some­thing in Span­ish and laugh, point­ing at her. ​"She is your girl­friend?" they'd ask. We'd all face her. Wavy brunette hair, those dark panty­hose, a slit in her jet black skirt.
Yes. In my head she was indeed my girl­friend. Before I left Hil­lel I attempt­ed to get this yeshi­va goddess's atten­tion by say­ing ​"amen" faster than oth­er stu­dents after prayers and by secur­ing my tan vel­vet yarmulke on the right side of my head the way Bar­ry Mey­er­son did with his. And when Rab­bi Tworsky let me lead the minyan in morn­ing prayers I told the oth­er teach­ers to tell her, to make sure she knows who led the thing. It was me. Yahashua. Let her know.
Joshua Braff's sec­ond nov­el, Peep Show, is now available.
Joshua Braff is the author of three nov­els: The Unthink­able Thoughts of Jacob Green, Peep Show, and his new nov­el, The Dad­dy Diaries. His work can also be found in The Huff­in­g­ton Post and in mul­ti­ple antholo­gies. Braff holds an MFA from St. Mary's Col­lege and lives in North­ern Cal­i­for­nia with his wife and two children.