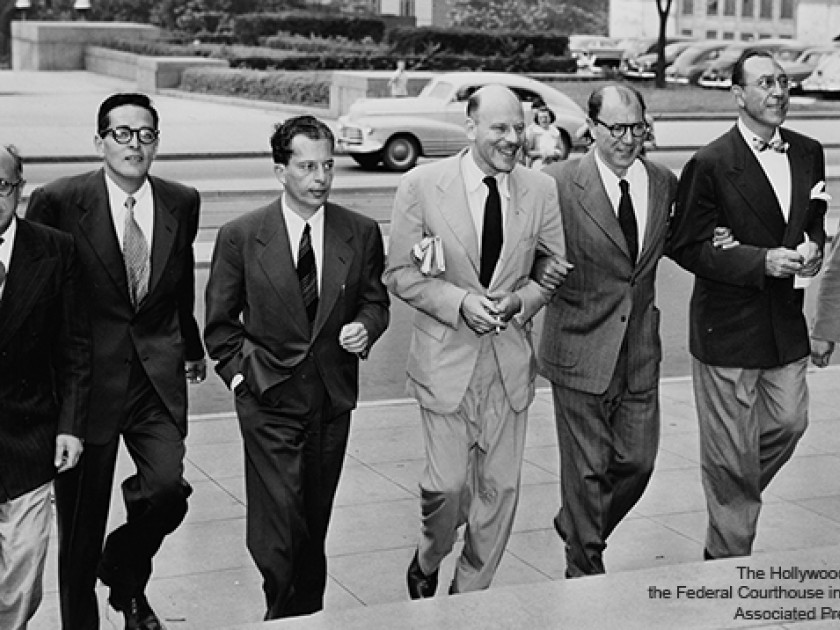 Ear­li­er this week, Glenn Frankel intro­duced MGM pro­duc­er Dore Schary among the over­whelm­ing­ly Jew­ish his­to­ry of the Hol­ly­wood Black­list, the sub­ject of his new book High Noon: The Hol­ly­wood Black­list and the Mak­ing of an Amer­i­can Clas­sic. Glenn is guest blog­ging for the Jew­ish Book Coun­cil all week as part of the Vis­it­ing Scribe series here on The ProsenPeo­ple.
As I dis­cov­ered in research­ing my book on the Hol­ly­wood black­list and the mak­ing of High Noon, the black­list tore Hol­ly­wood apart: it ruined careers, destroyed trust, and set fam­i­lies and friends against each oth­er. Those who were iden­ti­fied as Com­mu­nists, fel­low trav­el­ers, or even as lib­er­al activists had few choic­es. If called to appear before the House Com­mit­tee on Un-Amer­i­can Activ­i­ties (HUAC), they could either invoke the Fifth Amend­ment against self-incrim­i­na­tion — a strat­e­gy that ensured they would be black­list­ed from fur­ther employ­ment — or denounce their left-wing views and betray their fel­low activists by nam­ing names. Those will­ing to do so need­ed a lawyer to help them nav­i­gate the process. And none was bet­ter at it than Mar­tin Gang.
A pil­lar of the Los Ange­les Jew­ish com­mu­ni­ty, Gang wound up rep­re­sent­ing more inform­ers than any oth­er Hol­ly­wood lawyer — by his own esti­mate, some twen­ty movie peo­ple and thir­ty more in oth­er pro­fes­sions. His jus­ti­fi­ca­tion was sim­ple: he was help­ing wor­thy but mis­guid­ed peo­ple stay out of prison and keep their jobs. He claimed that his clients nev­er ini­ti­at­ed nam­ing any­one, but sim­ply con­firmed names that the Com­mit­tee already had obtained. His own duty, he solemn­ly declared, was to his clients.
Gang's par­ents were East­ern Euro­pean Jews who came to the Unit­ed States in the 1890s, and he him­self was born in Pas­sa­ic, New Jer­sey, in 1901. After grad­u­at­ing from Har­vard, he spent part of the 1920s study­ing eco­nom­ics in Weimar Ger­many. He watched the sys­tem­at­ic destruc­tion of the Ger­man mid­dle class by infla­tion and open street war­fare between Fas­cists and Com­mu­nists. It made him sus­pi­cious of extrem­ists of both polit­i­cal stripes and deter­mined to appease the pow­ers that be. When he returned to Amer­i­ca, he earned a law degree from the Uni­ver­si­ty of Cal­i­for­nia at Berke­ley and made his way to Hol­ly­wood, where he even­tu­al­ly launched his own enter­tain­ment law firm. His list of celebri­ty clients includ­ed Bob Hope, George Burns, Frank Sina­tra, Rita Hay­worth, Burt Lan­cast­er, Lucille Ball, and Myr­na Loy. He put up with their tantrums and their quirks. ​"Movie peo­ple are like every­body else, only more so," he liked to say.
His first big black­list case involved Ster­ling Hay­den, a ris­ing young star who had joined the Amer­i­can Com­mu­nist Par­ty for a brief spell after serv­ing in World War II. Hay­den was called to tes­ti­fy before HUAC in April 1951. Under Gang's care­ful guid­ance, Hay­den gave a full-throat­ed con­dem­na­tion of the par­ty, praised the com­mit­tee for its coura­geous work and named as Com­mu­nists five peo­ple, includ­ing his for­mer mis­tress. Years lat­er, he expressed deep regret for his tes­ti­mo­ny. ​"I (felt) like a bear led on a chain by the lawyer," he wrote.
After his suc­cess with Hay­den, Gang began to serve as a bridge between the gen­tiles of HUAC and the Jews of Hol­ly­wood. He didn't believe the Com­mit­tee mem­bers them­selves were anti­se­mit­ic, but he knew there were plen­ty of irre­spon­si­ble peo­ple com­pil­ing lists and mak­ing alle­ga­tions about Jews. ​"I didn't like the com­mit­tee but I worked with it, because I had a respon­si­bil­i­ty to my clients and their lives," he recalled.
Mem­bers of the Com­mu­nist Par­ty and those who sym­pa­thized often expressed con­tempt for Mar­tin Gang. Rumor had it that Gang and his law firm made large fees off their polit­i­cal clients. (In fact, Gang plau­si­bly claimed that his part­ners were not hap­py with his tak­ing on these con­tro­ver­sial cas­es, say­ing they made more ene­mies than friends and cost the firm between $50,000 and $100,000 in lost legal fees).
Gang was a man of great charm and blus­ter, but he some­times lost patience with clients who refused to see the light. When screen­writer Carl Fore­man resist­ed nam­ing names, Gang warned that the gov­ern­ment was prepar­ing to reopen the con­cen­tra­tion camp at Tule Lake, Cal­i­for­nia, that had been built to detain Japan­ese Amer­i­cans dur­ing World War II. Only this time, Gang warned, the detainees would be Left­ists like Fore­man. ​"He had set out to fright­en me, and he did," Fore­man recalled.
(Still, Fore­man refused to coop­er­ate and hired a dif­fer­ent lawyer.)
As usu­al in Jew­ish his­to­ry, indi­vid­ual Jews respond­ed in var­i­ous and con­flict­ing ways to the repres­sion they faced. One response was Mar­tin Gang's: give the despot what he demands. Anoth­er was Carl Foreman's, resist­ing for the sake of prin­ci­ple even at the cost of one's own liveli­hood. What I love about study­ing his­to­ry is that it always pos­es the same uncom­fort­able ques­tion to all of us: If faced with a sim­i­lar ter­ri­ble dilem­ma, what would we have done?
Glenn Frankel worked for near­ly thir­ty years for
The Wash­ing­ton Post
, as a reporter, a for­eign cor­re­spon­dent, and edi­tor of
The Wash­ing­ton Post Mag­a­zine
. As Jerusalem bureau chief, he won the
1989
Pulitzer Prize for ​
"
sen­si­tive and bal­anced report­ing from Israel and the Mid­dle East."