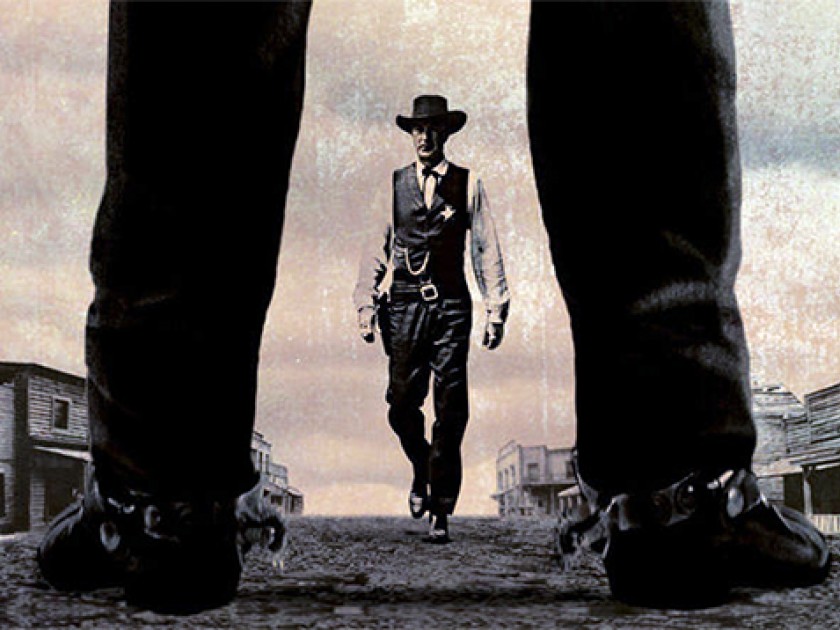 Pulitzer Prize-win­ning jour­nal­ist Glenn Frankel​'s new book High Noon: The Hol­ly­wood Black­list and the Mak­ing of an Amer­i­can Clas­sic hits the shelves this week. Find­ing the sub­ject more rel­e­vant now than he could have expect­ed, Glenn will be guest blog­ging for the Jew­ish Book Coun­cil all week as part of the Vis­it­ing Scribe series here on The ProsenPeo­ple.
I knew I would be run­ning into more than a few Jews three years ago when I start­ed research­ing a book about the Hol­ly­wood black­list and the mak­ing of the clas­sic West­ern film High Noon. As Neal Gabler chron­i­cles in his land­mark book, An Empire of Their Own (1988), most of the moguls who invent­ed Hol­ly­wood were Jew­ish immi­grants or the sons of. So were the three film­mak­ers most respon­si­ble for cre­at­ing High Noon. And at least half the peo­ple accused of Com­mu­nist Par­ty mem­ber­ship or left­ist sym­pa­thies by the House Com­mit­tee on Un-Amer­i­can Activ­i­ties (HUAC) dur­ing its probe of alleged Com­mu­nist infil­tra­tion of the film indus­try from 1947 to the mid-1950s were of Jew­ish ori­gin. As I quick­ly dis­cov­ered, Jews weren't just a sub-theme: they were at the heart of my story.
We are 70 years away from when that sto­ry began, but the par­al­lels with our own tur­bu­lent polit­i­cal times are impos­si­ble to ignore. After lay­ing low dur­ing much of the New Deal and the strug­gle against fas­cism in World War II, the Amer­i­can Right rose up with a vengeance in 1946, sweep­ing Repub­li­cans into pow­er in both hous­es of Con­gress and pledg­ing to claw back our coun­try from the trai­tors and out­siders who had sup­pos­ed­ly usurped our gov­ern­ment and our cul­ture. The main tar­gets were Com­mu­nists, lib­er­als, and Jews. With their roots in social demo­c­ra­t­ic move­ments in Rus­sia, Poland, and oth­er parts of East­ern Europe, many Jews fit snug­ly into the var­i­ous seg­ments of the Amer­i­can Left and were easy scape­goats for the new Red Scare.
Jews react­ed in all kinds of ways to the HUAC inqui­si­tion. Faced with the loss of their careers and incomes and alien­at­ed from their for­mer com­rades in the Amer­i­can Com­mu­nist Par­ty, large num­bers signed loy­al­ty oaths and denounced the par­ty, prais­ing the Com­mit­tee for its inves­tiga­tive work and nam­ing names of pur­port­ed Com­mu­nists past and present. The stu­dio moguls, fear­ful of being accused of Com­mu­nist sym­pa­thies, aid­ed and abet­ted those who coop­er­at­ed and set up the black­list process to pun­ish those who refused.
But the major­i­ty of those called to tes­ti­fy refused to coop­er­ate, and many of them spent a decade or more with­out mean­ing­ful work in Hol­ly­wood. Six of the orig­i­nal Hol­ly­wood Ten who were impris­oned for defy­ing the Com­mit­tee dur­ing the 1947 hear­ings were of Jew­ish ori­gin — yet so were 10 of the 15 movie pro­duc­ers who signed a pub­lic state­ment con­demn­ing the Ten and estab­lish­ing the black­list; indeed, the chair­man of the Com­mit­tee that draft­ed the state­ment was Mendel Sil­ver­berg, an enter­tain­ment lawyer and the unof­fi­cial leader of Hollywood's Jew­ish community.
Screen­writer Carl Fore­man, the Chica­go-born son of Russ­ian Jew­ish immi­grants, was called to tes­ti­fy about his ties to the Com­mu­nist Par­ty dur­ing HUAC's sec­ond round of pub­lic hear­ings in 1951. A gift­ed writer who had recent­ly been nom­i­nat­ed for two Oscars for his screen­plays, Fore­man was in the mid­dle of fin­ish­ing the final draft of High Noon. He turned his script into an alle­go­ry about the Red Scare and the Hol­ly­wood black­list, see­ing him­self as the lone mar­shal and the HUAC inquisi­tors as the gang com­ing to town to kill him while cow­ard­ly com­mu­ni­ty lead­ers aban­don him to meet his fate alone. In the end, Fore­man refused to name names, was black­list­ed and forced to seek work in Eng­land, where he lived for 25 years in a form of polit­i­cal exile.
The black­list did huge dam­age to fam­i­lies, friend­ships and careers, and left wounds that remain unhealed three gen­er­a­tions lat­er. It is hard to make moral judg­ments about the men and women who faced the inqui­si­tion, but there is no ques­tion that the black­list was in many ways a Jew­ish affair and a chal­lenge to Jew­ish community's con­science, which may soon be called upon again.
Glenn Frankel worked for near­ly thir­ty years for
The Wash­ing­ton Post
, as a reporter, a for­eign cor­re­spon­dent, and edi­tor of
The Wash­ing­ton Post Mag­a­zine
. As Jerusalem bureau chief, he won the
1989
Pulitzer Prize for ​
"
sen­si­tive and bal­anced report­ing from Israel and the Mid­dle East."