Noah and Rae Bernamoff are the own­ers of Mile End deli and the authors of the cook­book The Mile End Cook­book. They will be blog­ging here all week for Jew­ish Book Coun­cil and MyJew­ish­Learn­ing.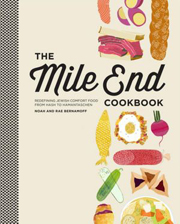 We just wrote a cook­book filled with recipes, sto­ries and ideas from our restaurants.
When we opened Mile End Del­i­catessen in Jan­u­ary of 2010, we had lit­tle sense of how our style of Jew­ish com­fort food from scratch would res­onate. The deci­sion to open a 430 square foot deli on a side street in Brook­lyn was a gam­ble for a cou­ple of twen­tysome­things with no indus­try expe­ri­ence. With all of the oth­er oper­a­tional ele­ments out­side of our com­fort zone, the food was the intense­ly per­son­al and famil­iar constant.
If we didn't fore­see how deep the love of liv­er ran pri­or to open­ing, we soon found out. The warm mem­o­ries and harsh cri­tiques were aplen­ty from our Jew­ish and non-Jew­ish cus­tomers alike. We didn't put chick­en soup on the menu for the first few months for fear of tread­ing on Bubbie's sacred tablespace.
With near­ly 3 years of sling­ing smoked meat sand­wich­es behind, us we rec­og­nized that we had hun­dreds of recipes and count­less more sto­ries about where they come from, how we use them and why we love them. The hope is that we sum­ma­rized gen­er­a­tions of tra­di­tion and years of kitchen expe­ri­ence into a handy and time­less guide to cook­ing Jew­ish com­fort food. Obvi­ous­ly that's a tall order, and only time will tell if the recipes and tech­niques are adopt­ed and uti­lized by our peers and progenitors.
The process of putting togeth­er a cook­book is a try­ing one. Of course con­ceiv­ing of a for­mat that's friend­ly to casu­al and advanced cooks alike, while scal­ing down recipes usu­al­ly made by the boat load, is chal­leng­ing, but even more so was strik­ing the bal­ance between rev­er­ence for his­to­ry and tra­di­tion, per­son­al anec­dote and mod­ern relevance.
In all truth, it took us a cou­ple strikes to final­ly hit the look, feel and focus that we were going for. In fact, much fell into place once we agreed that it should be called ​'The Mile End Cook­book'. For months we attempt­ed to come up with an alter­na­tive name that would be descrip­tive to browsers unfa­mil­iar with our brand, one that was­n't as region­al or restau­rant spe­cif­ic. We loved the humor in ​'A Nice Jew­ish Cook­book' and felt like ​'Schmaltz' real­ly rep­re­sent­ed our approach to cook­ing, but after lit­er­al­ly hun­dreds of attempts on the title and cov­er design we final­ly con­clud­ed that we should roll with our namesake.
Check back all week for more posts from Noah and Rae Bernamoff and vis­it their offi­cial web­site here.