Ear­li­er this week, Rae and Noah Bernamoff wrote about some of their upcom­ing events and how they went from sling­ing smoked meat to writ­ing a cook­book. They have been blog­ging here all week for Jew­ish Book Coun­cil and MyJew­ish­Learn­ing.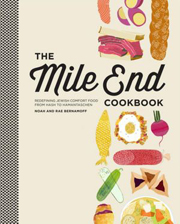 Salmon is the quin­tes­sen­tial Jew­ish fish — if you go to Russ and Daugh­ters in New York City, there are a dozen dif­fer­ent kinds for sale, cured and smoked, from all dif­fer­ent parts of the world. The great thing about salmon is that it's so for­giv­ing. Any begin­ner cook knows this; even if you leave it under the broil­er too long, it still comes out moist because of all that lus­cious fat. That fat­ti­ness is what makes salmon such a good choice for home-cur­ing, too. It just won't dry out.
Some vari­eties of salmon are fat­ti­er than oth­ers; we use king salmon for mak­ing lox at the deli, and always the farmed vari­ety, not wild. That's because wild salmon — espe­cial­ly if it's caught dur­ing ​"run­ning" — tends to be too lean for cur­ing. Too lit­tle fat will cause the salt mix­ture to ​"burn" the sur­face of the salmon and stop the cure from pen­e­trat­ing. This recipe is a case where you real­ly want to be selec­tive about where you buy your fish, and where it came from. This is a pret­ty light cure, mean­ing the qual­i­ties of the fresh fish real­ly come through in the fin­ished prod­uct. So you want top qual­i­ty salmon.
Allow the fil­let to rest a day after rins­ing off the cur­ing mix­ture, sort of like you would with a fine steak after tak­ing it off the grill (only longer). Rest­ing allows the fish to con­tin­ue ​"cook­ing" — that is, it lets the cur­ing com­pounds dis­trib­ute them­selves even­ly through­out the salmon after they've pen­e­trat­ed the flesh. Also note that using good kosher salt (we rec­om­mend Dia­mond Crys­tal) is absolute­ly essential.
At Mile End we use our house-made lox for two of our sig­na­ture break­fast dish­es, the Beau­ty and the Mish-Mash, but it's great for lunch sand­wich­es, fin­ger foods and all sorts of oth­er prepa­ra­tions. One of my favorite sim­ple plea­sures is a thick­ly cut slice of chal­lah (recipe post­ed yes­ter­day) schmeared with cream cheese and topped with a lay­er of lox.
Recipe: Lox
1/3 cup whole black pep­per­corns
2/3 cup sug­ar
1 cup Dia­mond Crys­tal kosher salt
1 bunch of dill
1 2‑pound bone­less king salmon fil­let, with skin
Com­bine the pep­per­corns, sug­ar, and salt in a bowl and stir to com­bine. Place 2 or 3 sprigs of the dill in the bot­tom of a non­re­ac­tive bak­ing dish, and sprin­kle about ¼ cup of the salt mix­ture even­ly over the bot­tom of the dish.
Make 2 or 3 shal­low cuts in the skin of the salmon fil­let. Place the salmon, skin side down, on top of the salt and dill, and place a few more sprigs of dill on top of the salmon. Sprin­kle the salmon all over with anoth­er ¼ cup of the salt mix­ture. Reserve the remain­ing salt mix­ture. Loose­ly cov­er the bak­ing dish with plas­tic wrap and refrig­er­ate it overnight.
Care­ful­ly pour off any liq­uid that has accu­mu­lat­ed in the bak­ing dish. Add anoth­er ¼ cup of the salt mix­ture to the bot­tom of the dish, and sprin­kle ¼ cup more over the salmon. Replace the dill sprigs with new ones if they've wilt­ed. Cov­er the dish and refrig­er­ate overnight.
Repeat this process 2 more times over 2 more days.
On the fifth day, remove the salmon, rinse it thor­ough­ly, and pat it dry with paper tow­els. Place the salmon on a small dry­ing rack set inside a clean bak­ing dish or over a cou­ple of lay­ers of paper tow­els. Refrig­er­ate, uncov­ered, overnight.
To serve, slice very thin­ly and care­ful­ly at a shal­low angle, work­ing from the front of the fil­let toward the tail.
Makes about 1½ pounds
Vis­it Noah and Rae Bernamof­f's offi­cial web­site here.