This week, Randy Susan Mey­ers, author of
The Com­fort of Lies
and
The Mur­der­er's Daugh­ters
,
blogs for the

JBC

about a spe­cial (and deli­cious) offer for book clubs.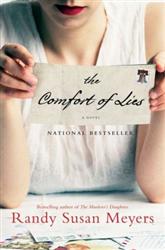 When I was a girl, it was fam­i­ly lore that my Aunt Irene, when she cooked some­thing awful, yelled, ​"It's a los­er!" to my Uncle Bob­by as he walked in the house. I've been known to come out with more than a few losers (like the time I served my new in-laws pie acci­den­tal­ly made with Borax instead of sug­ar. (Les­son learned — be care­ful how you decant) and I've made a few dish­es that held an opi­um-like addic­tion, but it's the sto­ries behind how recipes evolve that fas­ci­nate me.
When I was new­ly mar­ried (nine­teen!) my then-hus­band and I moved to a farm locat­ed between Bing­ham­ton and Itha­ca, New York. His job was being a farm hand. Mine was read­ing, cook­ing, and gain­ing weight as quick­ly as pos­si­ble. We were iso­lat­ed. When the farmer's son's wife invit­ed me for break­fast, I was ecsta­t­ic. Upon arrival, she offered me a 7&7, a Pop Tart, and a bowl of depres­sion. Thus was shat­tered my Brook­lyn girl ide­al­iza­tion about life on a farm.
Christ­mas week, she invit­ed me to a cook­ie exchange par­ty. My excite­ment at hav­ing some­where to go (a bit mea­sured based on our Pop Tart break­fast) was high enough for me to spend my next week­ly library vis­it for­ag­ing for the most inter­est­ing and exot­ic cook­ie recipe I could find.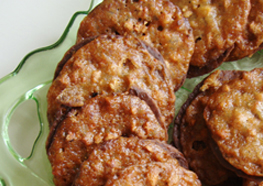 The cook­ies I brought (recipe below) were every­thing I'd hoped. Com­pli­cat­ed, sophis­ti­cat­ed, delicious…and greet­ed with faces of hor­ror. What were these lumpy brown things brought in by the Brook­lyn Jew, which resem­bled noth­ing close to Christ­mas cook­ies? I hand­ed out my Plain Jane bags, sans shiny rib­bons curl­ing down the sides. My New York style sweets might as well have been wear­ing lit­tle yarmulkes and speak­ing Yid­dish for how much they stood out. All the oth­er offer­ings were vari­a­tions on a Christ­mas sug­ar cook­ie theme cut in the shapes of stars and San­ta, and dec­o­rat­ed (sparkles! red and green sug­ar! glit­ter­ing gold balls!) with the skill of Rem­brandtesque elves.
My cook­ies looked like the home­ly third cousin your moth­er forced you to invite to the bar mitz­vah. But they were the tasti­est. Try them. Really.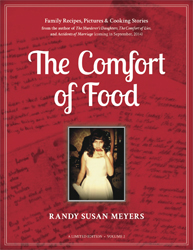 Years ago, I began pulling togeth­er the recipes my daugh­ters knew best, want­i­ng, like many of you, to pass on my culi­nary secrets. As I copied from spat­tered cards, torn news­pa­per pages, and hand-writ­ten recipes, I real­ized the sto­ries behind the recipes were as impor­tant as the food. Did my girls know their favorite brown­ies came from an ancient ​"found on the street" cook­book, cir­ca my hip­pie days? How our Passover brisket had mor­phed into anoth­er family's ​"Christ­mas meat?" Did they know which recipe might have sealed the deal with my soon-to-be-husband?
Pages piled up as I matched sto­ries to recipes. From that was born The Com­fort of Food— a cook­book to share with book clubs, not for sale, but as a thank you for join­ing me in my first pas­sion, read­ing, by offer­ing anoth­er love. Food.
Any book club choos­ing The Com­fort of Lies or The Murderer's Daugh­ters as their book club choice will receive a hard copy and elec­tron­ic ver­sion of The Com­fort of Food. Sim­ply go to the book club page on my web­site, www​.randy​su​san​mey​ers​.com and fill out the form.
French Lace Cook­ies
½ cup corn syrup
½ cup butter
⅔ cup brown sugar
1 cup flour, sifted
1 cup fine­ly chopped nuts
Dark choco­late, melt­ed (if desired)

Pre­heat oven to 325°. Com­bine corn syrup, but­ter, and sug­ar. Bring to boil. Com­bine flour and nuts w/​liquid. Place by tea­spoon 4″ apart and bake for 8 – 10 min­utes.
To add a won­der­ful and deli­cious flour­ish, dip each cook­ie in melt­ed dark choco­late when it comes from the oven. If you are tal­ent­ed and want to add a spe­cial flour­ish, roll the cook­ies while they are still warm, into a cylin­dri­cal shape and then when the rolled cook­ie is cool, dip it in the choco­late. If you are lazy, like I am, don't wor­ry about rolling; sim­ply dip the flat cook­ies when they are cool. Lay on waxed paper while the choco­late hard­ens.
Randy Susan Mey­ers is the best­selling author of Acci­dents of Mar­riage, The Com­fort of Lies, The Murderer's Daugh­ters, and The Wid­ow of Wall Street. Her books have twice been final­ists for the Mass Book Award and named ​"Must Read Books" by the Mass­a­chu­setts Cen­ter for the Book. She teach­es writ­ing at the Grub Street Writ­ers' Cen­ter in Boston.