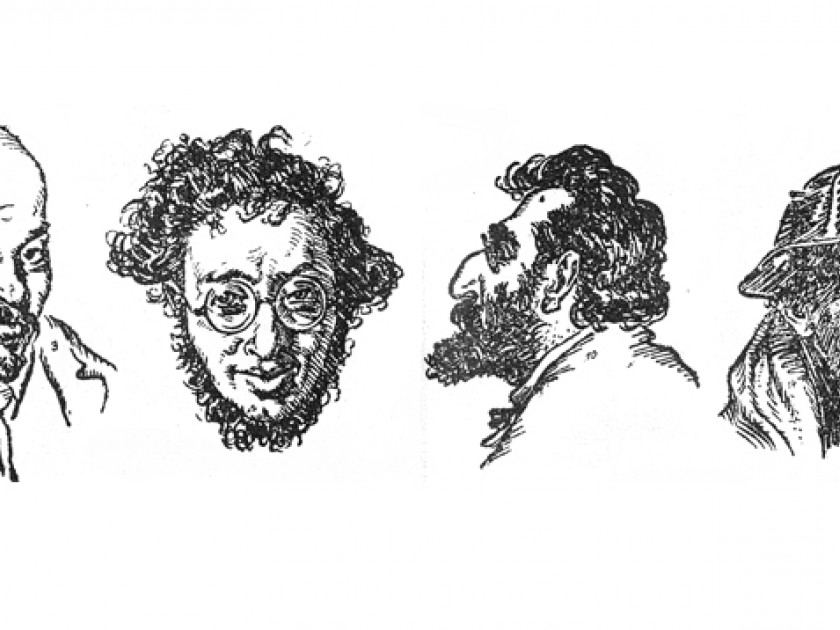 Matthew Baigell has been blog­ging for us all week about his newest book, The Implaca­ble Urge to Defame: Car­toon Jews in the Amer­i­can Press, 1877 – 1935, as part of our Vis­it­ing Scribes series. His final post com­pares The Implaca­ble Urge with his pre­vi­ous book, Social Con­cern and Left Pol­i­tics in Jew­ish Amer­i­can Art, 1880 – 1940, in a dis­cus­sion on how one can over­come Jew­ish stereo­types not only through the writ­ten word, but also by ana­lyz­ing Jew­ish images from the past.
My last two books, Social Con­cern and Left Pol­i­tics in Jew­ish Amer­i­can Art, 1880 – 1940 (2015) and The Implaca­ble Urge to Defame: Car­toon Jews in the Amer­i­can Press, 1877 – 1935, just pub­lished (both by Syra­cuse Uni­ver­si­ty Press) include car­toon images of Jews dur­ing the same peri­od. But the sim­i­lar­i­ty stops right there. Social Con­cern is about left wing Jew­ish artists who were often tagged as trou­ble-mak­ers, social­ists, and com­mu­nists. My idea was to show that the artists were Jews first. Most were born in east­ern Europe and lived on the Low­er East Side in New York. They absorbed through their Jew­ish her­itage the desire to help oth­er peo­ple. Left wing pol­i­tics gave them a sec­u­lar way to do so. For them, social­ism was a sec­u­lar form of Judaism. The book presents them in a favor­able light. The car­toons were tak­en from Yid­dish and Eng­lish-lan­guage Jew­ish magazines.
For The Implaca­ble Urge, I looked at car­toons in the main­stream press. These were uni­form­ly anti-Semit­ic and pre­sent­ed Jews stereo­typ­i­cal­ly as big nosed, fat slobs want­i­ng to game the sys­tem, cheat peo­ple, and steal when­ev­er pos­si­ble. Two total­ly dif­fer­ent inter­pre­ta­tions of the same peo­ple. Social Con­cern was reas­sur­ing. Jews gave to char­i­ty, a peo­ple con­cerned with healthy work­ing and liv­ing con­di­tions. The Implaca­ble Urge made me aware, as Saul Bel­low said in his nov­el, Rav­el­stein, ​"As a Jew you are also an Amer­i­can, but you are also not."
You see the ​"not" part in the main­stream mag­a­zines and you become aware that you are iden­ti­fied as a Jew regard­less of how you con­duct your­self on a dai­ly basis — whether you pay your tax­es on time, serve in the mil­i­tary, vote in every elec­tion. Ivan­ka, for exam­ple, is always the Jew­ish daugh­ter and her hus­band is the Jew­ish son-in-law. They are not ful­ly Amer­i­can, per­haps not even hyphen­at­ed Amer­i­cans, but Jews who are also Americans.
I mar­ried into a fam­i­ly of Holo­caust sur­vivors. So I know sto­ries. Most of us, I am sure, can tell sto­ries but noth­ing like those I have heard, sto­ries of dan­ger­ous and scary sit­u­a­tions. Nev­er­the­less many of us have expe­ri­enced sit­u­a­tions in which we were remind­ed that we were Jew­ish, or an inci­dent that might include the words, ​"You Jews," as if each of us rep­re­sent­ed and stood for the entire com­mu­ni­ty rather than being con­sid­ered as an indi­vid­ual. One way to deal with those moments is to make cer­tain that you are known as a Jew, a ploy adopt­ed by sev­er­al come­di­ans (and oth­ers) as a way to dif­fuse poten­tial­ly hos­tile remarks. I once knew a lady from India who taught for forty years in a uni­ver­si­ty in Texas and still wore a sari each day so that she would not be con­fused with any­body else of her skin col­or. Today, of course, being Indi­an, she might be vic­tim­ized for not being a white Amer­i­can. Anoth­er way is to con­front the per­son or issue direct­ly, but that could be dangerous.
My way, since I am in my eight­ies, is not to look for trou­ble. Many peo­ple know Jews pri­mar­i­ly through Jew­ish jokes or what they hear or read, rather than from direct expe­ri­ences with Jews. They think in stereo­types. What I do is to write about achieve­ments of Jew­ish artists and the ways Jews are depict­ed in art works in order to counter such polit­i­cal, social, and cul­tur­al stereo­types. Grant­ed, the art world is quite small, but I have been told sev­er­al times by peo­ple that they might have been influ­enced by inflam­ma­to­ry car­toons with­out real­iz­ing it, and that they had no idea that left wing Jews were so con­cerned with social issues rather than just being polit­i­cal lefties.
Here is an obser­va­tion that will indi­cate how far reach­ing and destruc­tive stereo­typ­i­cal think­ing can be. (It is not relat­ed to the dis­cus­sion above, but I hope its point is under­stood.) All of us have heard jokes about Jew­ish moth­ers and moth­ers-in-law. In the past, these tend­ed to be about women of the immi­grant gen­er­a­tions, but we are still close enough to those times so that the jokes still have res­o­nance today. I think each joke describes a tragedy. Each is a tragedy because it obscures the impor­tant fam­i­ly and finan­cial roles assumed by Jew­ish moth­ers in the small towns and cities of east­ern Europe. After immi­gra­tion, many suf­fered from dis­lo­ca­tion from friends, from fam­i­ly mem­bers, and from their spo­ken lan­guages as well as from the desires of their chil­dren to Amer­i­can­ize them­selves and thus ignore fam­i­ly tra­di­tions. In such sit­u­a­tions, moth­ers would of course cling to their chil­dren. What else did they have? They had lost their place in their soci­ety, their famil­iar sur­round­ings that were left behind as well as their way of life and in exchange they were con­front­ed with the strange­ness of their new coun­try. And then we make fun of them in jokes. That is what hap­pens with stereo­typ­i­cal think­ing and that is what, in my own sphere, I try to counter by writ­ing about Jew­ish artists and about Jews as the sub­jects of artists. If you want to say that a pic­ture is worth a thou­sand words, then a pic­ture should be a pos­i­tive one.
Matthew Baigell is pro­fes­sor emer­i­tus in the depart­ment of art his­to­ry at Rut­gers Uni­ver­si­ty. He is the author, edi­tor, and coed­i­tor of over twen­ty books on Amer­i­can and Jew­ish Amer­i­can art. His most recent book is The Implaca­ble Urge to Defame: Car­toon Jews in the Amer­i­can Press, 1877 – 1935.