Today, Bri­an Zim­mer­man of Sper­tus Insti­tute for Jew­ish Learn­ing and Lead­er­ship reflects on a recent event with David Niren­berg, author of Anti-Judaism: The West­ern Tra­di­tion.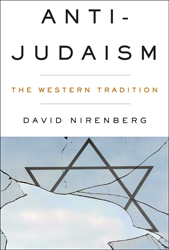 In her book about World War I, The Ori­gins of Total­i­tar­i­an­ism, Ger­man philoso­pher Han­nah Arendt begins not with an intro­duc­tion but with a joke. It goes like this:
An anti-Semi­te and a Jew are hav­ing a con­ver­sa­tion. ​"You know," says the anti-Semi­te, ​"it was the Jews who start­ed this war."

"You're right," says the Jew. ​"It was us and the bicyclists."

Puz­zled, the anti-Semi­te asks, ​"Why the bicyclists?"

To which the Jew replies, ​"Why the Jews?"
Sure, the joke isn't a knee-slap­per, but it does empha­size an atti­tude toward Jews and Judaism that has per­sist­ed through­out his­to­ry. For cen­turies Jews have faced near con­stant dis­crim­i­na­tion for the things they believed and the tra­di­tions they held. A lot of this dis­crim­i­na­tion has tak­en the form of anti-Semi­tism, which is the racial stereo­typ­ing of Jews and Jew­ish cul­ture. But the kind of dis­crim­i­na­tion illus­trat­ed through the joke is dif­fer­ent. It doesn't stem from any actu­al racial stereo­type, but mere­ly from the idea that some­thing need­ed to be blamed on some­one. Under­stood this way, the joke's punch line becomes a more seri­ous ques­tion. When con­flict aris­es, why do Jews get the blame?
It's a ques­tion Dr. David Niren­berg, a pro­fes­sor of his­to­ry at the Uni­ver­si­ty of Chica­go, tries to answer in his new book Anti-Judaism: The West­ern Tra­di­tion. Speak­ing at Sper­tus Insi­ti­tute for Jew­ish Learn­ing and Lead­er­ship in Jan­u­ary, he made it clear that anti-Judaism, which he defines as the ten­den­cy to equate Judaism with devi­ous ideas, is an age-old problem.
To get to the root of it, he set out to map anti-Judaism from the very begin­ning. One of the ear­li­est exam­ples he could find was from the 1st cen­tu­ry, when ear­ly Chris­tians were begin­ning to com­pile a sys­tem of beliefs dis­tinct from their Jew­ish neigh­bors. As is not­ed in Gala­tians, St. Paul once argued with St. Peter about how new Chris­tians should think about the Bible. Paul, intent on cre­at­ing his own church, want­ed to make sure his new con­verts wouldn't ​"Judaise" their Chris­t­ian beliefs. He explains that by ​"Judais­ing," he means giv­ing pri­or­i­ty to the let­ter of scrip­ture over its alle­gor­i­cal mean­ing, as well as pri­or­i­ty to the flesh over the spirit.
For St. Paul, Judaism became a sym­bol for the oppo­site of what the ear­ly Chris­tians want­ed to believe. Where­as Jews believed in con­tin­u­al self-improve­ment, ear­ly Chris­tians believed in the sin­gu­lar accep­tance of a sav­ior. Where­as Jews believed in dietary rules and Sab­bath pro­hi­bi­tions, ear­ly Chris­tians believed in moral teach­ings and tem­per­ate liv­ing. It wasn't that Judaism posed an ide­o­log­i­cal threat to Chris­tian­i­ty – it was sim­ply posi­tioned as an oppo­site. But as Dr. Niren­berg makes clear, that mode of think­ing car­ried dan­ger­ous implications.
Con­sid­er the French Rev­o­lu­tion. This was cru­cial moment in France's his­to­ry, with war­ring fac­tions fight­ing for con­trol of the French gov­ern­ment. It was a bat­tle not of reli­gion but of polit­i­cal and philo­soph­i­cal oppo­sites. So where does anti-Judaism fit in? Everywhere.
Dur­ing the rev­o­lu­tion, anti-rev­o­lu­tion­ary Eng­lish philoso­pher Edmund Bruke decried the pro­le­tari­at upris­ing as a vic­to­ry for the Jew­ish bankers, which he thought were secret­ly ben­e­fit­ing from the top­pling of the French aris­toc­ra­cy. Mean­while, across the rev­o­lu­tion­ary aisle, the pro-rev­o­lu­tion­ists were form­ing their own bat­tle cry, only they, too, her­ald­ed their cause as a vic­to­ry of Euro­peans over Judaism.
How could one side sup­port­ing order and aris­toc­ra­cy and anoth­er side sup­port­ing democ­ra­cy and free­dom both wind up hat­ing the Jews? It was easy. They were both using Judaism as a stand in for the ene­my, or the oppo­site of what each one believed. The irony of the sit­u­a­tion is that Jews made up only 0.14% of France's pop­u­la­tion at the time. Clear­ly, the gripe with Judaism's role in the French Rev­o­lu­tion wasn't real­ly about Jews.
It hard­ly ever is. In fact, Dr. Niren­berg believes that anti-Judaism is much more deployed against non-Jews than it is against actu­al Jews. Through­out his­to­ry, Chris­t­ian reform­ers, Mus­lim rev­o­lu­tion­ar­ies, and pub­lic intel­lec­tu­als of no reli­gion at all have been attached or crit­i­cized for pro­mot­ing Judaism. This fact was made obvi­ous by what are per­haps the world's most noto­ri­ous prac­ti­tion­ers of anti-Judaism: the Nazis.
Ear­ly into the war, the Nazis, led by Ger­man artist Alfred Zigler, put togeth­er a Degen­er­ate Art Exhib­it, which was designed to show­case art that ​"revealed Jew­ish racial soul." The whole point was for the Nazis to demon­strate how ​"Jew­ish ideas" like impres­sion­ism and abstrac­tion­ism were poi­son­ing Germany's art tra­di­tion. One prob­lem? Of the 112 artists exhib­it­ed, only six of them were Jewish.
The Nazis didn't stop with just art. For them, even aca­d­e­m­ic dis­ci­plines like math and physics were labeled as Jew­ish, sim­ply because these dis­ci­plines chal­lenged the sta­tus quo of the nat­ur­al world. It was for this rea­son that Ger­man physi­cist and Nobel Prize recip­i­ent Philipp Lenard once warned physics stu­dents not to take too much math­e­mat­ics, since the field car­ried with it ​"Jew­ish influ­ences that killed feel­ings for nat­ur­al sci­en­tif­ic research."
This pat­tern of anti-Judaism has repeat­ed itself even into our mod­ern age. In 2009, for exam­ple, when pro­test­ers took con­trol of Tehran and demand­ed a recall of dis­put­ed pres­i­dent Mah­moud Ahmadine­jad, fun­da­men­tal­ist cler­ics from near­by coun­tries derid­ed the pro­tes­tors for act­ing ​"Jew­ish­ly." This is a bold claim, espe­cial­ly since these pro­tes­tors nev­er aligned with Judaism or the Jew­ish peo­ple. But the accu­sa­tion makes sense through the lens of anti-Judaism. Seen this way, we have one group of peo­ple – the pro­tes­tors – try­ing to impose a new val­ue sys­tem on anoth­er group of peo­ple – the fun­da­men­tal­ists – who are des­per­ate­ly cling­ing to an old one. In sce­nar­ios like these, some­one is always going to be look­ing for a scape­goat. Dr. Nirenberg's point is that more often than not the scape­goat will be Judaism.
And this is pre­cise­ly the dan­ger Dr. Niren­berg sees in anti-Judaism. As long as there are war­ring fac­tions, dis­agree­ing gov­ern­ments, or nation­al con­flicts, the poten­tial for anti-Judaism will always arise. That's because anti-Judaism isn't about hat­ing actu­al Jews; it's about using Judaism as a chan­nel for hate. But an even greater dan­ger is when no one steps up to intervene.
Anti-Judaism: The West­ern Tra­di­tion can be pur­chased at the Sper­tus Shop by vis­it­ing shop​.sper​tus​.edu. Start­ing March 15, Dr. Nirenberg's lec­ture at Sper­tus Insti­tute will be avail­able on the Sper­tus web­site as an online resource.
Read Jew­ish Book Coun­cil's review of Anti-Judaism: The West­ern Tra­di­tion here.
Bri­an Zim­mer­man is the Mar­ket­ing & Com­mu­ni­ca­tions Asso­ciate at Sper­tus Insti­tute for Jew­ish Learn­ing and Lead­er­ship. His blog, Peo­ple of the Books, appears on JUF News.