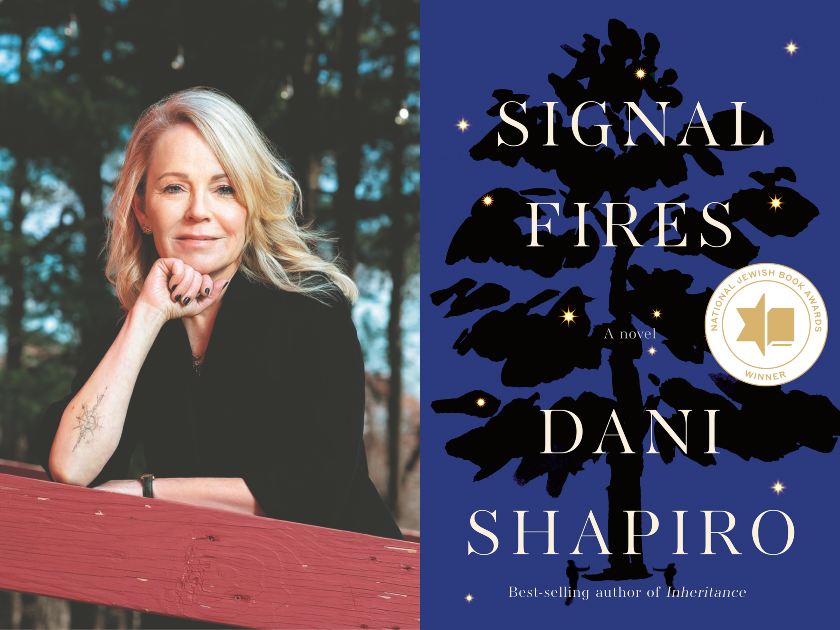 Simona Zaret­sky speaks with Dani Shapiro about her nov­el Sig­nal Fires, win­ner of the 72nd Nation­al Jew­ish Book Award in the Fic­tion cat­e­go­ry. They explore per­cep­tion of time and mem­o­ry, shift­ing fam­i­ly dynam­ics, and how Judaism weaves through­out this propul­sive and poignant novel.
Simona Zaret­sky: Sig­nal Fires begins with a cat­a­clysmic acci­dent that sets the Wilf family's lives in motion in sep­a­rate ways. The fam­i­ly dynam­ic changes and there's a slow rever­sal of par­ent­ing roles. Could you speak on the shift­ing fam­i­ly dynamics?
Dani Shapiro: When the Wil­fs make tac­it agree­ment nev­er to dis­cuss what real­ly hap­pened on the night of that cat­a­clysmic acci­dent, it alters the tra­jec­to­ry of each of their lives. I have a phi­los­o­phy that when a great trau­ma hap­pens to us is as, if not more, impor­tant than what it is that has hap­pened. The Wilf kids, Theo and Sarah, are teenagers at the time of the acci­dent. They're in the process of becom­ing who they are. And so the silence, the secre­cy, and the tragedy itself are all huge­ly for­ma­tive. For their par­ents, Ben and Mimi, the secre­cy and silence is also tox­ic, but it's a qui­eter tox­i­c­i­ty. It impacts their lives less vis­i­bly. Dynam­ics in fam­i­lies always shift as decades pass, but in the case of this fam­i­ly, it's more dra­mat­ic and intense, under­scored by their inabil­i­ty or unwill­ing­ness to talk about it.
SZ: Judaism has such defined stages of life and life cycle events. With the non-lin­ear struc­ture of Sig­nal Fires, there is an inver­sion of the idea of life, and suc­cess, as lin­ear. Could you speak to this struc­ture? Does Judaism, or a Jew­ish sen­si­bil­i­ty of time, play into it at all?
DS: Such an inter­est­ing ques­tion. My sense of time has a great deal to do with mem­o­ry and con­scious­ness. Time is, of course, always march­ing inex­orably for­ward, and yet I don't think, in our inter­nal lives, that we expe­ri­ence time in a lin­ear fash­ion. Mem­o­ry isn't nar­ra­tive. Con­scious­ness is most def­i­nite­ly not nar­ra­tive. Per­haps this is part of the pow­er of sto­ry­telling, and the pow­er of defined stages of life cycle events. I want­ed to refract time, in Sig­nal Fires, to expe­ri­ence the lives of these char­ac­ters in all their stages, in all their lay­ers. I don't know how to sep­a­rate a Jew­ish sen­si­bil­i­ty of time from my sen­si­bil­i­ty of time. They may be one and the same.
SZ: Mimi's expe­ri­ence of Alzheimers is poignant­ly cap­tured from her own per­spec­tive, as well as from that of her fam­i­ly mem­bers watch­ing the changes occur. To me, the weav­ing togeth­er of nar­ra­tives and time lines felt reflec­tive of the act of remem­ber­ing itself. Could you speak on mem­o­ry, or the expe­ri­ence of writ­ing mem­o­ry loss from sev­er­al perspectives?
DS: I wit­nessed my beloved mother-in-law's slow decline from Alzheimer's over the course of a decade, and the dawn­ing real­iza­tion she and my father-in-law had in the begin­ning, before it was tru­ly obvi­ous that she was declin­ing. I want­ed to cap­ture Ben's denial, par­tic­u­lar­ly as a doc­tor, because as a hus­band he was miss­ing the signs. But then I real­ized that I need­ed, as a writer, to enter Mimi's con­scious­ness when she is far along in the dis­ease, liv­ing in the mem­o­ry unit. And what I real­ized – and of course this isn't true for every­one – but in Mimi's case, love was what remained. Love was what pro­pelled her toward her chil­dren, toward her hus­band, even as she became unstuck in time and space, she knew who she loved. That was some­thing that very much struck me about my own moth­er-in-law. In the year before she died, my son vis­it­ed, and though she didn't know his name, or pos­si­bly who he was, she knew she loved him. She kept say­ing ​"kina­ho­ra" again and again.
SZ: Through a silence that becomes hard­er and hard­er to break through, the Wilf fam­i­ly mem­bers each attempt to come to terms with the acci­dent. Could you speak to the por­tray­al of grief and mourning?
DS: It's fun­ny, I don't think that grief and mourn­ing have a cen­ter seat in Sig­nal Fires–even though there are loss­es and hard moments, I feel that a sense of hope and con­nec­tion are what over­ride the sor­row. And in part, it's the non-lin­ear struc­ture which allows for that, because we're giv­en glimpses of these char­ac­ters at dif­fer­ent moments in their lives – includ­ing glimpses of their futures – and so in some way we know that in the full­ness of time, they will expe­ri­ence love and connection.
I want­ed to refract time, in Sig­nal Fires, to expe­ri­ence the lives of these char­ac­ters in all their stages, in all their layers.
SZ: Divi­sion Street and its gor­geous, tow­er­ing oak, are so rich­ly drawn. The read­er sees how tight­ly-knit the neigh­bor­hood is and yet, simul­ta­ne­ous­ly, there is a vast dis­tance between com­mu­ni­ty mem­bers, and a dis­crep­an­cy between the appear­ances of dif­fer­ent fam­i­lies and the real­i­ty of their rela­tion­ships behind closed doors. How does the set­ting play into the plot and inform the lives of the characters?
DS: I was (and am) very inter­est­ed in explor­ing neigh­bor­hoods and com­mu­ni­ties in my writ­ing. These peo­ple moved to Divi­sion Street, set down roots there, raised their chil­dren, attend­ed com­mu­ni­ty events togeth­er, but may not have a whole lot more than that in com­mon. And yet there is an inti­ma­cy in wit­ness­ing one another's lives: the com­ings and goings, the trash being tak­en out, the dog being walked, the kids becom­ing friends, or not. And at the same time, those years of fam­i­ly life in a neigh­bor­hood are finite. We nev­er think of that while we're liv­ing those years, but I was keen­ly aware, while writ­ing Sig­nal Fires, of active par­ent­ing being a chap­ter in our lives, and not the whole of our lives. And so when the nov­el opens, and Ben is fin­ished pack­ing up the house he's lived in for forty years, where he was a young hus­band, a young father, a young doc­tor, and he is antic­i­pat­ing the next chap­ter, and think­ing back to ear­li­er times, that's what I was hop­ing to capture.
SZ: Wal­do Shenkman and Ben Wilf have a con­nec­tion that exists out­side of their nuclear fam­i­lies and offers each of them a dis­tinct kind of sup­port and sense of being seen. Con­stel­la­tions and astron­o­my play such a piv­otal role in this – what kind of research did you do for this piece? And how do you see con­stel­la­tions and astron­o­my fit­ting into Wal­do and Ben's rela­tion­ship over the years?
DS: Waldo's obses­sion with the cos­mos is the way he comes to under­stand the world and feel (para­dox­i­cal­ly) ground­ed. He's a bril­liant, lone­ly boy whose par­ents don't under­stand him, and he feels a kin­ship with Ben. I've always been fas­ci­nat­ed by the kin­ship we some­times feel with peo­ple we don't know well, or even per­fect strangers. Where does it come from? What does it mean? As for research, Wal­do was a boy genius, and I just tried to keep up with him, so I read every­thing I thought Wal­do would read, and then the app that Wal­do loves, Star­walk, was also instru­men­tal. (It's a real app, by the way.)
SZ: What were your lit­er­ary influ­ences? Was there a par­tic­u­lar moment of inspi­ra­tion for the book?
DS: Influ­ences! I have many, but there are three I return to again and again. The first is Vir­ginia Woolf. There is actu­al­ly a pas­sage in Sig­nal Fires in which Ben is think­ing about the way time works, in which I was extreme­ly con­scious of Woolf's ghost on my shoul­der. The sec­ond is Joan Did­ion, for the stun­ning clar­i­ty of her sen­tences and a kind of fear­less­ness insep­a­ra­ble from her fragili­ty. As for inspi­ra­tion for the nov­el, there wasn't a sin­gle one, but rather, as often hap­pens for me, the col­li­sion of thoughts, ideas, land­scape, and char­ac­ters that all came to me at dif­fer­ent moments. I need­ed all of them in order to embark on the book.
SZ: Sig­nal Fires includes a sec­tion set in 2020 – could you tell me about your expe­ri­ence of writ­ing about the ear­ly days of the pan­dem­ic? And what was it like to return to writ­ing fic­tion after your recent memoirs?
DS: It was thrilling to return to fic­tion. I've missed it ter­ri­bly. After I fin­ished my mem­oir Inher­i­tance, I tru­ly couldn't imag­ine what could pos­si­bly come next. I had fin­ished a body of work, in mem­oir, that began with Slow Motion and end­ed with Inher­i­tance. Not that I might not write anoth­er mem­oir at some point, but in terms of that body of work, I had found what I hadn't even known I was look­ing for. And so, it was an extra­or­di­nary expe­ri­ence, becom­ing reac­quaint­ed, dur­ing the pan­dem­ic, with the 100 pages I had writ­ten years ear­li­er. I real­ized that a glimpse of 2020 might impact this stalled nov­el that I had lost the thread of years before. That was one of the most excit­ing moments, cre­ative­ly speak­ing, that I've ever had. I wasn't inter­est­ed in writ­ing a pan­dem­ic nov­el at all, but I saw a way to weave a small thread of 2020 into the over­all tapestry.
SZ: What are you cur­rent­ly reading?
DS: I'm about to read Rebec­ca Makkai's I Have Some Ques­tions For You, and also Ann Napolitano's Hel­lo Beau­ti­ful. Ann is a for­mer stu­dent of mine, and I am immense­ly proud of her, and all my stu­dents who have pub­lished books over the years.
Simona is the Jew­ish Book Coun­cil's man­ag­ing edi­tor of dig­i­tal con­tent and mar­ket­ing. She grad­u­at­ed from Sarah Lawrence Col­lege with a con­cen­tra­tion in Eng­lish and His­to­ry and stud­ied abroad in India and Eng­land. Pri­or to the JBC she worked at Oxford Uni­ver­si­ty Press. Her writ­ing has been fea­tured in Lilith, The Nor­mal School, Dig­ging through the Fat, and oth­er pub­li­ca­tions. She holds an MFA in fic­tion from The New School.