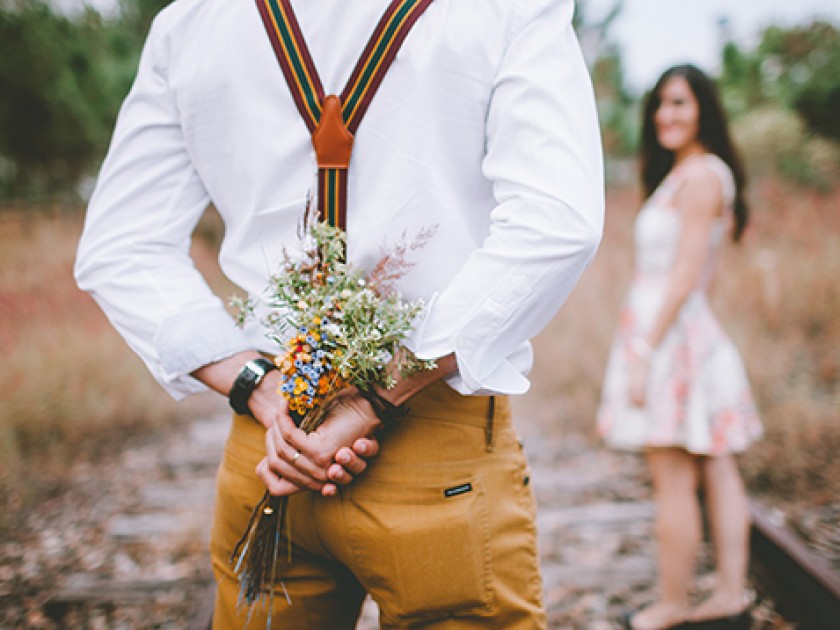 Ear­li­er this week, Jen Glantz shared her top tips and secrets to online dat­ing for Jew­ish women. With the release of her new book Always a Brides­maid (for Hire), Jen is guest blog­ging for Jew­ish Book Coun­cil all week as part of the Vis­it­ing Scribe series here on The ProsenPeo­ple.
One of the main rea­sons I find myself with a ruth­less case of Acid Reflux dur­ing hol­i­day din­ners back home in Boca Raton, Flori­da, isn't because I ate too many bites of gefilta fish with horse­rad­ish, or because I drank my Man­is­che­witz too quick­ly, but because I no longer can prop­er­ly digest the ques­tion: ​"Why didn't you bring home a men­sch this year?"
There's not a Yom Kip­pur break-fast or a Rosh Hashanah din­ner that goes by where fam­i­ly mem­bers don't smear my chal­lah-bread stuffed self with ques­tions about why I'm still sin­gle and, more impor­tant­ly, why I haven't found a match on JDate​.com, where in their mind there must be loads of won­der­ful Jew­ish guys all around the coun­try wait­ing patient­ly for me behind com­put­er screens.
While I've become a pro at tun­ing them out — break­ing out in Hava Negi­la instead, shift­ing their atten­tion from my MIA mar­i­tal sta­tus on my under­ap­pre­ci­at­ed vocal tal­ents instead — I have decid­ed to kick off 2017 with the goal of sur­pris­ing them by bring­ing home a Nice Jew­ish Boy by Passover, so they can pinch his cheeks, ask him about his fam­i­ly lin­eage, and stop pre­tend­ing they are sav­ing a seat at the table for some­one named ​"Eli­jah" (I secret­ly think that's the Haggadah's way of say­ing we are sav­ing this seat for Your Future Hus­band, Jen, and as soon as you bring him home, we'll all stop pre­tend­ing to have an imag­i­nary friend).
So if you're up to join me on this chal­lenge, here are the four ways I plan to find a NJB before its time for all of us to ditch the carbs for a week and turn to matzah instead.
1. Get Rid of the Not-Nice Jew­ish Guy
Before we dive into this chal­lenge, it is imper­a­tive that you say Shalom—and I mean the good­bye kind — to your ex-boyfriend. The one you still fre­quent­ly look at on social media and hope to eye­ball when you're back home for Yom Kip­pur and sit­ting in shul for the entire day starv­ing. In order to move for­ward, you have to move on. Change con­gre­ga­tions, block them on social media, tell your mutu­al youth group friends that you are try­ing to move on and want them to stop giv­ing you updates on his or her whereabouts.
Now that we've got the hard­est step out of the way, let's move forward.
2. Take Your Busi­ness Online
It may be one of your biggest hes­i­ta­tions, but down­load­ing a dat­ing app or pay­ing for a mem­ber­ship to an online por­tal of eli­gi­ble sin­gles may be one of the fastest and most con­ve­nient ways to say hel­lo to new poten­tial suit­ors. The best part of this step is, you can browse for match­es while sit­ting in your paja­mas, on your couch, and eat­ing defrost­ed kugel that you have stored in your freez­er. The worst part about this step is that you'll have to kiss many frogs before you find a prince, and by kiss, I mean you'll have to go on way more cof­fee dates than you'd like with guys who look noth­ing like their pro­file pic­ture and argue with you over Trump vs. Hilary.
Remem­ber, there are five sim­ple steps to hack­ing Jew­ish online dat­ing. Make sure you read (and fol­low) these tips as you ven­ture forth into the interwebs!
3. Go on as Many Dates as There Are Plagues
If you're a one-date-a-year kind of per­son, it's time to change your ways. Dat­ing, nowa­days, is a num­bers game. If you want to meet the right per­son you may have to go on 7 dates a month or even — dare I say it — a week. The more peo­ple you meet in-per­son, the more you will think a) peo­ple are real­ly strange and b) that you may just be one date away from kiss­ing your besh­ert frog.
4. Say Yes to Your Local Matchmaker
I'm not say­ing you should shell out a cou­ple of hun­dred dol­lars to meet with a pro­fes­sion­al dat­ing coach or match­mak­er. You don't need that. Your fam­i­ly mem­bers are nat­ur­al match­mak­ers them­selves. It's in their DNA. Just reach out to cousins your age or spread the word around your local rel­a­tives that you're sin­gle and look­ing for a NJB. Before you know it, you'll have phone num­bers of every Schwartz, Berg­stein, and Cohen who live on the east side of your town.
Fol­low these steps as close­ly as you (hope­ful­ly) did your Torah por­tion dur­ing your bar or bat mitz­vah and you might find your­self smooching Mr. Right hel­lo before ask­ing the Four Ques­tions at your next Passover seder.
Jen Glantz is the world's first pro­fes­sion­al brides­maid and founder of Brides­maid for Hire. She's the heart­beat behind the web­site The Things I Learned From, and the author of the Ama­zon-best­selling eBook, All My Friends are Engaged. She can be found in New York City wear­ing old brides­maid dress­es to the gro­cery store, on first dates, or dou­ble-fist­ing slices of one-dol­lar pizza.