Post­ed by Nat Bernstein
Mon­day night, a group of Jew­ish stu­dents and pro­fes­sion­als in their 20s gath­ered in the com­mon room of the new­ly opened Moishe House of the Upper West Side over plates of kosher Chi­nese food for a dis­cus­sion with JBC Net­work author Dr. Elana Maryles Sztok­man about her new book out from Source­books, The War on Women in Israel: A Sto­ry of Reli­gious Rad­i­cal­ism and the Women Fight­ing for Free­dom.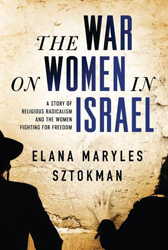 Elana opened her talk with a brief descrip­tion of a recent El Al flight in which the plane's depar­ture was delayed half an hour while pas­sen­gers scram­bled to accom­mo­date a reli­gious man assigned to the seat next to hers and insist­ing on anoth­er arrange­ment. The expe­ri­ence inspired an impas­sioned post on her blog, Jew​Fem​.com, that was quick­ly picked up and cir­cu­lat­ed by numer­ous news and media out­lets includ­ing Tablet, The Tele­graph, and Haaretz and launched a peti­tion to El Al demand­ing an end to com­pla­cen­cy in the harass­ment of female pas­sen­gers by Ultra-Ortho­dox fliers. ​"If I had known that piece, out of all my writ­ing and blog­ging, would be so wide­ly for­ward­ed, I would have nev­er admit­ted that I cried," Elana chuckled.
"All over the world, when­ev­er reli­gious extrem­ism comes to pow­er, women are always the first vic­tims," Elana point­ed out, cit­ing Geral­dine Brooks' Nine Parts of Desire: The Hid­den World of Islam­ic Women, ​"and Judaism is no excep­tion." The most vis­i­ble out­come is the high pre­mi­um placed on women's mod­esty — ​"I hate to use that word, because mod­esty in Judaism was orig­i­nal­ly a beau­ti­ful idea, going back to Moses: true Jew­ish mod­esty is about putting the oth­er per­son first, about putting oth­ers before your­self." What it's evolved into, she observes, is a way of con­trol­ling and hid­ing women's bod­ies. ​"In the Ortho­dox world today, mod­esty is used as a mea­sure­ment. We lit­er­al­ly mea­sure, inch by inch, reli­gious obser­vance against women's bodies."
Elana gave exam­ples of how women are silenced, sep­a­rat­ed, removed, and pro­hib­it­ed from pub­lic spaces across Israel, from radio sta­tions to ceme­ter­ies to side­walks. Until recent­ly, images of women were not allowed on bill­boards or oth­er pub­lic adver­tis­ing in Jerusalem; female sci­en­tists, edu­ca­tors, and med­ical pro­fes­sion­als were barred from pre­sent­ing at con­fer­ences in their fields or receiv­ing awards at offi­cial cer­e­monies. ​"The lev­els of patri­archy are astound­ing: we go from mod­esty, cov­er­ing women up, to remov­ing women entire­ly, to the removal of images of women, to remov­ing women's voic­es. This is what's going on in Israel, and it's becom­ing violent."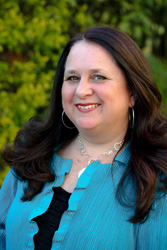 Ques­tions for Elana ranged from prag­mat­ic ("How can men and oth­er out­side groups be bet­ter allies to the reli­gious fem­i­nist move­ments?") to rhetor­i­cal, often rais­ing per­son­al expe­ri­ences and respons­es. Mem­bers of the audi­ence were appalled at the inci­dents of vio­lence against Israeli women men­tioned in Elana's talk — sto­ries of van­dal­ism, of rocks thrown at women and their chil­dren for their attire or for turn­ing down a seg­re­gat­ed street, of women phys­i­cal­ly assault­ed for sit­ting at the front of a pub­lic bus. ​"So a Hare­di man can touch a woman to drag her off a bus and beat her, but he can't sit next to her?" one par­tic­i­pant blurt­ed out, furi­ous with indignation.
There, Israel has seen some progress: seg­re­gat­ed bus­es are down to a third of where they were three years ago, and after a dri­ver was heav­i­ly fined by the gov­ern­ment for the assault of a female pas­sen­ger on his bus Eged employ­ees have made a bet­ter habit of inter­ven­ing when a pas­sen­ger is harassed or threat­ened. There have been oth­er vic­to­ries for women's civ­il rights in Israel over the past cou­ple years: grass­roots cam­paigns and ini­tia­tives have gained firm foot­ing in Israeli soci­ety, enabling part­ner­ships across denom­i­na­tion­al lines and plac­ing much-need­ed account­abil­i­ty on the gov­ern­ment and polit­i­cal lead­ers — not just the reli­gious ones. ​"The sto­ry here is about the sec­u­lar gov­ern­ment, the state appa­ra­tus, sup­port­ing reli­gious extrem­ism. The sto­ry is not about reli­gious extrem­ists, but how the sec­u­lar world enables them."
Glob­al­ly, Elana holds, there needs to be less tol­er­ance — even on the lay lev­el — for reli­gious fanati­cism. This applies to the Jew­ish world, both in the Dias­po­ra and in Israel: ​"There is a lim­it to plu­ral­ism; there's a lim­it to how much we can accept as ​'mul­ti­cul­tur­al­ism'. This is not a legit­i­mate cul­ture, these are not legit­i­mate demands. It is nev­er accept­able for there to be a space in Israel in which women are not allowed." She shared sev­er­al exam­ples from her own upbring­ing, career, and fam­i­ly to illus­trate the chal­lenges of uphold­ing fem­i­nist val­ues in the Ortho­dox world, even in her own life. When Elana apol­o­gized for adding such per­son­al anec­dotes to the dis­cus­sion, the room erupt­ed in protest: ​"No, these sto­ries are amaz­ing," some­one called out. ​"This is exact­ly what we came to hear."
Relat­ed content:
Nat Bern­stein is the for­mer Man­ag­er of Dig­i­tal Con­tent & Media, JBC Net­work Coor­di­na­tor, and Con­tribut­ing Edi­tor at the Jew­ish Book Coun­cil and a grad­u­ate of Hamp­shire College.