Actress, author, and activist Annabelle Gur­witch is the author of two books
—
You Say Toma­to, I Say Shut Up
and
Fired!—
and the e‑book sin­gle
Autumn Leaves
(avail­able from Zola Books), a chap­ter from her comedic mem­oir for Blue Rid­er imprint at Pen­guin, to be pub­lished in Spring

2014

. She will be blog­ging here all week for Jew­ish Book Coun­cil and MyJew­ish­Learn­ing.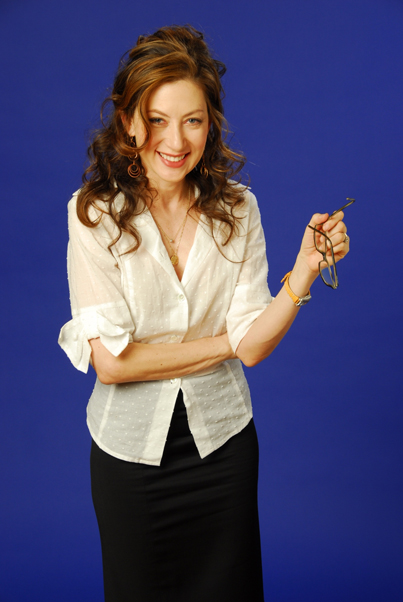 I turned 50. It wasn't sup­posed to hap­pen to me. I do yoga. I mois­tur­ize. I still fit into the same jeans I've had for the last 15 years, though they do sit dif­fer­ent­ly, but you can't escape it, no mat­ter how Vit­a­min D you're tak­ing (even though some stud­ies say it doesn't do any­thing of sig­nif­i­cance). As an actress, I always played roles some­times even a decade younger than myself. This was before IMDB made it impos­si­ble to lie about your age. I'd told so many peo­ple so many dif­fer­ent ages over the years I'd even con­vinced myself that my driver's license might not even be accu­rate. There is prece­dence for this in my fam­i­ly. My father's moth­er, Rebec­ca, shaved a few years off when she arrived in Alaba­ma as a teenag­er around 1919 from Rus­sia — I can only assume to make her self more attrac­tive mar­riage mate­r­i­al — but then she tried to have it cor­rect­ed to col­lect her Social Secu­ri­ty ear­li­er many years lat­er. We're South­ern, so a bit of Blanche Dubois tends to seep in from time to time.
In my 20s, I was an erst­while punk. I was ahead of my time. No need for a New York Times Mag­a­zine cov­er to con­vince me of how germs are good for you. On a sun­ny Sep­tem­ber morn­ing in 1981, I picked up a tat­tered black leather motor­cy­cle jack­et for 25 dol­lars from a guy under the Cube on Astor Place, put in on and didn't take it off again for the next 3 – 7 years; it was the 80's, so who can remem­ber the exact num­ber. I fur­nished my entire apart­ment with items I found in dump­sters. Ok, the entire place was only about 200 square feet. But still. Now, time has caught up with me. It's not like this hap­pened overnight, but as the days approached lead­ing up to my 50th birth­day, I was wak­ing up at night, well, at 4am, the witch­ing hour for all hor­mon­al­ly chal­lenged women, think­ing there's been a mis­take. The math is wrong! I'm just not ready for that num­ber yet. That num­ber is so huge; but when you start expe­ri­enc­ing your youth like it was yes­ter­day, nev­er mind that 30 years have come in between me and the time when a jack­et could sym­bol­ize a life choice, well, that's a sure sign that the math is right, a big birth­day is afoot. That was also the last time in my life when I thought there were good peo­ple and bad peo­ple. Now I know there's just peo­ple and I've done things that any­one could eas­i­ly label bad, just ask my son; he's got an entire list of my transgressions.
At the same time as I was speed­ing toward 50, my son was reach­ing a mile­stone age as well. 13. Again, this had to be a mis­take. My son — who used to reg­u­lar­ly spout adorable eso­teric insights as chil­dren are want to do, like at age 7 when he announced, ​"When I was younger, Mom, I wasn't sure life was going to be so great, but it's so much bet­ter than I expect­ed" — was now becom­ing my biggest crit­ic. He's Ben Brant­ley to my Alec Bald­win. For instance, I was on The Oprah Win­frey show giv­ing mil­lions of view­ers a tour of a land­fill, think­ing I was serv­ing a greater good, and hop­ing to make my son proud, but no, even this was not to his lik­ing. ​"Mom, you picked up a vol­ley­ball in that pit and you called it a soc­cer ball! Who would ever lis­ten to any­thing you say now? You suck." My cook­ing, my cloth­ing, my com­ments, every­thing was just hor­ri­ble now to him.
That was just one of rea­sons why I decid­ed he just had to have a Bar Mitz­vah. It would be a way of bring­ing us together.
There was also a prac­ti­cal con­sid­er­a­tion. Both my hus­band and I are athe­ists and sec­u­lar Jews. We came to the con­clu­sion that if he's inher­it­ed even a smidgeon of my opin­ion­at­ed per­son­al­i­ty, he should at least have a work­ing knowl­edge of what he might lat­er want to rebel against. I'm not proud of it, but it is a pas­sion of mine to argue against things I know very lit­tle about. Movies, books, and peo­ple I haven't met are some of my favorite tar­gets, but I aspire for my son to be a more informed crit­ic. All things con­sid­ered, I told myself, it was a good thing I'd done some time in the Women's Cor­rec­tion­al Facil­i­ty in Chino.
To be continued…
Read Part Two of ​

"

When

50

Hap­pens to Good Peo­ple" here.

Read more about Annabelle Gur­witch here.
Annabelle Gur­witch is an actress, activist, and New York Times best­selling author of five books. Her most recent mem­oir ​"You're Leav­ing When?" is a New York Times Favorite Book for Healthy Liv­ing. She's a two-time final­ist for the Thurber Prize for Amer­i­can Humor Writ­ing. Annabelle co-host­ed the pop­u­lar ​"Din­ner & a Movie" series on TBS for six sea­sons and was a reg­u­lar NPR com­men­ta­tor whose act­ing cred­its include: Sein­feld, Dex­ter, Bet­ter Things, and Mur­phy Brown. Her writ­ing appears in the New York Times, Wash­ing­ton Post, Los Ange­les Times, New York­er and Hadas­sah. Annabelle has been fea­tured on The Today Show, Good Morn­ing Amer­i­ca, Real Time with Bill Maher, PBS New­shour, Oprah, CBS Ear­ly Show. Appear­ances include: The Moth Main­stage, Car­o­lines on Broad­way, the 92nd street Y, Google Talks, The Carter Cen­ter, SXSW, George Wash­ing­ton Uni­ver­si­ty, The Cis Maisel Cen­ter for Juda­ic Stud­ies, per­form­ing arts cen­ters around the country.