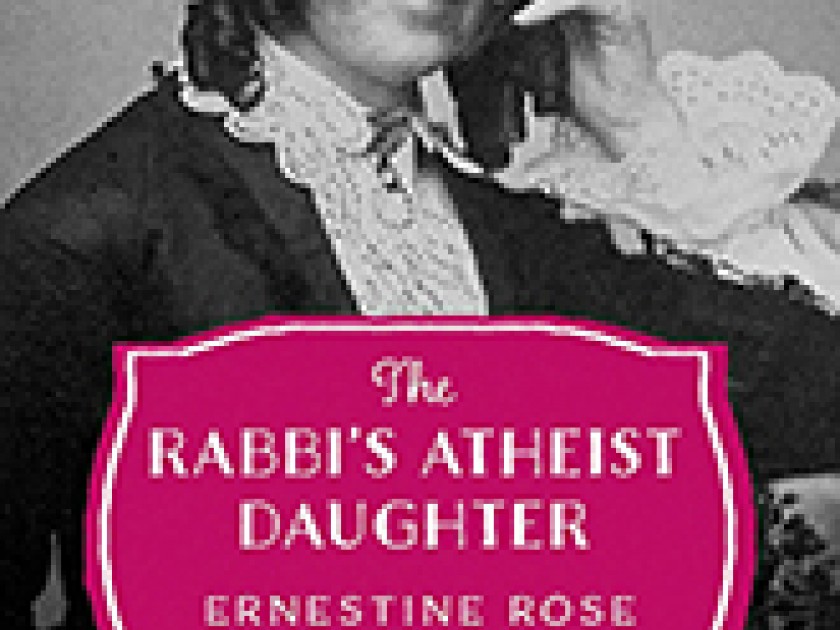 Ear­li­er this week, Bon­nie S. Ander­son explained why the sub­ject of her book The Rab­bi's Athe­ist Daugh­ter: Ernes­tine Rose, Inter­na­tion­al Fem­i­nist Pio­neer would have been at the front of the Women's March on Wash­ing­ton this past week­end. Bon­nie is guest blog­ging for the Jew­ish Book Coun­cil all week as part of the Vis­it­ing Scribe series here on The ProsenPeo­ple.
Born in 1810 to a Pol­ish rab­bi and his wife, Ernesty­na Potows­ka, as she may have been called then — her Hebrew names have been lost to his­to­ry — was raised as an Ortho­dox Jew. (Vir­tu­al­ly all Jew­ish fam­i­lies were Ortho­dox then — the nascent Reform move­ment was just start­ing in Berlin.)
Edu­cat­ed by her father, Ernes­tine was taught skills usu­al­ly reserved to boys: learn­ing Hebrew and read­ing Torah. Ear­ly on, she began to ask ques­tions, as Jew­ish boys were sup­posed to do. ​"Lit­tle girls must not ask ques­tions," her father declared, a pro­nounce­ment that she lat­er said made her ​"an advo­cate of reli­gious free­dom and women's rights." At 12 years old, she test­ed God's approval of her community's stric­ture that ​"You must keep the Sab­bath unto the break­ing of a piece of straw." When the deity sent no sign to stop her doing this, she ​"broke with the God of Moses and began her break with any per­son­al God."
She went through the motions of prac­tic­ing her reli­gion for a few more years, unwill­ing to final­ize the breach with her father, whom she adored. But in her mid-teens she com­plete­ly renounced Judaism — and with it, all reli­gious belief. She lat­er argued that to Jews, it was all or noth­ing; Chris­tians could rotate among var­i­ous denom­i­na­tions, but for the Jew ​"there is but one step between his reli­gion and Athe­ism." If one ​"takes one step in advance, he is out of dark­ness, into the broad light of day." For the rest of her long life, Ernes­tine Rose, as she became when she mar­ried in 1836, iden­ti­fied as an athe­ist, lec­tured ardent­ly for free thought, and repu­di­at­ed all reli­gions as ​"super­sti­tion."
But can you ever leave the Tribe? I have writ­ten else­where in these columns about Rose's expe­ri­ences of anti­semitism, but here I am inter­est­ed in how much her Jew­ish upbring­ing shaped her adult val­ues. After set­tling in Eng­land in 1831, she found a ​"new father," the emi­nent indus­tri­al­ist-turned-rad­i­cal Robert Owen. Rose became Own's ​"dis­ci­ple" and embraced his phi­los­o­phy for the rest of her life. Owen believed that the reli­gion of the ​"New Moral World" he hoped to cre­ate con­sist­ed in ​"pro­mot­ing the hap­pi­ness of every man, woman, and child[…] with­out regard to their class, sect, par­ty, or col­or." Rose con­sis­tent­ly praised Owen's patience, benev­o­lence, char­i­ty, and kind­ness and made his ideals her own. The egal­i­tar­i­an­ism of this phi­los­o­phy demand­ed human rights for every­one: ​"white and black, man and woman," Rose declared, ​"humanity's chil­dren are all one and the same fam­i­ly, there­fore there should be no slaves among them." In the Unit­ed States, she con­sis­tent­ly linked women and slaves. ​"Like or unlike, he [the black man] is a human being, and I will use the same argu­ment with regard to him that I use when plead­ing — no, not when plead­ing — when claim­ing the rights of woman," she declared in 1855.
Owen­ite phi­los­o­phy did away with the Chris­t­ian con­cept of Orig­i­nal Sin and refused to blame any­one — not the misog­y­nist nor the slave-own­er — since people's char­ac­ters and val­ues were formed by the soci­ety in which they lived. ​"An entire change in the char­ac­ter and con­di­tion of mankind" can be brought about by ​"philo­soph­i­cal inquiries into the nature of the caus­es that pro­duce deprav­i­ty, vice, and mis­ery," Rose main­tained. Restor­ing the rights of women and slaves would ben­e­fit men and whites as well. It would be ​"in the inter­est of all….all are one in the race." Social and polit­i­cal reform can heal the world.
This ide­al con­si­tutes the Jew­ish eth­ic of Tikkun Olam, repair­ing the world. Found in clas­si­cal rab­binic lit­er­a­ture, this con­cept may have been con­veyed to the young Jew­ish girl dur­ing her stud­ies with her father in Poland. Whether in Eng­land or Amer­i­ca, this ide­al moti­vat­ed Ernes­tine Rose's amaz­ing activism, lead­ing her to tour and lec­ture, to join con­ven­tions and spon­sor meet­ings, to write and peti­tion. Through­out her career, she attempt­ed to make the world a bet­ter place for women, for slaves, and para­dox­i­cal­ly, for non-believ­ers. I believe that even as an out­spo­ken athe­ist, she remained com­mit­ted to this basic Jew­ish precept.
Bon­nie S. Ander­son taught his­to­ry and wom­en's stud­ies at Brook­lyn Col­lege and the Grad­u­ate Cen­ter of the City Uni­ver­si­ty of New York for over thir­ty years. A pio­neer in the field of wom­en's his­to­ry, Ander­son lec­tures through­out Europe and the Unit­ed States on women's move­ments, inter­na­tion­al fem­i­nism, the his­to­ry of sex­u­al­i­ty, and women's issues today. The Rab­bi's Athe­ist Daugh­ter: Ernes­tine Rose, Inter­na­tion­al Fem­i­nist Pio­neer is her fourth book.