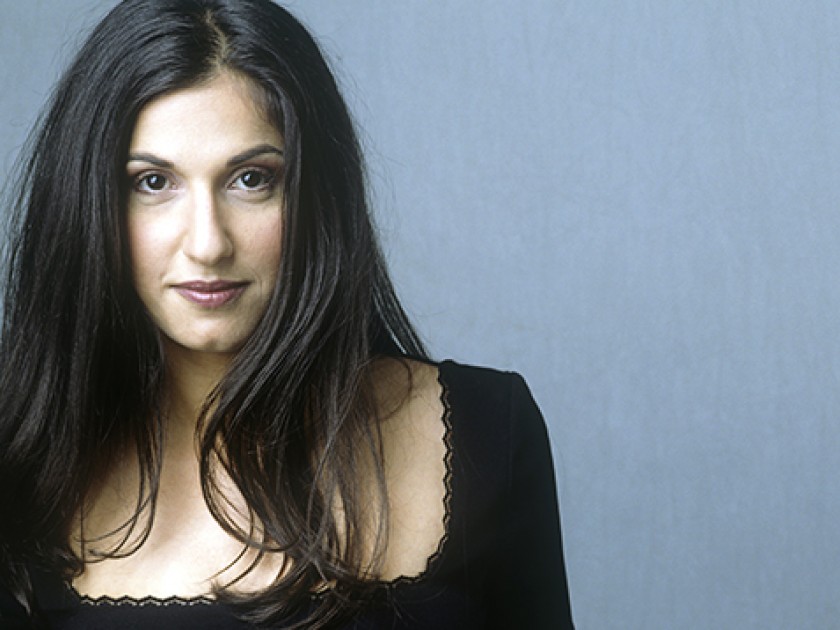 Dorit Rabinyan recent­ly spoke with Michelle Zau­rov for the Jew­ish Book Coun­cil about her new­ly trans­lat­ed nov­el All the Rivers.
Michelle Zau­rov: Why do you think the Israeli Min­istry of Edu­ca­tion banned All the Rivers?
Dorit Rabinyan: I think it was because I show the oth­er [Pales­tini­ans] to be as human as Israelis. Liat, who is Israeli, allows her­self to see Hil­mi, a Pales­tin­ian, in dif­fer­ent ways. She doesn't avoid stereo­types, she doesn't avoid feel­ing fear, sus­pi­cion, or all those ele­ments in her edu­ca­tion that shaped how Israelis per­ceive Pales­tini­ans. But she allows her­self to get more per­son­al knowl­edge, to acknowl­edge that some­one from the oth­er side is an indi­vid­ual. She explores his iden­ti­ty and sees how much their two iden­ti­ties brush up against each oth­er, and how much they are root­ed in the same cli­mate. So, when you read the Min­istry of Education's report, you can see that this is what they were afraid of: They could see the impact of the emo­tion­al voy­age that my char­ac­ter is going through and it was intim­i­dat­ing for them.
MZ: Is that the mes­sage you want­ed to con­vey in this book?
DR: I don't write nov­els to send mes­sages. If there is any­thing from this book that can be summed up in a mes­sage, though, it is the feel­ing that ​"us" and ​"them" have this shared des­tiny that requires acknowl­edge­ment. You can­not live your life blind­ed and self-anes­thetized, as many Israelis do.
MZ: I noticed that all the triv­i­al­i­ties in Liat's life seem to reflect her Israeli guilt. Is this com­mon for the aver­age Israeli? Do you think you feel this under­ly­ing guilt?
DR: I appre­ci­ate your high­light­ing the guilt that runs through Liat's char­ac­ter. Even before she meets Hil­mi and before she com­mits this ​"crime" (accord­ing to her Zion­ist edu­ca­tion), she felt guilt. Once she meets Hil­mi, she feels that her being on the stronger side of the con­flict demands her acknowl­edg­ment. It's not only clas­sic Jew­ish guilt because she betrays her com­mu­ni­ty and, in a way, turns her back on the reli­gious com­mand not to assim­i­late. It's also a very Israeli kind of guilt. My gen­er­a­tion is dif­fer­ent than the cur­rent gen­er­a­tion, which is swept up in the nation­al­is­tic wave of a more extrem­ist polit­i­cal cli­mate. My gen­er­a­tion had tast­ed the intox­i­cat­ing drop of promise that it can be dif­fer­ent. The peace process of the Oslo Accords under Yitzhak Rabin's lead­er­ship gave us an unfor­get­table option: Peace was a pos­si­bil­i­ty. The mil­len­ni­als who were banned from read­ing my book in high school nev­er expe­ri­enced the pos­si­bil­i­ty that their lives did not have to be dom­i­nat­ed and shaped by a con­flict. They don't know that they can be lib­er­at­ed from this bur­den of being oppres­sors and occu­piers. Even the taste of guilt has been dif­fer­ent for my gen­er­a­tion than for the cur­rent one.
MZ: Do you think this book has made a sig­nif­i­cant dif­fer­ence in people's lives?
DR: It starts with feel­ings, because I don't open nov­els to have my mind changed. I open a nov­el to explore my emo­tions. All the Rivers sug­gests empa­thy. That is the mag­ic that lit­er­a­ture has — empa­thy. Even by dip­ping into the iden­ti­ty of the nar­ra­tor and char­ac­ters you read, it makes you taste what it is to be some­body else.
MZ: You write, ​"I could not under­stand how even we, with all of our close­ness and love, failed again and again where every­one else had failed all these years." How does Hil­mi and Liat's rela­tion­ship reflect the over­all conflict?
DR: I don't think the rela­tion­ship is a reflec­tion of the con­flict, it is more a reflec­tion of the fact that these two young Mid­dle East­ern lovers car­ry the con­flict with­in them­selves. It is not only part of their biog­ra­phy, it is also an ele­ment of their per­son­al­i­ty and their view of the world. It's who they are. They car­ry the con­flict, the ambiva­lence, and the com­plex­i­ty of being an Israeli and a Pales­tin­ian. There is a bal­anc­ing act with­in Liat's char­ac­ter — the need to keep her Jew­ish iden­ti­ty safe, and at the same pre­serve the lib­er­al val­ues that demo­c­ra­t­ic life has giv­en her. Her emo­tion­al and men­tal land­scape has been col­ored? by those two ele­ments: her Jew­ish­ness and her lib­er­al and demo­c­ra­t­ic self.
MZ: Has your per­spec­tive on Israeli-Pales­tin­ian roman­tic rela­tion­ships changed through­out your life? How did the nov­el play a role in that?
DR: I don't see myself in a posi­tion of know­ing bet­ter about mix­ing or keep­ing the Jew­ish iden­ti­ty going. When I was writ­ing the nov­el, I had the thought that I should have inves­ti­gat­ed more by talk­ing to mixed cou­ples. I gave up that idea because my theme wasn't so much about the love that Liat was expe­ri­enc­ing with Hil­mi. Of course, it was about the love, but it was more the fear of this oppor­tu­ni­ty for explo­ration that she's been giv­en by dias­poric adven­ture — being away from home. In Israel, this expe­ri­ence is so chal­leng­ing and demand­ing. It's rare for a West Bank Pales­tin­ian to come across a Tel Avi­van Israeli and to be giv­en the free­dom to enjoy one anoth­er so fun­da­men­tal­ly. But Liat and Hil­mi are not swept by this promise of unlim­it­ed oppor­tu­ni­ty. You're not as much of a free spir­it as you wish. You have pow­ers that not only push you, but also pull you back. It's a dev­as­tat­ing acknowl­edg­ment about yourself.
MZ: What was the most dif­fi­cult part of the writ­ing process?
DR: One of my major obsta­cles was to avoid a cer­tain cliché. Israeli lit­er­a­ture, cin­e­ma, and art tend to roman­ti­cize the con­flict, espe­cial­ly when it comes to rela­tion­ships between men and women from oppo­site sides of the bor­der. I don't find any­thing about the con­flict to be roman­tic; there's noth­ing roman­tic about this kind of a war. At so many points in my sto­ry I need­ed to avoid this dan­ger of mak­ing it roman­tic. Liat and Hil­mi are not only polit­i­cal­ly aware but are also aware of the dan­ger of falling into this trap.
MZ: I know that Liat and Hilmi's rela­tion­ship was based on your own rela­tion­ship with a Pales­tin­ian artist. How much of this nov­el was reflec­tive of that?
DR: It was inspired by a bright, tal­ent­ed, charis­mat­ic Pales­tin­ian artist named Has­san whom I got involved with in New York when I was liv­ing there in 2002. This was the first time I became close with a Pales­tin­ian. He was part of a group of Pales­tin­ian schol­ars and artists that I was hang­ing out with. I was empow­ered by this encounter and explo­ration of the oth­er, but I nev­er thought I would write a nov­el out of it. But there was some­thing so demand­ing about this rela­tion­ship. I need­ed to main­tain the dia­logue, to keep the con­ver­sa­tion that we had going.
MZ: Were you and Has­san as roman­ti­cal­ly involved in real life as Liat and Hil­mi were in the book?
DR: You know, peo­ple in real life are not as dra­mat­ic as lit­er­ary char­ac­ters. We were more easy­go­ing. Our rela­tion­ship wasn't as for­mu­lat­ed, it was more nat­ur­al. I made Liat reflec­tive of me in that I took my bad qual­i­ties and put them in her: She's so self-crit­i­cal, fear­ful, and hon­est. But I'm more for­giv­ing toward myself than she is.
MZ: Why did you decide to make her less forgiving?
DR: I was try­ing to devel­op an idea, to reflect some­thing about the Israeli Jew­ish anx­i­ety of being devoured by the neigh­bor­ing iden­ti­ty, the one you mix with, the one that is so involved with your ter­ri­to­ry and is so sym­bi­ot­ic with your envi­ron­ment, that you might lose your inde­pen­dent self and get mixed beyond recog­ni­tion. So, I had to have her more self-aware and more neu­rot­ic than myself.
MZ: You men­tioned that Hebrew was a reflec­tion of your nature. But this nov­el has been trans­lat­ed into many oth­er lan­guages – do you feel like the trans­la­tions take any­thing away from the Hebrew text?
DR: I am for­tu­nate to have such bril­liant trans­la­tors; in the Eng­lish trans­la­tion it's Jes­si­ca Cohen. She's has done mar­velous work on my book. – I feel that my poet­ry is being sung through her throat. This is actu­al­ly the only trans­la­tion that I can read and appreciate.
MZ: What do you think the title sig­ni­fies about your beliefs regard­ing the Israeli-Pales­tin­ian relationship?
DR: When my edi­tor at Ran­dom House sug­gest­ed ​"All the Rivers" I thought it had a poet­ic res­o­nance. It takes the theme of the sea and puts it at the front of the nov­el. It doesn't say the sea, but it implies that all the rivers run to the sea. The sea cap­tures so much of our desires and so much of our anx­i­eties; it plays a major role not only in the nov­el but also in the con­flict. It's the only force of nature that is still bib­li­cal, that is the same and hasn't changed. The land has changed and the land­scape can be reshaped but this is the view that both our and their ancient ances­tors, who were also around this region, saw when they looked west­ward. If there's a con­clu­sion to come to, it is that they're not that dif­fer­ent. They have so many more sim­i­lar­i­ties, being brought up under the sun and fac­ing this view. What may be seen as a wall is only a cur­tain. It's intim­i­dat­ing to acknowl­edge how much you have in com­mon with your enemy.
MZ: Why did you decide to split the nov­el into seasons?
DR: Because of the win­ter. I want­ed to have win­ter play a role in the sto­ry line and in the engage­ment of their two iden­ti­ties and alien­ation toward the New York harsh cli­mate. It empha­sized their Lev­an­tine iden­ti­ties and mutu­al sense of exile. It put a spot­light on how win­ter plays a role in their home­sick­ness. It's not so much the ground or the soil that they miss when they want to return home — they want to feel the warmth of their homeland.
MZ: In the last scene Hil­mi and Liat are tak­ing a pic­ture togeth­er and Hil­mi asks, ​"Are you smil­ing?" Why did you decide to end the book with that moment?
DR: It brings me back to Liat's dif­fi­cul­ty imag­in­ing her and Hil­mi in a shared part­ner­ship in which she has to main­tain a divi­sion, a sep­a­ra­tion between her Israeli iden­ti­ty and his Pales­tin­ian iden­ti­ty. Hil­mi sees a roman­tic, inti­mate rela­tion­ship as a whole­ness or togeth­er­ness; it's to have the two iden­ti­ties become one. She's so fear­ful of being devoured, of being mixed, of feel­ing washed by the Arab col­ors that she keeps wish­ing for a two-state solu­tion. The two-state solu­tion and the one-state solu­tion are their ways of see­ing love, not only the con­flict. I'm play­ing a duet between being an indi­vid­ual and being part of a team. There's anoth­er duet that I'm play­ing: the fear of love and the fear of peace. Liat's fear of get­ting involved with no bound­aries may be reflec­tive of the Israeli fear of har­mo­nious exis­tence as Jews with­in this Islam­ic region. Maybe there is a sub­con­scious fear in the Israeli col­lec­tive mind that fears peace­ful assim­i­la­tion. This unknown anx­i­ety that pounds with­in the minds that refuse to acknowl­edge how much we have in com­mon, how much our Jew­ish­ness runs through the Arabs.
MZ: What are you work­ing on now?
DR: I'm play­ing around with some thoughts of writ­ing a play. It's a dif­fer­ent lan­guage than lit­er­ary writ­ing but it's also very demand­ing. I've writ­ten a script for a movie and I have a part­ner with whom I'm devel­op­ing an idea for a TV series. I'm think­ing maybe it's the time to devel­op my sto­ry­telling skills into dif­fer­ent forms, to taste dif­fer­ent aspects of my talent.
MZ: What about the con­tent? Will you still be focus­ing on the gen­er­al theme of cul­tur­al divides or Israeli-Pales­tin­ian identity?
DR: It's Israeli life that I describe because it's the one that I'm cop­ing with. My anten­nae respond to the ten­sions around my per­son­al life and it's always a reflec­tion of sub­con­scious pow­ers that run under my reality.
Michelle Zau­rov is Jew­ish Book Coun­cil's pro­gram asso­ciate. She grad­u­at­ed from Bing­ham­ton Uni­ver­si­ty in New York, where she stud­ied Eng­lish and lit­er­a­ture. She has worked as a jour­nal­ist writ­ing for the Home Reporter, a local Brook­lyn pub­li­ca­tion. She enjoys read­ing real­is­tic fic­tion and fan­ta­sy nov­els, espe­cial­ly with a strong female lead.