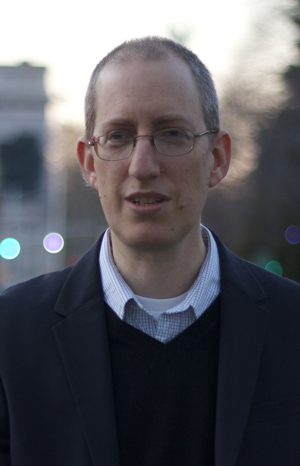 As a tele­vi­sion pro­duc­er across the globe for CNN, PBS, and oth­er media out­lets, George Lern­er has to keep to thir­ty frames per sec­ond (the stan­dard frame rate for video) so that the images can be com­fort­ably viewed by human eyes. But there was a lim­it to the sto­ries he could tell as a jour­nal­ist. He explained to Jew­ish Book Coun­cil in a Skype inter­view from his Brook­lyn home that ​"the ques­tions that appealed to me most cen­tral­ly I could­n't answer in jour­nal­ism." He made the anal­o­gy of a deep-sea div­er, that to see the ​"corals and the deep sea fish in their habi­tat" he had to dive deep down and that he was ​"get­ting clos­er to the char­ac­ters than if I were writ­ing a history."
His first nov­el, The Ambas­sadors, is about the Shoah, cen­tral­ly, and about how an under­stand­ing of what it means in today's world can lead Jews to help vic­tims of geno­cide in Africa. There is humor and delight too, in The Ambas­sadors, a work anchored by three cen­tral char­ac­ters with pro­fes­sion­al con­nec­tions to Africa. The father, an arms and refugee smug­gler, goes into his line of work after being sta­tioned near Buchen­wald after World War II; he goes to Goma, Zaire in fall 1996 to give arms to a belea­guered peo­ple dec­i­mat­ed by geno­cide. The moth­er, a pro­fes­sor, arrived alone at age six in the U.S. as a child from Lodz; she has spent her whole career research­ing the roots of human lan­guage but is unable to par­tic­i­pate in a dig in Ethiopia that yields a find sim­i­lar to the ​"Lucy" skele­ton because of risks her hus­band has posed to the anthro­po­log­i­cal project with his inter­ests in per­suad­ing the reign­ing regime to let Jews out. The son, who grows and deals pot, when not high, man­ages a band he has renamed the ​"African Refugee Mega Stars" from the less catchy ​"Africa Rum­ba Express" and finds a pur­pose in get­ting Cuban-inspired African music out to the world.
The cast of minor char­ac­ters is sim­i­lar­ly delight­ful­ly quirky and var­ied, with a beau­ti­ful African doc­tor con­flict­ed about her respon­si­bil­i­ties; a young Russ­ian-Israeli who has tat­tooed his war exploits on his arm and is hap­py to use his sto­ries to illus­trate any­thing that will win points with his audi­ence; a pro­cur­er in Brook­lyn able to arrange any­thing – from the home num­ber of Manhattan's best oncol­o­gist to Hasidis­che home care nurs­es – with a phone call. And one can't for­get the inan­i­mate char­ac­ters: the mother's Brook­lyn brown­stone where much of the U.S. action of the nov­el is set, and, at its heart, the Stein­way piano that no one in the fam­i­ly plays but that sits in the cen­ter of the liv­ing room — Jacob's proud­est acqui­si­tion from his time in Ger­many. The book even­tu­al­ly brings all of these ele­ments togeth­er when the son's musi­cians play an ​"African­ized ver­sion of a klezmer clas­sic" at a par­ty for the mother's cul­mi­nat­ing con­fer­ence on the ori­gins of lan­guage. The musi­cian Delacroix, whose day job is trans­lat­ing tes­ti­monies from war crimes vic­tims, tells the moth­er, ​"To cel­e­brate tonight, we have learned to inter­pret the bal­lads tra­di­tion­al to your people."
This is the love­li­ness of The Ambas­sadors, that the inter­pre­ta­tion of how Jew­ish val­ues and morals from the past can exist in the mod­ern world, where Africa is as much a way this fam­i­ly con­nects as the Shoah is. Below you'l find excerpts from an inter­view with the tal­ent­ed debut nov­el­ist and native New York­er, George Lerner.
Beth Kissileff: How did you get the idea to have Jew­ish ideas apply to con­tem­po­rary events like the African geno­cides in the Congo?
George Lern­er: I wrote a nov­el that dealt in themes of the Shoah, sev­en­ty years after my two great grand­moth­ers were mur­dered in the Shoah; for me, I need­ed to tell a sto­ry in a dif­fer­ent way. A sto­ry that both showed the essen­tial core and teach­ings of the Shoah and reex­am­ined them at the same time.
The ques­tions, the moral ques­tions, are not my idea in the sense that oth­ers had come up with this analogy.
BK: You have a vari­ety of char­ac­ters, from all over the spec­trum. Can you talk about that?
GL: My Jew­ish world has a great diver­si­ty of Jew­ish expe­ri­ence, belief, prac­tice. And sen­si­bil­i­ty. I see those as all inte­grat­ed, and that is what I tried to show in the novel.
I was seek­ing a kind of cul­tur­al, esthet­ic, and moral engage­ment, and dis­cus­sion among my char­ac­ters. It was very impor­tant to me to have that going on. There are those who sur­vived the Shoah with absolute faith, and those with no faith. Not a clash or con­fronta­tion so much as a con­ver­sa­tion. That con­ver­sa­tion on all lev­els is what was fir­ing me in this novel.
BK: Were there ele­ments from your own life?
GL: My father was a U.S. Army lieu­tenant in World War II and I heard sto­ries of deNaz­i­fi­ca­tion, of his vis­it to Buchen­wald, about Bavaria and the post­war peri­od. We have a Stein­way [import­ed from Ger­many], sit­ting in my par­ents' house.
BK: Is the war nov­el a cliché?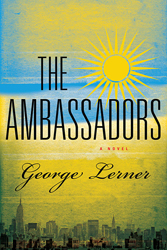 GL: It is a cliché to write about going to war zones in Africa to learn about our­selves. I want­ed to write a dif­fer­ent nov­el. Jacob Fur­man is an actor, he is com­mit­ting acts, doing things that are moral­ly ambigu­ous. He thinks they are clear and they are not absolute­ly clear. Whether they are right or wrong is up to the read­ers. I am very con­scious of not want­i­ng to lead, so that a char­ac­ter and posi­tions could be argued.
The world is a com­plex place. The African Mega Stars can play klezmer, and be the inher­i­tors of Jacob's Gali­cian­er tra­di­tion. They can learn " kol ha olam kulo" [All the world is a nar­row bridge but the main thing is not to be afraid], as can geno­ci­dal killers in a refugee camp.
BK: How did your TV train­ing help as a writer? What are the challenges?
GL: It is a great ques­tion. One of the things we need to think about in tele­vi­sion is ​'how are you going to show this?' We need to think about what scenes pro­vide tex­ture and nuance and help reveal char­ac­ters. More than what they say, what they do, and how to show them doing it. In a sense that is a kind of nov­el­is­tic training.
Beth Kissileff is the edi­tor of Read­ing Gen­e­sis (Con­tin­u­um Books, 2014) an anthol­o­gy of aca­d­e­m­ic writ­ing about Gen­e­sis. Her nov­el Ques­tion­ing Return is under review for pub­li­ca­tion and she is writ­ing a sec­ond nov­el and vol­ume of short sto­ries. She has taught at the Uni­ver­si­ty of Pitts­burgh, Car­leton Col­lege, the Uni­ver­si­ty of Min­neso­ta, Smith Col­lege and Mount Holyoke College.
Relat­ed Content:
Beth Kissileff is in the process of fundrais­ing and writ­ing grants to devel­op a pro­gram to assist rab­bis of all denom­i­na­tions with writ­ing and pub­lish­ing books. Kissileff is a rab­binic spouse and author of the nov­el Ques­tion­ing Return as well as edi­tor of the anthol­o­gy Read­ing Gen­e­sis: Begin­ings.