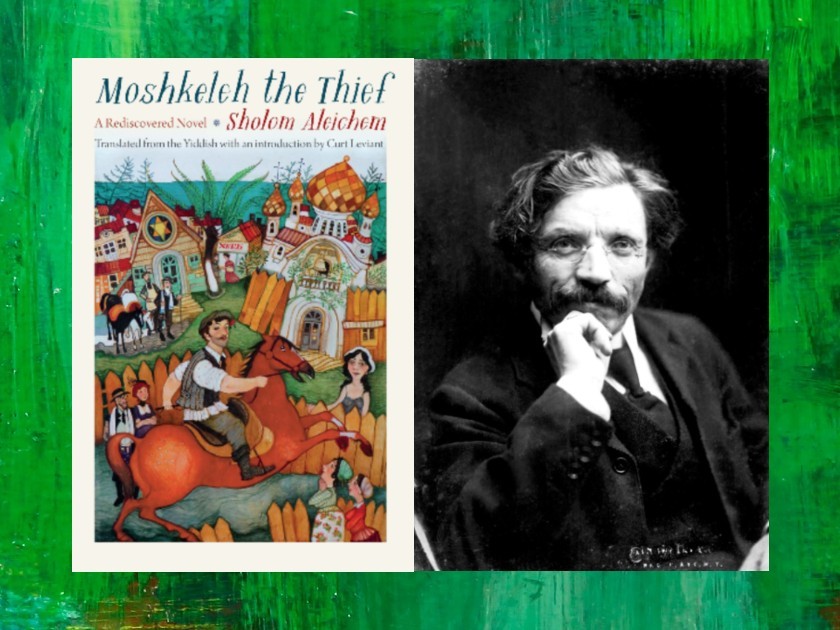 The great Yid­dish writer Sholom Ale­ichem (1859−1916) has always been con­nect­ed with humor. And he will now be asso­ci­at­ed with the genre of mys­tery, due to my redis­cov­ery of a long-for­got­ten and neglect­ed nov­el of his, Moshkeleh the Thief (forth­com­ing on Sep­tem­ber 1st from The Jew­ish Pub­li­ca­tion Soci­ety, in coop­er­a­tion with the Uni­ver­si­ty of Nebras­ka Press).
So, then, what is the mys­tery linked with this icon­ic Yid­dish humorist?
The mys­tery of this novel's dis­ap­pear­ance goes back to the cre­ation of the clas­sic twen­ty-eight ‑vol­ume Com­plete Works of Sholom Ale­ichem, a project that was begun after Sholom Aleichem's death in New York City. Moshkeleh the Thief was left out of this endeav­or. We can only spec­u­late that per­haps the fam­i­ly thought that a work by Sholom Ale­ichem that deals with thieves and the Jew­ish under­world was not con­sid­ered fit­ting or not rep­re­sen­ta­tive of his work.
And yet Sholom Ale­ichem him­self regard­ed the sto­ry of Moshkeleh as a great achieve­ment. His view that Moshkeleh Ganev (the orig­i­nal Yid­dish title) was impor­tant is reflect­ed in two let­ters he wrote in 1903. In one, the author pre­dicts that Moshkeleh Ganev will have the same suc­cess as his pop­u­lar sec­ond nov­el, Stem­penyu (1889). In anoth­er let­ter he states: ​"I now feel as if I've been born anew, with new — brand new — strength. I can almost say that now I've real­ly begun to write. [Sholom Aleichem's empha­sis.] Until now I've only been fool­ing around."
With this nov­el Sholom Ale­ichem enters a Jew­ish are­na that had not hith­er­to been explored in Yid­dish fic­tion. Per­haps this is why Sholom Ale­ichem felt that he had ​"been born anew."
Moshkeleh Ganev is also sig­nif­i­cant for Sholom Aleichem's approach to his mate­r­i­al. Yid­dish lit­er­a­ture had long main­tained a tra­di­tion of edelkeyt, refine­ment. Yid­dish and Hebrew authors eschewed vio­lence, the dark­er side of life, and peo­ple on the fringes of respectabil­i­ty. But Moshkeleh Ganev sig­nals Sholom Aleichem's lit­er­ary thrust away from this almost self-imposed silence. With this nov­el he enters a Jew­ish are­na that had not hith­er­to been explored in Yid­dish fic­tion. Per­haps this is why Sholom Ale­ichem felt that he had ​"been born anew."
With his going through the edelkeyt bar­ri­er in this 1903 nov­el, Sholom Ale­ichem paved the way for a more inclu­sive, more real­is­tic, and less sen­ti­men­tal approach to describ­ing the Jews in East­ern Europe. By tak­ing horse thieves as his sub­ject and focus­ing on a man who is reject­ed by soci­ety, Sholom Ale­ichem enters unchart­ed lit­er­ary ter­ri­to­ry. He writes with com­pas­sion, fideli­ty and occa­sion­al humor about Jews from the under­class, deal­ing with thieves and pet­ty crim­i­nals who chal­lenge the mores of Jew­ish and gen­er­al society.
In Moshkeleh the Thief we have a Sholom Ale­ichem work that includes adven­ture, romance, sus­pense, sur­pris­ing char­ac­ters with their own ver­nac­u­lar, a nov­el that tru­ly reflects the author's own assess­ment of his cre­ative strengths.
Curt Leviant is the prize-win­ning author or trans­la­tor of more than twen­ty-five books. His lat­est nov­el is Me, Mo, Mu, Ma & Mod; or, Which Will It Be, Me and Mazal, or Gila and Me?