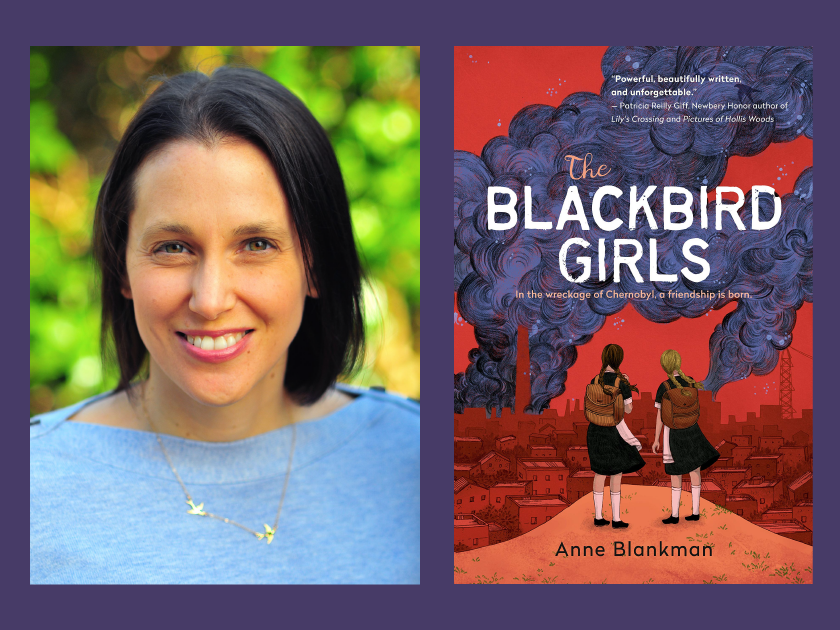 Anne Blankman's most recent nov­el, The Black­bird Girls, was award­ed the Syd­ney Tay­lor Sil­ver Medal in the Mid­dle Grade cat­e­go­ry, and the Nation­al Jew­ish Book Award in Mid­dle Grade Lit­er­a­ture. In a con­ver­sa­tion with Emi­ly Schnei­der, Blankman dis­cussed her writ­ing process, the per­son­al and his­tor­i­cal ori­gins of her sto­ry, and its points of con­tact with ques­tions of Jew­ish identity.
Emi­ly Schnei­der: The Black­bird Girls could have been a dif­fer­ent book; it is a sto­ry about the impact of the Cher­nobyl dis­as­ter on two fam­i­lies in 1980s Ukraine, one Jew­ish and one not. Why did you choose to weave togeth­er this nar­ra­tive with the alter­nat­ing one set dur­ing the Holo­caust in Kiev?
Anne Blankman: Great ques­tion! My idea for The Black­bird Girls first came to me when I was in ninth grade and met a new class­mate named Vic­to­ria. She had recent­ly moved to the Unit­ed States from Ukraine. Vic­to­ria was one of the smartest, fastest-talk­ing girls I'd ever met, and we clicked straightaway.
When we grew clos­er, Vic­to­ria told me that she had sur­vived the Cher­nobyl disaster.
In order to keep Vic­to­ria safe, her par­ents gave their six-year-old daugh­ter the only plane tick­et they could get and sent her alone to live with dis­tant rel­a­tives in Uzbek­istan. Forty-five years ear­li­er, Victoria's hosts — along with scores of oth­er Ukrain­ian Jews — had fled from the approach­ing Ger­man army and wound up in the south­ern Sovi­et provinces.
These two jour­neys — one to run from invad­ing sol­diers, one to escape nuclear fall­out — have haunt­ed me. I knew I had to write a sto­ry com­bin­ing the two, show­ing how the past echoes in the present.
ES: This is an ambi­tious nov­el; you've inte­grat­ed sev­er­al dif­fer­ent themes with­out them com­pet­ing for dom­i­nance. There's anti­semitism, fam­i­ly trau­ma, the cog­ni­tive dis­so­nance caused by liv­ing in a total­i­tar­i­an soci­ety, and also child abuse. Was it hard to main­tain con­trol over the writ­ing process?
AB: Weav­ing togeth­er dif­fer­ent themes was an organ­ic process. When I draft­ed The Black­bird Girls, I focused on get­ting the sto­ry out of my head and onto paper. With each revi­sion, the char­ac­ters' arcs and the story's themes grew clearer.
My won­der­ful edi­tors at Viking Children's Books, Kendra Levin and Mag­gie Rosen­thal, pro­vid­ed valu­able sup­port. Dur­ing one round of revi­sions, Kendra remind­ed me that ​"trau­ma doesn't sud­den­ly stop." Her advice helped me fig­ure out how to chart Oksana's emo­tion­al response to abuse, from fear to anger to empowerment.
ES: The Black­bird Girls real­ly stands out for con­fronting the ugly truth about the per­sis­tent hatred of Jews in East­ern Europe post-Holo­caust. Oksana's father tells her that Jews are liars and par­a­sites. School bul­lies tell Valenti­na to ​"go back to Jerusalem." Did you con­sid­er the knowl­edge gap, and maybe the sur­prise, of some read­ers in con­fronting this fact? This is a book where the vic­tims are also vic­tim­iz­ers, not a com­fort­able truth.
AB: Yes, and let me be clear: many sur­vivors of abuse do not become abusers themselves.
As I began con­struct­ing Oksana's char­ac­ter, I asked myself: How does bul­ly­ing start in the first place? What trig­gers that behavior?
Ask­ing those ques­tions forced me to con­front my own expe­ri­ences with bul­ly­ing. When I start­ed attend­ing a new school in third grade, a class­mate decid­ed I would become her next tar­get. She called me names, made fun of me for being tall, and chased me on the play­ground. At the time, I thought she was the most hor­ri­ble per­son in the world. Years lat­er, she reached out to me on Face­book, and I learned she had endured sig­nif­i­cant child­hood trau­ma. Sud­den­ly, her behav­ior in third grade made sense. Her bul­ly­ing masked pain.
ES: You had a rare oppor­tu­ni­ty for clo­sure. Your read­ers must relate to Valentina's vic­tim­iza­tion. But they might also relate to the pro­tec­tive nur­tur­ing of an old­er char­ac­ter. Rita/​Rifka, Valentina's grand­moth­er, is a major fig­ure. She res­cues her own fam­i­ly as well as Oksana after the Cher­nobyl dis­as­ter, and she her­self was res­cued from the Nazis. She is a pow­er­ful char­ac­ter; how did you cre­ate her?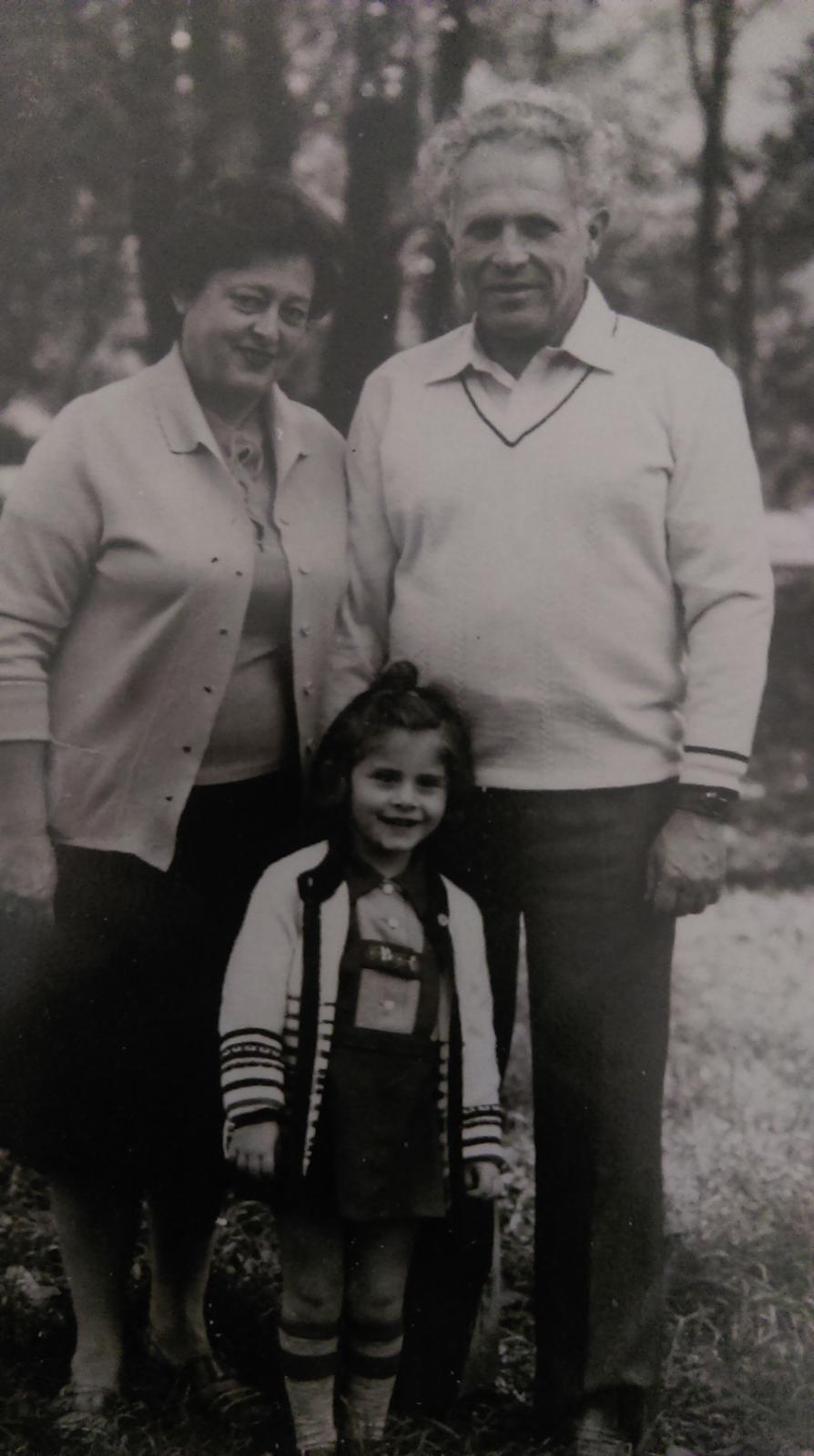 AB: My for­mer class­mate Vic­to­ria, who sur­vived the Cher­nobyl dis­as­ter, is still one of my dear­est friends today. When I asked her per­mis­sion to write a sto­ry inspired by her expe­ri­ences, she not only said yes, but she and her grand­par­ents gra­cious­ly allowed me to inter­view them numer­ous times. Valenti­na and Yefim, Victoria's grand­par­ents, are in their nineties and are two of the strongest peo­ple I've ever known.
Dur­ing World War II, Yefim was a teenag­er. Like Rita/​Rifka, he man­aged to escape Kiev before the Ger­man army sur­round­ed it. Because most of the rail­road tracks had been bombed, he walked across Ukraine. He slept in forests, ran from Ukrain­ian farm­ers who want­ed to turn him over to the Ger­mans, and scav­enged for food any­where he could. One night, he hud­dled on a barge glid­ing down the Dnieper Riv­er while Ger­man bombs explod­ed all around him. Mirac­u­lous­ly, he sur­vived and made it to safe­ty in Uzbek­istan. After the war, he returned to Kiev to find that most of his fam­i­ly had been mur­dered at Babi Yar.
Despite the hor­rors he expe­ri­enced dur­ing the war, Yefim man­aged to make a life for him­self. He mar­ried Valenti­na, Victoria's grand­moth­er. Togeth­er they had a daugh­ter and found jobs they enjoyed. When they were in their six­ties and the Sovi­et Union col­lapsed, they applied to live in the Unit­ed States. They want­ed their grand­daugh­ter to be able to live as a Jew with­out fear.
Yefim's courage and resilience and Valentina's straight­for­ward, lov­ing demeanor inspired me to cre­ate Rita/​Rifka. I'm for­tu­nate to know Yefim and Valenti­na, and I hope I did them proud.
ES: Return­ing to the theme of child abuse — this is a top­ic that used to be for­bid­den in children's books, but is now much more com­mon. The taboo may have been removed, but it's still so dif­fi­cult to dis­cuss hon­est­ly while avoid­ing any sense of exploita­tion. What was it like for you to write these scenes?
AB: Those scenes were the hard­est to write. My edi­tor and I felt it was impor­tant to depict the abuse Oksana expe­ri­ences. Hav­ing those parts occur ​"off page" could have sug­gest­ed there was some­thing secret or shame­ful about Oksana's trau­ma. In order to pre­vent myself from veer­ing into exploita­tive ter­ri­to­ry, I knew I had to write those scenes as truth­ful­ly as I could.
My emo­tions were already raw when I draft­ed the scenes of abuse. My hus­band had been just been diag­nosed with stage III can­cer. It was a ter­ri­ble shock — he was only in his thir­ties and had always been healthy. One day he felt strange; five days lat­er, doc­tors found a ten-cen­time­ter-wide malig­nant tumor. Our daugh­ter was in third grade, old enough to under­stand the grav­i­ty of her dad's diag­no­sis. I was work­ing full-time as a school librar­i­an and draft­ing this book in the evenings.
My husband's health made me feel close to Oksana. Like her, I felt sor­row and anger, com­bined with the deter­mi­na­tion to keep going, no mat­ter what. When I sat down to write about Oksana's abuse, I poured my feel­ings of grief and love into her. (I'd like to add that my hus­band is now can­cer free).
These two jour­neys — one to run from invad­ing sol­diers, one to escape nuclear fall­out — have haunt­ed me. I knew I had to write a sto­ry com­bin­ing the two, show­ing how the past echoes in the present.
ES: The fam­i­ly expe­ri­ence you've shared sheds light on the sen­si­tiv­i­ty with which you draw your char­ac­ters. In The Black­bird Girls, no one can expect to hear the truth. I used the term ​"cog­ni­tive dis­so­nance" in refer­ring to life in the for­mer Sovi­et Union. The Cher­nobyl work­ers, for exam­ple, are told that, in the rare case of radi­a­tion poi­son­ing, ​"all you had to do was drink milk or min­er­al water and eat plen­ty of cucum­bers, and you'd be well in a day or two." Lat­er, when Valenti­na and Oksana are in Leningrad, you con­vey the sin­is­ter, dai­ly secre­cy need­ed to sur­vive in that city. Was it dif­fi­cult to con­struct this kind of dystopia for read­ers who might be used to read­ing the fic­tion­al variety?
AB: Odd­ly enough, no! I didn't have to con­struct my own dystopi­an world, like a fan­ta­sy or sci­ence fic­tion writer does. Instead, I had incred­i­ble, real-life details of what it was like to live in a total­i­tar­i­an state.
For me, the great­est dif­fi­cul­ty was decid­ing which facts to incor­po­rate into my sto­ry and which to leave out. In my research, I come across so much fas­ci­nat­ing infor­ma­tion. Most of it didn't make the final cut. It might be some­thing my char­ac­ters wouldn't know or some­thing that wouldn't enlight­en my read­ers. Only infor­ma­tion that pro­pels the sto­ry can stay.
ES: I would guess that many of your read­ers will be sur­prised that Rita/​Rifka is saved by find­ing shel­ter with a Mus­lim fam­i­ly in Uzbek­istan. Could you tell me why you decid­ed to incor­po­rate this part of his­to­ry into her story?
AB: When I inter­viewed Victoria's grand­par­ents about their expe­ri­ences dur­ing World War II, I was struck by how many times they found help from unex­pect­ed sources. Sev­er­al of Yefim's rel­a­tives found refuge in Uzbek­istan, where they were wel­comed by mem­bers of the Mus­lim com­mu­ni­ty. Although all reli­gions were dis­cour­aged under Sovi­et rule, there's no ques­tion that Jews and Mus­lims were per­se­cut­ed the most severe­ly. Accord­ing to Yefim's sto­ries, their com­mon suf­fer­ing helped them to under­stand and help one another.
ES: The Black­bird Girls is pri­mar­i­ly focused on female char­ac­ters. They aren't paragons of virtue; most are strong, but Oksana's moth­er is both weak and destruc­tive. Why did you choose to cen­ter the book around women?
AB: The deci­sion felt like a nat­ur­al one. Men, not women, worked at the Cher­nobyl nuclear pow­er. Men, not women, fought in the Red Army dur­ing World War II. It was women and chil­dren who were left behind to pick up the pieces. I want­ed to explore how females, young and old, found the inner strength to go on.
ES: How do you see The Black­bird Girls as an explo­ration of Jew­ish identity?
AB: You're the first per­son who has asked me this ques­tion, and I'm glad you did! I think of Valentina's reli­gious expe­ri­ences in The Black­bird Girls as a jour­ney of ​"Jew­ish dis­cov­ery." Like most Sovi­et Jews in the 1980s, Valenti­na has been raised with­out reli­gion. She's nev­er been inside a syn­a­gogue or cel­e­brat­ed a Jew­ish hol­i­day. Ini­tial­ly, her Jew­ish iden­ti­ty is a hin­drance, for it makes her a tar­get for bul­lies at school. She also knows it means she'll need extreme­ly high marks to get into uni­ver­si­ty or to hold a good job. For Valenti­na, her Jew­ish iden­ti­ty has noth­ing to do with reli­gion and every­thing to do with her background.
After the Cher­nobyl explo­sion, she escapes to Leningrad and stays with her grand­moth­er, who intro­duces her to some of the basic tenets of Judaism. For the first time, she cel­e­brates Shab­bat. Judaism becomes a source of com­fort for her, as well as a con­nec­tion to her dead father. It's more than her back­ground; it's her reli­gion and her culture.
While I wrote The Black­bird Girls, I expe­ri­enced my own reli­gious jour­ney. As I already men­tioned, my hus­band had been diag­nosed with can­cer. The ini­tial tests looked dire, and we didn't know if he would sur­vive. While he had more tests and we wait­ed for doc­tors to come up with a treat­ment plan, we felt heart­sick. But the whole time, I felt as though I stood upon rock-sol­id ground. In my heart, I knew it was Judaism that kept me steady.
Emi­ly Schnei­der writes about lit­er­a­ture, fem­i­nism, and cul­ture for Tablet, The For­ward, The Horn Book, and oth­er pub­li­ca­tions, and writes about chil­dren's books on her blog. She has a Ph.D. in Romance Lan­guages and Literatures.