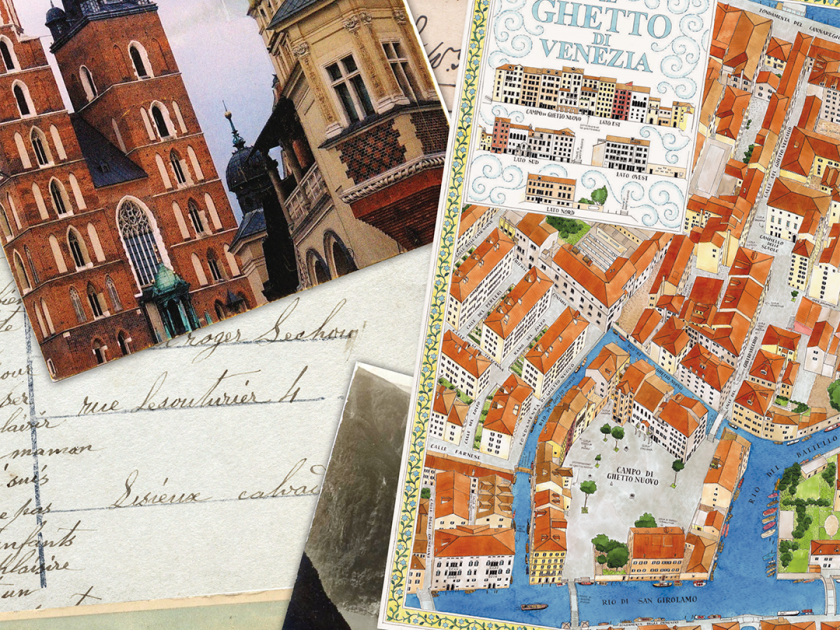 For most of his­to­ry, Jews rarely trav­eled for plea­sure or edi­fi­ca­tion; they trav­eled out of neces­si­ty. ​"Trav­el­ers are those who go else­where because they want to, because they can afford to dis­place them­selves. Immi­grants are those who go else­where because they have to," Ruth Behar writes in the intro­duc­tion to her mem­oir, Trav­el­ing Heavy: A Mem­oir in between Jour­neys. Jews — refugees, exiles, state­less — usu­al­ly fell into the lat­ter cat­e­go­ry. They often found trav­el dan­ger­ous, as they could nev­er be sure of a pos­i­tive recep­tion in new places. The trope of the ​"wan­der­ing Jew" — based on a Chris­t­ian leg­end about a Jew who rebuffed Jesus on the way to the cru­ci­fix­ion and was con­demned to wan­der the earth until the Sec­ond Com­ing — became the anti­se­mit­ic lens through which many viewed Jew­ish migrants. It is unsur­pris­ing that until recent­ly, rel­a­tive­ly few trav­el mem­oirs have been writ­ten by Jew­ish authors.
Those who did have the oppor­tu­ni­ty to write about their jour­neys, how­ev­er, found it an invalu­able expe­ri­ence. In ​"Shar­ing the Sites: Medieval Jew­ish Trav­ellers to the Land of Israel," schol­ar Elka Weber iden­ti­fies four­teen full-length trav­el accounts writ­ten by Jews between the twelfth and fif­teenth cen­turies. One of the best known, Masa'ot Binyamin (The Voy­ages of Ben­jamin) by Span­ish mer­chant and schol­ar Ben­jamin of Tudela, details the author's jour­ney through west­ern Asia, and was writ­ten near­ly one hun­dred years before Mar­co Polo would become famous for com­plet­ing the same trip. Weber notes that for medieval Jew­ish mem­oirists, ​"trav­el writ­ing becomes an extend­ed form of self-def­i­n­i­tion." By going from the famil­iar (their home) to the unfa­mil­iar (their des­ti­na­tion), they are able to reflect on them­selves in rela­tion to what they encounter.
Ear­ly female Jew­ish trav­el writ­ers are even less com­mon. As Mary Mor­ris notes in an intro­duc­tion to Maid­en Voy­ages: Writ­ings of Women Trav­el­ers, female trav­el writ­ers were his­tor­i­cal­ly ​"women of the upper class­es in Euro­pean soci­ety, invari­ably white and priv­i­leged" (and, we should add, Chris­t­ian). In Gen­der, Genre, and Iden­ti­ty in Women's Trav­el Writ­ing, Kristi Siegel urges the read­er: ​"Con­sid­er … the vast num­ber of women's jour­neys that have nev­er been writ­ten — jour­neys of flight, exile, expa­tri­a­tion, home­less­ness; jour­neys by women with­out the means to doc­u­ment their trav­el; and jour­neys whose records have been lost or ignored." The ear­li­est known trav­el­ogue by a Jew­ish woman might be The Mem­oirs of Glück­el of Hameln, penned by a Ger­man busi­ness­woman who lived from 1646 to 1724. As Stephanie Slyverne notes in an arti­cle for Kveller, ​"Glück­el trav­eled fre­quent­ly to con­duct busi­ness … risk­ing pirates, thieves, and lands where sim­ply being Jew­ish was dan­ger­ous in itself." Her mem­oirs, writ­ten in Yid­dish, were meant to be read by her fam­i­ly, but were even­tu­al­ly pub­lished in 1896. How­ev­er, Glück­el was an excep­tion. If there were oth­er eigh­teenth- or nine­teenth-cen­tu­ry Jew­ish female writ­ers, they have been lost to his­to­ry. In Jour­neys Beyond the Pale: Yid­dish Trav­el Writ­ing in the Mod­ern World, Leah Gar­rett writes that one of her objec­tives is to move ​"beyond the Wan­der­ing Jew and to have the Yid­dish writ­ers speak for them­selves." Sig­nif­i­cant­ly, though, she notes that she does not dis­cuss any works by female writ­ers, because she could ​"find no appro­pri­ate works by women writ­ers to include."
The ear­li­est known trav­el­ogue by a Jew­ish woman might be The Mem­oirs of Glück­el of Hameln, penned by a Ger­man busi­ness­woman who lived from 1646 to 1724.
But in the last few decades, the num­ber of trav­el mem­oirs by Jew­ish women has bloomed. Many of these accounts either cen­ter on the Jew­ish past of a place, or describe places where there is no Jew­ish past to reck­on with. Unease per­me­ates this body of work; some writ­ers expe­ri­ence it pri­mar­i­ly as Jews, oth­ers main­ly as women. In both cas­es, how­ev­er, unease often ulti­mate­ly leads to self-real­iza­tion and empow­er­ment. Like their medieval male pre­de­ces­sors, con­tem­po­rary Jew­ish women use trav­el writ­ing as an ​"extend­ed form of self-def­i­n­i­tion," con­struct­ing ideas about their own iden­ti­ty vis-à-vis the loca­tions they describe.
"We leave behind the crea­ture com­forts and famil­iar­i­ty of home in order to explore alter­nate worlds, alter­nate selves," Ruth Behar writes in Trav­el­ing Heavy. A Cuban Jew, Behar immi­grat­ed to the Unit­ed States when she was five years old. Her mem­oir dives into her fam­i­ly his­to­ry — her Ashke­nazi mater­nal grand­par­ents, and her Sephardic pater­nal grand­par­ents. Behar grows up con­fi­dent in her reli­gion, steeped in its his­to­ry and tra­di­tions. How­ev­er, when she trav­els to Poland and Spain — coun­tries from which her ances­tors came — her rela­tion­ship to her Jew­ish iden­ti­ty shifts. While doing field­work as a cul­tur­al anthro­pol­o­gist in Spain, she feels she must hide her reli­gion: ​"I felt uneasy announc­ing I was a Jew, let alone a Jew with roots taint­ed by the expul­sion." To blend in, she attends mass, makes the sign of the cross, and doesn't cor­rect oth­ers when they assume she is Catholic.
Despite her attempts to con­form, Behar yearns for a ​"sense of belong­ing" in Spain, and goes on a Jew­ish her­itage trip to try to find where her fam­i­ly once lived. On this trip, she notices the ways in which ​"fake mark­ers of Jew­ish mem­o­ry" are imposed on places where Jews once lived. In the city of Her­vas, where all traces of a Jew­ish past were erased, the tourism bureau has built a ​"Jew­ish tav­ern," put up street signs in Hebrew, and more. For Behar, it rings false, ​"Dis­ney­fied." This feel­ing is echoed in oth­er Jew­ish her­itage trav­el writ­ing. In ​"Right­eous Gen­tile," an essay orig­i­nal­ly pub­lished in Har­vard Review and reprint­ed in Best Amer­i­can Trav­el Writ­ing 2018, Eileen Pol­lack describes encoun­ter­ing a sim­i­lar phe­nom­e­non on a trip to Poland with her Pol­ish Catholic boyfriend to vis­it his rel­a­tives. Pollack's own grand­par­ents fled the coun­try, and when she and her boyfriend vis­it the Jew­ish quar­ter in Krakow, she finds it ​"creep­i­ly devoid of Jews." At the same time, she notices that ​"Judaism has become trendy" in Poland; ​"Poles who once would have cursed you for inti­mat­ing they had a drop of Jew­ish blood now go to great lengths to claim their Jew­ish ances­try." Although Pol­lack, unlike Behar, has not trav­eled with the goal of exca­vat­ing her fam­i­ly his­to­ry, she still reacts as a Jew in a coun­try that has mur­dered its Jew­ish population.
At the same time, she notices that ​"Judaism has become trendy" in Poland; ​"Poles who once would have cursed you for inti­mat­ing they had a drop of Jew­ish blood now go to great lengths to claim their Jew­ish ancestry."
The inevitabil­i­ty of con­fronting Jew­ish his­to­ry is also a theme in Rebec­ca Schu­man​'s Schaden­freude, A Love Sto­ry: Me, the Ger­mans, and 20 Years of Attempt­ed Trans­for­ma­tions, Unfor­tu­nate Mis­com­mu­ni­ca­tions, and Humil­i­at­ing Sit­u­a­tions That Only They Have Words For. Schu­man, a ​"non­prac­tic­ing half-Jew from Ore­gon," writes about her (mis-)adventures in Ger­many. Her ini­tial inter­est in learn­ing Ger­man has noth­ing to do with the Holo­caust; she sim­ply wants to read Franz Kaf­ka (her lit­er­ary idol) in the orig­i­nal. Her Ger­man stud­ies lead to a home­s­tay after her fresh­man year of col­lege in a small vil­lage out­side Mün­ster, dur­ing which she asks the daugh­ters in her home­s­tay fam­i­ly if they have ever even met a Jew­ish per­son. ​"Nur dich," one responds. ​"Just you." Schu­man responds with her ​"best loaded look," telling the read­er: ​"I may have com­mit­ted my share of minor infrac­tions in their house, but fuck if I wasn't going to remind them that they were almost cer­tain­ly the direct descen­dants of peo­ple who had either pas­sive­ly or active­ly par­tic­i­pat­ed in the geno­cide of the tribe with which I selec­tive­ly iden­ti­fied when, for exam­ple, remind­ing them of their cul­tur­al debt to my peo­ple made my behav­ior as a house­guest appear briefly above reproach." Schu­man uses tongue-in-cheek humor to gen­tly mock her younger self, but her com­ments about the Holo­caust — which on the sur­face seem to be a deflec­tion of guilt for being a bad guest and feel­ing mis­un­der­stood by her host fam­i­ly — also reflect real dis­qui­et as a Jew in mod­ern Germany.
In trav­el­ing to coun­tries with a Jew­ish past — in some cas­es linked to their own family's past — Behar, Pol­lack, and Schu­man are unnerved to find places ​"devoid of Jews," and either anti­se­mit­ic prej­u­dices or philose­mit­ic recon­struc­tions of Jew­ish her­itage. But it is this very dis­com­fort that push­es them to self-discovery.
Oth­er con­tem­po­rary Jew­ish trav­el writ­ers place female rather than Jew­ish iden­ti­ty in the fore­ground of their work. In Flâneuse: Women Walk the City in Paris, New York, Tokyo, Venice, and Lon­don, Lau­ren Elkin recounts trav­el­ing to Venice in search of a hid­den syn­a­gogue that will serve as the set­ting for a key plot point in a nov­el she's writ­ing. One Sat­ur­day, she tries to attend Shab­bat ser­vices, but the guard ini­tial­ly doesn't allow her into the syn­a­gogue because she's car­ry­ing a cam­era and cell phone. ​"The word ​'ghet­to' orig­i­nates with the Jews in Venice," Elkin writes. ​"Still, here's me try­ing to get into the ghet­to of reli­gious iden­ti­fi­ca­tion. Why am I so anx­ious to be bound to some­one else's rules?" While not as explic­it as in the oth­er mem­oirs dis­cussed, the Jew­ish past — the ghosts of Jew­ish Venice, and of the ghet­to — bub­bles under the surface.
Some Jew­ish women write about get­ting as far away from fam­i­ly his­to­ry as pos­si­ble⁠, div­ing into the unknown. It's not the past that makes them uncom­fort­able in these places, but their own pres­ence, today, as Jew­ish women. In her mem­oir, I Might Regret This: Essays, Draw­ings, Vul­ner­a­bil­i­ties and Oth­er Stuff, Abbi Jacob­son doc­u­ments her road trip from New York to Cal­i­for­nia she took after a breakup. As she eats alone at a bed-and-break­fast, she deals with her anx­i­ety sur­round­ing the soci­etal nar­ra­tive of the solo female trav­el­er. ​"A young-ish sin­gle woman alone is seen as inher­ent­ly pathet­ic — instead of incred­i­bly empow­er­ing. A man on the same road trip would be viewed as a cool lon­er, fig­ur­ing him­self out as he explored the vast roads of our beau­ti­ful coun­try. There are no pro­jec­tions about the men, no ques­tions, no pity." The feel­ing of being judged at the bed-and-break­fast as a sin­gle, female trav­el­er prompts Jacob­son to ana­lyze her own inse­cu­ri­ties (lead­ing to a par­tic­u­lar­ly humor­ous anec­dote about hid­ing weed in the box that held the Kid­dush cup she was giv­en at her bat mitz­vah). Even when she is feel­ing her most vul­ner­a­ble, Jacob­son asserts the abil­i­ty to self-reflect and self-define.
Some Jew­ish women write about get­ting as far away from fam­i­ly his­to­ry as pos­si­ble⁠, div­ing into the unknown. It's not the past that makes them uncom­fort­able in these places, but their own pres­ence, today, as Jew­ish women.
In her mem­oir, Wel­come to the God­damn Ice Cube: Chas­ing Fear and Find­ing Home in the Great White North, Blair Braver­man details her time in Alas­ka and Norway.The book­fo­cus­es on Braverman's trav­els as a woman in the out­doors, and the spe­cif­ic gen­dered vio­lence she faces, but it also address­es her iden­ti­ty as a Jew. Like Jacob­son, Braver­man trav­els to places where there are few, if any, Jew­ish peo­ple. While she is liv­ing in north­ern Nor­way, she is asked to lead ​"Ask-a-Jew" ses­sions at the local mid­dle school, because most stu­dents and teach­ers ​"had nev­er seen a Jew before." In an inter­view for Alma, Braver­man explains that it is impor­tant to her to be vis­i­bly Jew­ish. ​"It's dan­ger­ous, I think, for peo­ple to think they've nev­er met cer­tain kinds of peo­ple," she says. ​"Like if you think you don't know any queer folks, or immi­grants, or Jews — that's how groups of indi­vid­ual humans are reduced to sym­bols and ideas. If I know some­one, if I've lived with them, I don't want them to be able to tell them­selves that they've nev­er met a Jew." This is why Braver­man is open about her reli­gion — even if, in doing so, she marks her­self as ​"oth­er."
By plac­ing her­self in a for­eign envi­ron­ment, the writer turns inward to address her uneasi­ness and dis­com­fort, and emerges with a bet­ter under­stand­ing of her­self. Even if the authors dis­cussed here are vul­ner­a­ble dur­ing the jour­ney itself, writ­ing about it is a way to process and claim the expe­ri­ence. Whether they're return­ing to where their ances­tors once lived, like Ruth Behar, or trav­el­ing to where few Jews have lived, like Blair Braver­man, these writ­ers find empow­er­ment in displacement.
Emi­ly Burack is a writer and edi­tor based in New York. She's cur­rent­ly an asso­ciate edi­tor at 70 Faces Media.