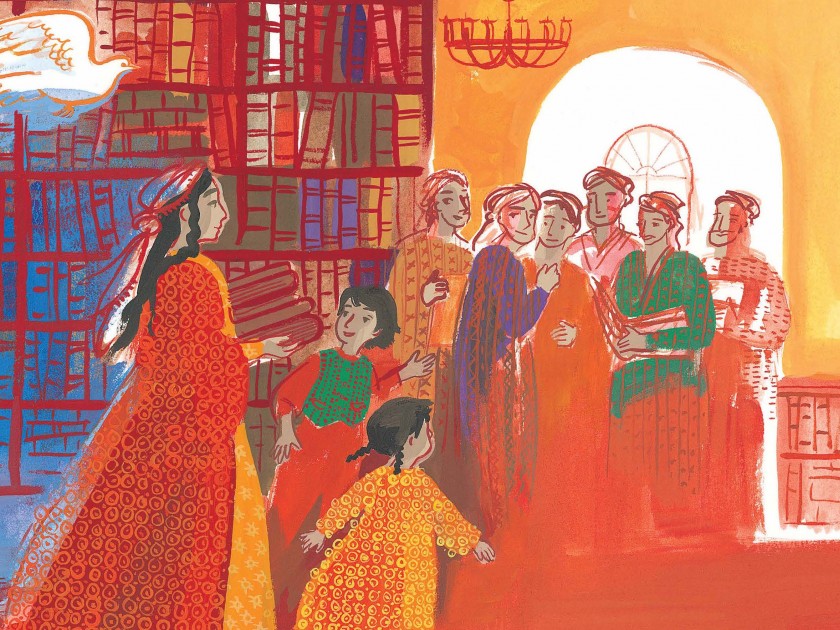 When I was a pre­teen girl, I had a secret dream of becom­ing a rab­bi. I loved Jew­ish texts. I loved teach­ing and help­ing peo­ple. But grow­ing up in the Ortho­dox com­mu­ni­ty, I almost nev­er saw a leader who was a woman. And even when I did, she nev­er looked like me or my Iraqi family.
When I looked in the mir­ror, it was the dark curls, dark skin, and dark eyes of Iraq that I saw. The few female rab­bis I knew of were Ashke­nazi women in the Reform, Recon­struc­tion­ist, or Con­ser­v­a­tive move­ments. I thought: Maybe being a rab­bi is some­thing they can do. But me, an Ortho­dox Mizrahi girl? It's just not possible.
I had no idea the first girl in the world ever to become a rab­bi was Ortho­dox and Mizrahi just like me: Osnat Barzani.
Osnat was a Kur­dish girl born in 1590 in Mosul — just a few hours away from my family's home­town of Bagh­dad. She was the daugh­ter of Rab­bi Samuel Barzani, a ven­er­at­ed author­i­ty who led the Mosul yeshi­va. If Rab­bi Barzani had any sons, he prob­a­bly would have taught them Torah, Tal­mud, Midrash, and Kab­bal­ah. Instead, he had one bril­liant daugh­ter. So he taught all that to her.
In a let­ter, Osnat described her child­hood: ​"I nev­er left the entrance to my house or went out­side; I was like a princess of Israel.… I grew up on the laps of schol­ars, anchored to my father of blessed mem­o­ry. I was nev­er taught any work but sacred study."
When Osnat was old enough to mar­ry, her father did some­thing incred­i­ble: He made her prospec­tive hus­band promise to excuse her from doing house­hold chores so she could focus on study­ing. Jacob, the bright­est stu­dent at the Mosul yeshi­va, agreed to the terms.
When Osnat's father passed away, Jacob took over as head of the yeshi­va. But soon enough, he passed away, too. Osnat knew some­one had to teach all the young rab­bini­cal stu­dents. So, even though no woman in the world had ever done this before, she waltzed into the school and announced that she would be the new Rosh Yeshi­va, the new leader.
Even though no woman in the world had ever done this before, she waltzed into the school and announced that she would be the new Rosh Yeshi­va, the new leader.
Amaz­ing­ly, this did not prove con­tro­ver­sial. Osnat was already such a respect­ed schol­ar in her own right that peo­ple didn't see her gen­der as an issue. In fact, they start­ed call­ing her Tanna'it, the female form of Tan­na, a name usu­al­ly reserved for the grand rab­binic sages in the Tal­mud. Some of Osnat's con­tem­po­raries called her Rab­bi. I was touched when I saw the let­ter that one Rab­bi Pin­chas Hariri wrote to Osnat, begin­ning with the salu­ta­tion, ​"My Moth­er, my Rab­bi." I had nev­er seen those two words in jux­ta­po­si­tion before.
I stum­bled upon all this infor­ma­tion a few years ago when I was doing research for a stage play fea­tur­ing Jew­ish female his­tor­i­cal fig­ures. I'd gone down a deep inter­net rab­bit hole where, at around 2:00 a.m., I found an arti­cle about Osnat by the schol­ar Renee Levine Melammed. It blew my mind.
I'd pre­vi­ous­ly thought the first female rab­bi was Berlin-born Regi­na Jonas, who served in a rab­bini­cal role before being killed in Auschwitz in 1944. I'd been wrong.
Now that I knew that Osnat had blazed the trail hun­dreds of years ear­li­er, I fig­ured there must be sev­er­al books about her. Wrong again. Although there are a few schol­ar­ly arti­cles and chap­ters, there are no books at all about this pio­neer­ing woman.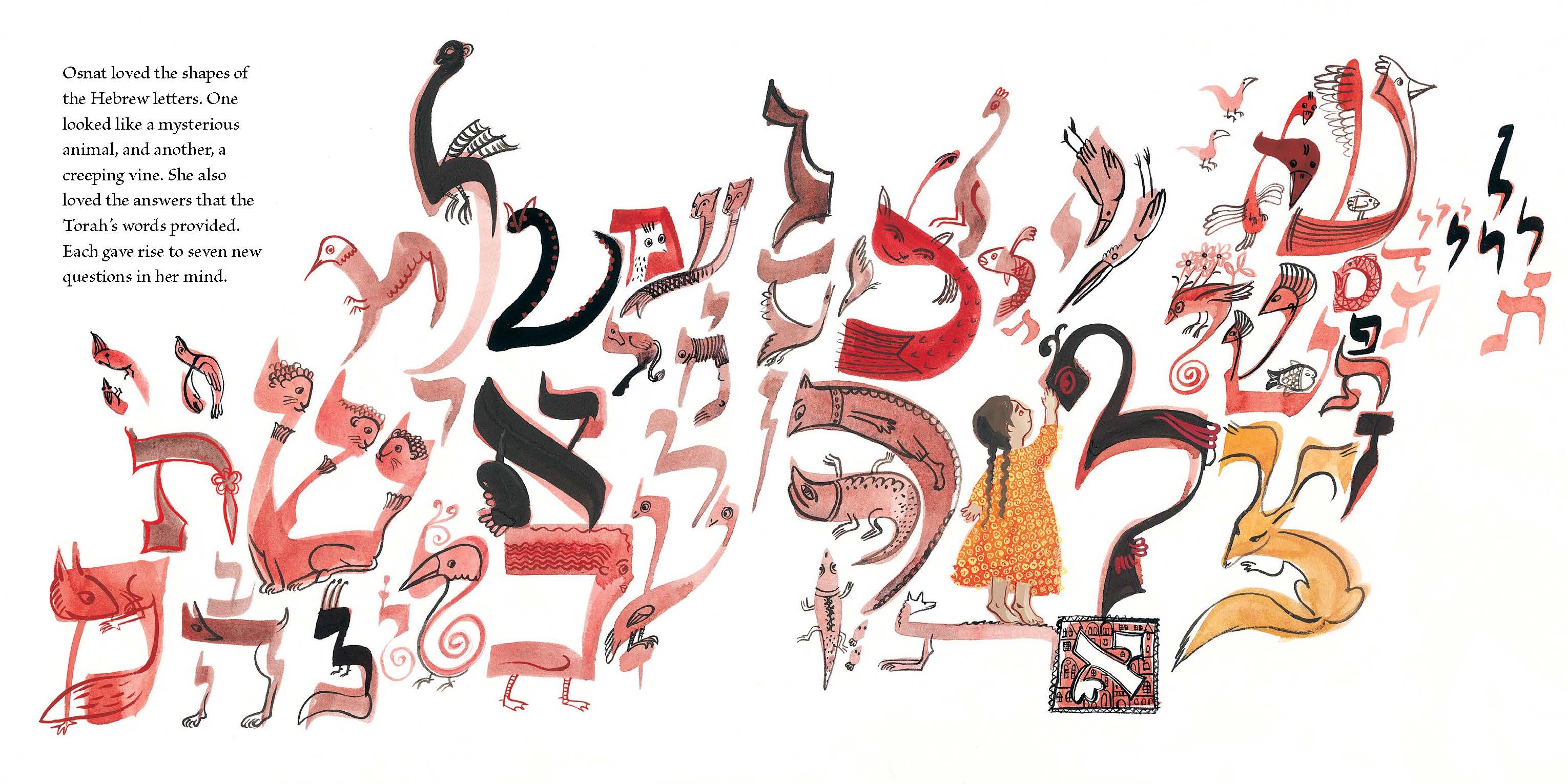 That seemed wild to me, though in a way it made sense: Mizrahi his­to­ry has often been side­lined. The Jew­ish his­to­ry that's taught in schools is almost always Ashke­nazi his­to­ry. If not for the Kur­dish peo­ple who pre­served some of Osnat's arti­facts and filled their amulets with folk­tales about her, Osnat's sto­ry might have been lost entirely.
But I don't want her sto­ry to be lost. I want young peo­ple to know that this bril­liant woman became a leader against all odds way back in the 1600s. Because if she can do it, they can, too.
If I had had a book about Osnat when I was a kid — if I had seen some­one like me pos­i­tive­ly rep­re­sent­ed in lit­er­a­ture — it might have made all the dif­fer­ence. I hope that my new pic­ture book, Osnat and Her Dove, will make that dif­fer­ence for young read­ers today.
Sigal Samuel is a Staff Writer for Vox​'s ​"Future Per­fect." She writes about arti­fi­cial intel­li­gence, neu­ro­science, ethics, and the inter­sec­tion of tech­nol­o­gy and reli­gion. Pre­vi­ous­ly, she was the Reli­gion Edi­tor at The Atlantic. Her award-win­ning jour­nal­ism has also been pub­lished in out­lets like Buz­zFeed, The Dai­ly Beast, The Rum­pus, and Elec­tric Lit­er­a­ture. She has appeared on NPR, BBC, and CBC. Sigal's nov­el, The Mys­tics of Mile End, tells the sto­ry of a dys­func­tion­al fam­i­ly deal­ing with mys­ti­cism, mad­ness, and math­e­mat­ics in Mon­tre­al. It was nom­i­nat­ed for the Inter­na­tion­al Dublin Lit­er­ary Award and won a Cana­di­an Jew­ish Lit­er­ary Award. Sigal earned her MFA in Cre­ative Writ­ing from the Uni­ver­si­ty of British Colum­bia and her BA in Phi­los­o­phy from McGill University.