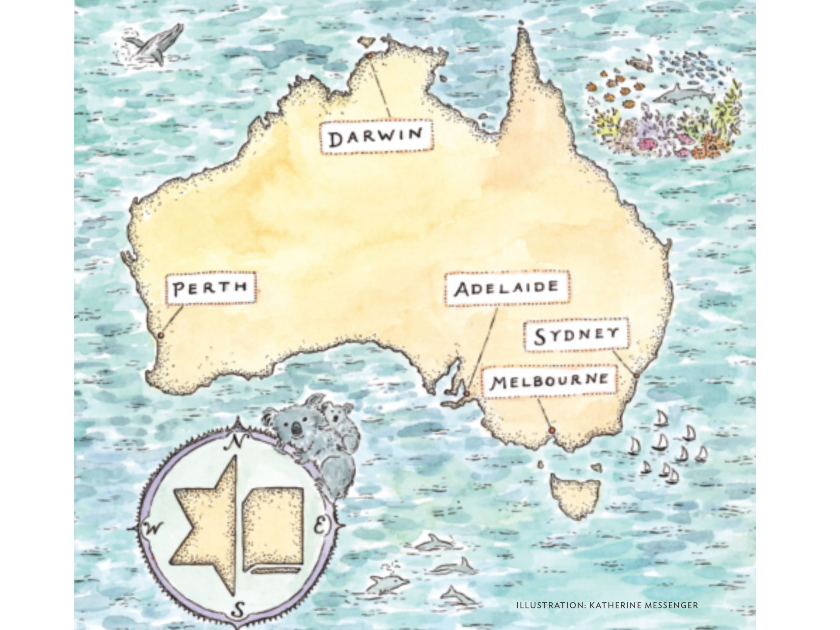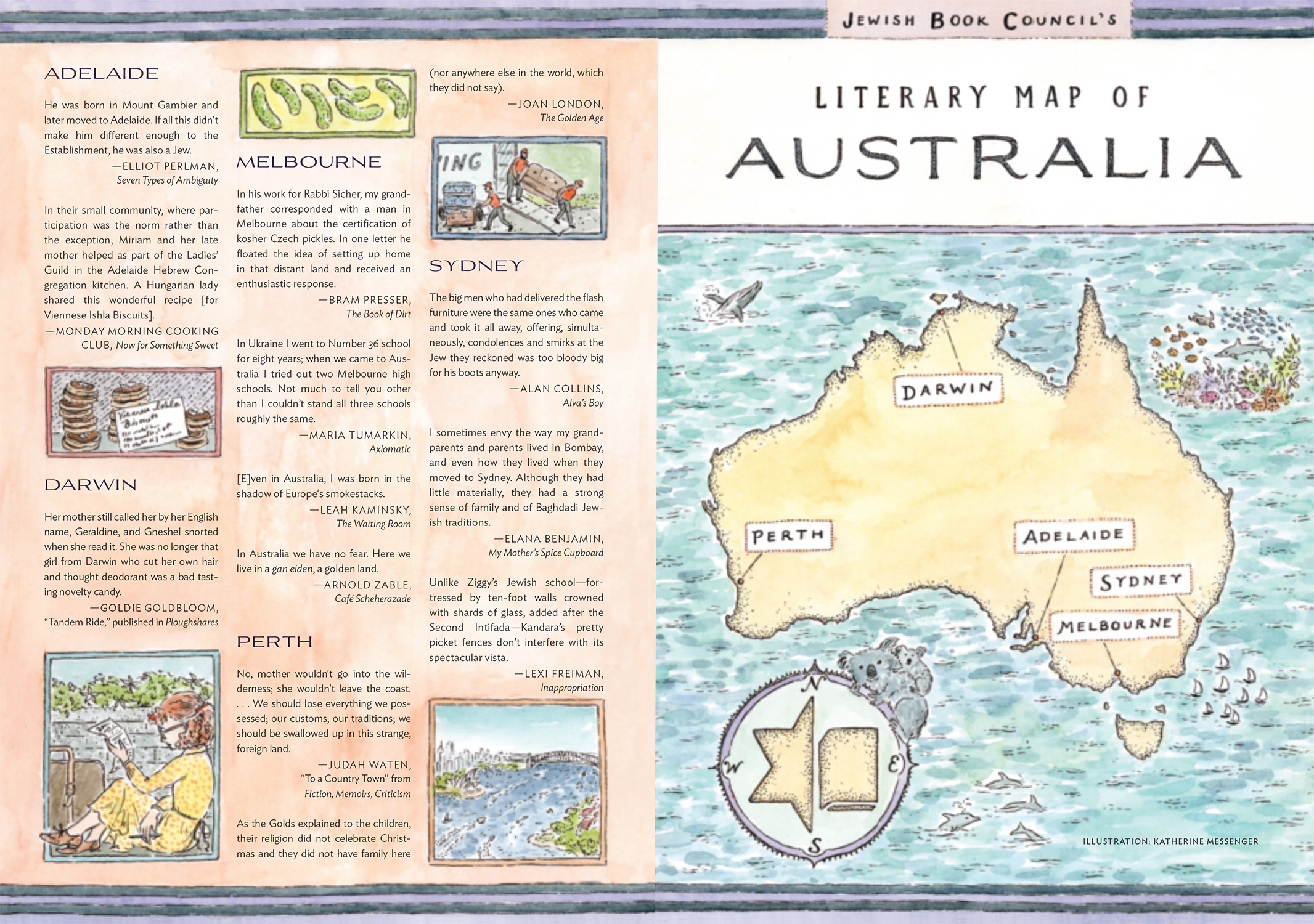 There was a time when emi­grat­ing from Europe to Aus­tralia felt like sail­ing to the area on a map marked, ​"Here be drag­ons." The first white set­tlers land­ed in Botany Bay in 1788. Among them was my fourth-great-grand­fa­ther, who was trans­port­ed there because of his role in the Pen­trich Rev­o­lu­tion. Of the 751 con­victs who were sent from Eng­land to Aus­tralia on the First Fleet, six­teen were Jews.
The loss of con­nec­tion with fam­i­ly and home­land was almost absolute. This was in an age before cell phones and com­put­ers made the world small­er. This was even before the exis­tence of a reli­able postal ser­vice, or cables under­neath nine thou­sand miles of ocean that could bring the voic­es of your loved ones — at great cost and with ter­ri­ble sound qual­i­ty — to your tele­phone. After being trans­port­ed, my fourth-great-grand­fa­ther wrote to his wife: ​"For­get I ever exist­ed. It is as if I have died. I no longer am a person."
Aus­tralia con­tin­ued to feel unfath­omably dis­tant for many Euro­pean Jews well into the twen­ti­eth cen­tu­ry. Few Jews applied for Aus­tralian pass­ports even when they were des­per­ate to flee the Nazis. My Amer­i­can friend's par­ents, who want­ed to escape Hun­gary in 1944, were first offered visas for Aus­tralia, but they ulti­mate­ly chose to wait for per­mis­sion to enter a coun­try with a larg­er Jew­ish pop­u­la­tion. To them, mov­ing to Aus­tralia seemed like trad­ing one cer­tain death (at Auschwitz) for anoth­er (on a vast, unknown island where there might not even be any oth­er Jews).
In the late 1930s, the Free­land League pro­posed an area of Aus­tralia as the new Jew­ish home­land. Despite the ini­tial sup­port of the Aus­tralian gov­ern­ment and cler­gy, the delight and finan­cial sup­port of Joseph Stal­in, and the Durack family's offer of a mil­lion acres of land, the plan nev­er took off. By the end of World War II, Aus­tralians were reluc­tant to accept the men and women who had sur­vived the atroc­i­ties of the Holo­caust. Nev­er­the­less, there was a small but steady stream of Jew­ish immi­grants after the war. In 233 years, the Jew­ish pop­u­la­tion of Aus­tralia grew from those six­teen orig­i­nal con­victs to over 100,000 peo­ple today.
Pulling up roots and replant­i­ng them in the hot, red dirt of Aus­tralia is cen­tral to Jew­ish iden­ti­ty in the Antipodes.
In read­ing books and sto­ries about the Aus­tralian Jew­ish expe­ri­ence, I am struck by how many are migra­tion nar­ra­tives. Pulling up roots and replant­i­ng them in the hot, red dirt of Aus­tralia is cen­tral to Jew­ish iden­ti­ty in the Antipodes; we are all migrants or descen­dants of migrants, try­ing to adjust to a new cli­mate, cul­ture, and lan­guage. Some authors describe this tran­si­tion as jar­ring. In his short sto­ry ​"To a Coun­try Town," the twen­ti­eth-cen­tu­ry Aus­tralian writer Judah Wat­en express­es the fear of many immi­grants: ​"We should lose every­thing we pos­sessed; our cus­toms, our tra­di­tions; we should be swal­lowed up in this strange, for­eign land." In her nov­el The Gold­en Age, Joan Lon­don describes the iso­la­tion of the Gold fam­i­ly, who have escaped the Holo­caust in Hun­gary but ​"did not have fam­i­ly" in Aus­tralia ​"nor any­where else in the world." And in The Dan­ger­ous Bride, Lee Kof­man writes that "[b]eing a Jew meant that you nev­er felt secure any­where, not even in the Antipodean haven."
And yet, there are oth­er sides to the immi­grant expe­ri­ence as well. When I was about twelve years old, I com­plained about the heat one day in shul. Jean­nie Baum­wohl, an Auschwitz sur­vivor orig­i­nal­ly from Krakow, pat­ted my hand and said, ​"You don't even know how lucky you are to live in this coun­try. Nev­er com­plain! Let every­one see how grate­ful you are just to be alive." This grat­i­tude for Aus­tralia as an adopt­ed home is reflect­ed in lit­er­a­ture. In Bram Presser's nov­el The Book of Dirt, a sur­vivor in Prague is eager to start over in Aus­tralia, ​"that dis­tant land." In Arnold Zable's Cafe Scheherazade, a sur­vivor declares: ​"In Aus­tralia we have no fear. Here we live in a gan eiden, a gold­en land."
Oth­er writ­ers add even more facets to the nar­ra­tive. Some tell Sephardic or Mizrahi immi­grant sto­ries — such as Elana Ben­jamin, who traces her family's jour­ney from India, Iraq, and Bur­ma to Aus­tralia in her mem­oir, My Mother's Spice Cup­board. And for authors like Lexi Freiman — who writes about a Jew­ish mis­fit at a Syd­ney board­ing school in her nov­el, Inap­pro­pri­a­tion—the immi­grant expe­ri­ence is no longer the defin­ing ele­ment of the Jew­ish Aus­tralian one.
Jews, who form one of the small­est minor­i­ty groups in Aus­tralia, are far from the only peo­ple to feel lost or alone there. The pain of being oth­ered is wide­ly rep­re­sent­ed in Aus­tralian lit­er­a­ture — in writ­ing by the ear­li­est Eng­lish, Irish, and Scot­tish immi­grants; by the lat­er waves of Greeks and Ital­ians, and Viet­namese, Indi­ans, and oth­er Asians; by Indige­nous Aus­tralians. Each has their own strug­gle to find a voice. Amer­i­can author Claire Mes­sud, refer­ring to her move to Aus­tralia in her ear­ly years, writes, ​"We let fall the North Amer­i­can trap­pings as effi­cient­ly as we had let go of our lit­tle red car, and we learned not to look back, and not to look for­ward, but instead to read the present."
Goldie Goldbloom's first nov­el, The Paper­bark Shoe, won the AWP Prize and is an NEA Big Reads selec­tion. She was award­ed a Nation­al Endow­ment for the Arts Fel­low­ship, and has been the recip­i­ent of mul­ti­ple grants and awards includ­ing fel­low­ships from War­ren Wil­son, North­west­ern Uni­ver­si­ty, the Brown Foun­da­tion, the City of Chica­go, and the Eliz­a­beth George Foun­da­tion. She is chas­sidic and the moth­er of eight children.