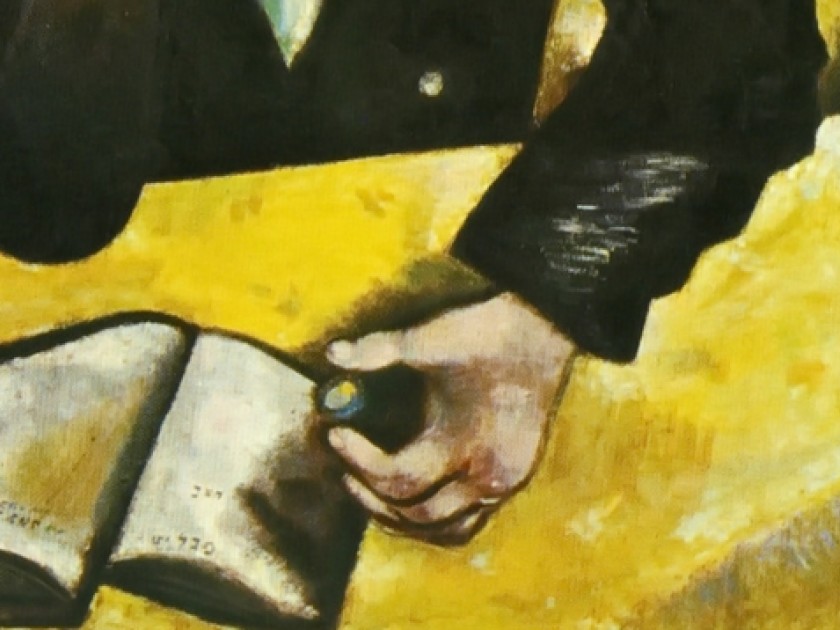 When Bad things Hap­pen to Good Peo­ple. As a Dri­ven Leaf. The Lone­ly Man of Faith. God Was in This Place and I, i Did Not Know. The Jew­ish Cat­a­log. The Cho­sen and My Name is Ash­er Lev. Jew­ish Med­i­ta­tion: A Prac­ti­cal Guide.
Flum­moxed by the com­mon­al­i­ty between these titles? All were writ­ten by rabbis.
As some­one who learned much from these books, as well as oth­ers, I want to know: Is there a way to cre­ate more of them? Who is the Harold Kush­n­er or the Chaim Potok or the Mil­ton Stein­berg of today? Is there anoth­er Joseph Soloveitchik or Lawrence Kush­n­er try­ing to write, but not quite sure if she can?
In an effort to begin to answer this ques­tion, the Jew­ish Book Coun­cil put togeth­er a pro­gram to encour­age more rab­bis to write. Well Pub­lished Rab­bi, part of JBC's Jew­ish Writ­ers' Sem­i­nar, was a chance for rab­bis of var­ied back­grounds and inter­ests to come togeth­er and dis­cuss strate­gies for writ­ing and get­ting published.
For a few hours, rab­bis of myr­i­ad back­grounds lis­tened to pre­sen­ta­tions on self-pub­lish­ing and main­stream pub­lish­ing, how to write a query let­ter and how to pro­mote their own expertise.
A Lubav­itch rab­bi who wants to write a nov­el dra­ma­tiz­ing the eth­i­cal issues around slaugh­ter sat with a Reform rab­bi who is work­ing on a book about how to choose a syn­a­gogue. A rab­bi writ­ing a com­men­tary for his denom­i­na­tion sat with one writ­ing her own Hag­gadah for peo­ple with dis­abil­i­ties. A Mod­ern Ortho­dox and a Reform rab­bi pre­sent­ed their per­spec­tives to the group.
As the orga­niz­er of this ses­sion, I felt a pro­found sense of holi­ness. The word for holi­ness in Hebrew, kadosh, lit­er­al­ly means to set aside. In this con­text, the set­ting aside was both set­ting aside time to con­sid­er the work of writ­ing and pub­li­ca­tion, and set­ting aside the many dif­fer­ences between the rab­bis in the room.
I don't think I've ever been in a forum where peo­ple with such dif­fer­ent ide­olo­gies and world­views set their dif­fer­ences aside to focus on what brought them togeth­er, and how they might learn from each oth­er. All of those present in the room were engaged in the same strug­gles — how to val­ue one's ideas and work enough to ded­i­cate their time to the enter­prise of pub­lish­ing a book; how to best con­vey the Jew­ish wis­dom accu­mu­lat­ed both over years of coun­sel­ing oth­ers and from study of Jew­ish texts; how to write with a style and pas­sion that is both com­pelling and consequential.
It was a plea­sure to present a ses­sion with Rab­bi Bar­ry Schwartz of the Jew­ish Pub­li­ca­tion Soci­ety, the author of a num­ber of books him­self, most recent­ly Path of the Prophets: The Ethics-Dri­ven Life. Schwartz inspired the group by shar­ing that the Jew­ish Pub­li­ca­tion Soci­ety count­ed 26 con­gre­ga­tion­al rab­bis among its cur­rent ros­ter of authors, as well as by shar­ing some of his own expe­ri­ences as a play­wright and author of books for chil­dren and adults.
The ​"wiz­ard­ing rab­bi," Moshe Rosen­berg, shared the work that went into the self-pub­lish­ing suc­cess he achieved with his Unof­fi­cial Hog­warts Hag­gadah. In a humor­ous Pow­er­Point, he illus­trat­ed that even when pub­lish­ers don't like tak­ing risks, it is pos­si­ble to write and pub­li­cize your work. How? In the words of Rosen­berg, by ​"dress­ing your ser­mons in wiz­ard­ing robes." Mag­ic is not some­thing every­one can do, but it was enchant­i­ng to have a true sor­cer­er con­jure up a bit of it for the group.
As the orga­niz­er, the main take­away that I hope par­tic­i­pants grasped is that as rab­bis and writ­ers, they have a par­tic­u­lar exper­tise and wis­dom that can and should be shared with an audi­ence larg­er than those in their own con­gre­ga­tions. The books I opened with have had — and con­tin­ue to have — a lin­ger­ing impact on the minds and hearts of read­ers. I'm hop­ing this is the first of many Well Pub­lished Rab­bi ses­sions that will help cre­ate new titles that have the same intense impact on read­ers as their predecessors.
Beth Kissileff is in the process of fundrais­ing and writ­ing grants to devel­op a pro­gram to assist rab­bis of all denom­i­na­tions with writ­ing and pub­lish­ing books. Kissileff is a rab­binic spouse and author of the nov­el Ques­tion­ing Return as well as edi­tor of the anthol­o­gy Read­ing Gen­e­sis: Begin­ings.